#1
13 years ago
Some people probably already know this, but i have seen many discussions on what the combine really are..
People have said the Combine soldiers are the aliens species and the Metro police are humans..
But in Episode 1 !SPOILER!
The Zombines if alyx were to call them lol, the combine zombies, if you take off the the Headcrab it is a Human lower Jaw bone that is left... Thus proving the Combine Soldiers are Humans... not only the metro police..
If anyone wants to add, please do so... and if you think this is old news.. lol sorry, but it seemed new to me.. i've always seen people argueing about the combine not being humans..
---
27th November 2005
0 Uploads
#2
13 years ago
Yeap, Metro police are just humans in uniform, but the soldiers are "combined" humans.
---
#3
13 years ago
True, the "soldiers" are part of the overwatch, an army of super-modified humans. If you read about Half-Life 1, vortigaunts we're taken and transformed into a super-soldier (something like that). I've been wondering this for a while though... Where the hell is their esophagus? I don't even see it. :confused: Forget my last sentence, real combine are the fat and slug-like creatures.
They have become so big from letting the other races do thier dirty work
---
#4
13 years ago
Ever think that aliens could have lower jaw-bone too?
---
#5
13 years ago
Yes but for the Alien to have the same shaped lower jaw bone as us? mine as well call them human too..
yeah, the large slug like creatures are what control all of what the combine is.. ALL the combine soldiers are humans from earth, ALL the Striders and Vortigaunts are creatures from Zen..
I can see it all clearly now, these slug like creatures are the real force.. they "as stated before" gather creatures that have the best physic and intelligence, and use them as weapons..
They grabbed
Combines = Humans from earth.. Stiders = a creature from Zen Headcrabs = Zen Vortigaunts = Not exactly sure if they are from zen, but if so zen..
Get it ? the only bad alien there is, is those Slug like creatures... they are controlling all the enemies you fought..
remember in Episode 1 when they started to screw with you and Alyx's mind?
this is what i think
---
#6
13 years ago
Uh, Striders are not from Xen, they are biologically engineered Synths created by the combine. You are getting it all wrong. The combine soldiers are an army of surgically-altered modified humans! They would be changed in Nova Prospekt. Oh and Nova Prospekt is a polish phrase for New Prospective, or changed views (Human views, changed to combine Overwatch views). Picture of surgically altered human:

Picture of a human that resisted, but was captured:
SPOILER!
Spoiler:
Show
At the end of Half Life 2: Episode One, the ships you see flying out of the Citadel are the REAL combine. Remember in the beginning, when you were with Alyx. There was that mind thing? But before that you saw something loaded. And if you looked down below, there was a group of these ships, above and below you. These are the escape pods to protect the real combine. And so they can get ejected when the citadel sends out the message and makes a huge explosion.
Still a spoiler, but it is a picture, I'll just post a link:
---
#7
13 years ago
That is what i am saying, ALL the creatures except for those pod like creatures are just captured reconfigured creatures from various planets..
The only alien here are those slug things, everything else is just captured from various planets and altered..
again, the combine are humans, Striders are creatures from some other planet, changed, just like humans where changed into combine..
same with the Gunships, Antlions etc etc..
The slug combine go to different planets capturing the most intelligent species and alters them for the combines army.. Combine being the slug creatures..
---
#8
13 years ago
I'm starting to think that you are confusing me on purpouse..
I now see your point, but the combine are not the humans, they are a combination of all the races that we're assimalited into the empire, thus the name Combine.
But again, the striders, gunship, dropships, mortar synths, and crab synths are SYNTHS..Synthetic: Non-natural, created. Look it up in the dictionary. They are not aliens, they were taken from another race that created them when they we're taken into the empire.
---
#9
13 years ago
Howe are Headcrabs Synthetic? In HL1 they where living creatures on Zen...
---
#10
13 years ago
No, not headcrabs, crab synths...they we're synths cut out of the game.
Pic: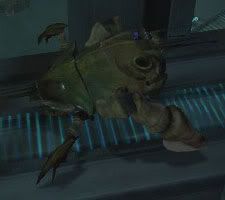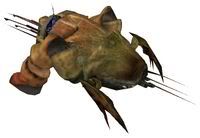 ---