#1
12 years ago
Hi all,
I have a really relaly noob question. I'm just wondering if you get to download Counter-strike: source for free with the purchase of Half-life 2.
thx.
---
21st October 2005
0 Uploads
#2
12 years ago
i dont think so... before you were able to.. but now i think you have yo pay seoerate for it...but im not a hundred percent sure... see what other ppl say
---
#4
12 years ago
I think all these games have been split for well by now. Few weeks ago there was still the winter holiday pack that included all Half-Life 2 based games and CS:S I think. Your best bet is to wait on another promotion, also I think that current GOTY version at retail has the CS:S in.
---
#5
12 years ago
well, the box i bought had css with it, you should just look on the box... mine sais something like 'counter strike source included'... for the steam versions, i think they're all seperated.
---
#6
12 years ago
if you go to www.steampowered.com you can see all the different packages thru steam. there are a few with CS:S in it, in fact i think almost all of them have css in 'em cause im looking for plain hl2. i already bought the css, dods and hl2dm package hehe but im tryin to buy it in the store... last time i was in target, they let me buy the css package only by telling my moms birth date, im only 14 kekeke
---
#7
12 years ago
Note: Do not buy the Half-Life 2 box that has Gordon Freeman and Alyx on the front. Only buy Half-Life 2 GOTY Edition, plain edition does not include CS:S. Around Christmas time Valve released this new box that does not include CS:S. I bought the Christmas pack, which does hold HL:S, HL Deathmatch, HL2, HL2: Deathmatch, CS:S, and Episode One. If you find a Valve Holiday 2006 pack, buying that would be a nice choice if you do not have a majority of those games.
Or like the guy above me, go to steam's website and look at the packs you can purchase.
---
#8
12 years ago
I thought the christmas pack was only availavle on Steam? From what I've seen every GOTY edition has same cover art with Freeman and Alyx.
---
#9
12 years ago
Here's the HL2 box I am warning you about, I can't find GOTY edition anymore that's why I bought the Holiday 2006 pack.
Half-Life 2 box to avoid: http://www.newegg.com/Product/Product.asp?Item=N82E16832128131
Valve Holiday 2006 Pack: http://www.newegg.com/Product/Product.asp?Item=N82E16832130204
Oh, if you buy the Holiday 2006 Pack and you already have a Steam account the opening menu when you put the disc in will not say (Install Holiday 2006 pack) it says re-install I believe. Just click that and it will install the games like it should.
If you are having second thoughts on whether or not you should buy it, it is worth it. I can play so many fun mods now.
---
#10
12 years ago
Interesting, these are all editions that were available in Poland: Half-Life 2: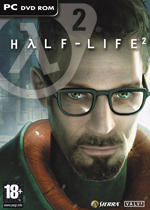 Half-Life 2 Collector's Edition:
Half-Life 2 Game of the Year Edition:
Half-Life 2: Episode One:
It's funny, it looks like the age requirements went down for Half-Life 2 in Poland, as these are exactly the boxes which were released here. Also, I wish we'd have this version of collector's edition, it looks very cool:
Content though appears to be the same, except for CD case isntead of DVD box for disc storing.
---