#1
11 years ago
SCREENSHOTS GALORE!!! WE GOT A NEW GRENADE SLOT!!!
Now that's a nasty duel wield...
Poor Cortana...
Destructable dropships!!!
Fuel Rod Cannon...
MAC cannon before firing...
MAC cannon firing (Yeah, baby)...
Master Chief and Arbiter...
MC, Arbiter, Guilty Spark, and Cortana...
New hog...
New Scarab...
Another Halo?
Not zeh Great Wall of China...
Aftermath of the first trailer?
Snapshots taken from: Halo 3 E3 2007 Trailer
---
#2
11 years ago
Also, another prophet
Spoiler:
Show
I think the title is sums up this trailer perfectly. It was great. All of the trailers for Halo 3 have been absolutly fantastic. The whole game looks great. I don't know why but this seems more like the Halo universe than the second. Just an opinion. I love the new weapons and the graphics are spectacular so far. It looks great.
---
Jeff
Über Admin
I am a mean boss ⬆️⬆️⬇️⬇️⬅️➡️⬅️➡️??
184,643 XP
#3
11 years ago
down boy... keep it in your pants.
---
Product Manager | GameFront.com
#4
11 years ago
Sunray;3788873Also, another prophet
Hrm, looks more like a bugger...
---
#5
11 years ago
Hehe, I dub this the "Duel-wield twist"...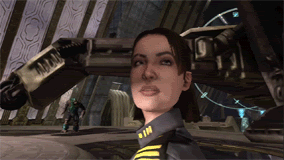 ---
#6
11 years ago
OMG sig material that :P anyways, i think that prophit could be truth? and... (obviously) THIS GAME IS GOING TO BE THE BEST FPS EVER!!! (...sorta :P) revamped old weapons, new weapons (mini gun!), new vehircles, awesome cutscenes, just... pure... AWESOMENESS!
---
#8
11 years ago
Lol, that you do.... yes I've seen the trailer, it was pretty awesome, needless to say I'm getting that day one.... and I'm gonna miss the first week of school (nothing happens then right? right? am I right?) so I can own people on LIVE since I'll obviously beat it within the first 2 days!
---
#9
11 years ago
id probably be playin it none stop for days. lol. and hopefully ill have Xbox 360 live
---
#10
11 years ago
same... need NOW! anyway, i've been watching a few vids on the new weapons and the bubble sheild caught my attention. apparently, you can sheild 3 buddys in their (if deployed right) and you can shoot anyone outside the sheild... overpowerd? but hey.. awesome game, can diss it in any way shape or form. and green... HOW U GET THAT IN UR SIG??? 0.0
---