#1
13 years ago
I don't what to call it yet. It's going to be similar to Blood Gulch in style. I have a little screenshot of my estimation, and yes, I made it.
It's going to be snowy, and I have no clue how to add water, anyone? Also, I've made it so you can't get out, really, and there will be some spots where snipers are just downright kings. I made the OBJ file using Terragen, and now I shall export it as a JMS file. Tell me what you think:
That's gonna look way better then it will be in the end, by the way.
---
#2
13 years ago
Be careful with tri-counts if you're using Terragen. It makes wonderful realistic landscapes, but they eat through triangles in no time.
Water is quite complicated. I believe there's a tutorial for it somewhere, but in essence you need to place a plane on the model with a certain shader, and add a fog volume with certain settings to imitate under-water. I'll try and find the tutorial for you.
---
#3
13 years ago
Hmm... this map isn't too big. Here it is in 3ds Max, which I'm still trying to get to export it. Oh wait, 131 072 polys... that won't go over so well.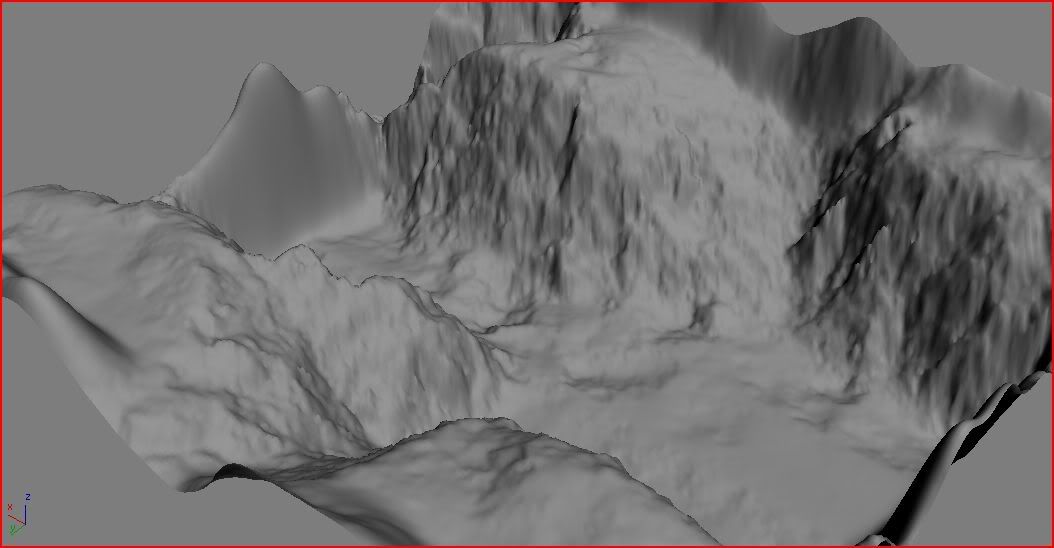 ---
#5
13 years ago
Just a bit. We'll see how it goes. I'm going to get Carminowe to fix this thing and export it.
---
26th October 2007
0 Uploads
#6
13 years ago
I no next to nothing about BSP modeling, but from the tutorials I've seen I think there's something about some skybox thing, and some frame to hold the stuff in. I think. The model looks nice though. The poly count is kinda scaring me though.
---
#7
13 years ago
Yah, maybe Halo will like me, though. The worst that could happen is that it will cause lag on some GFX Cards.
---
#8
13 years ago
i love halo and i love some of the maps and this will be one of my favs simple but relistic:D
---
#9
13 years ago
I'll attempt to cut down the poly count. Sapien can't handle that kind of poly count, I believe ~50k tris is the limit. So, it might look bad. I can add the sky in for you though. Also, do you want me to texture it?
---
#10
13 years ago
No thanks. I have a tutorial for making the skybox. Could you actually try and cut back the the polygon count?
---