#1
10 years ago
Hi everyone. I'm carnivore, also known as Ranger, or Lord_Scorch. I seem to be impressed with this forum, and I'm willing to help out, where I'm needed.
I'm highly skilled in HTML, and a beginner in JavaScript. I've worked with Photoshop, and with GIMP. I'm also a hacker, to a degree. I like hacking games, sites, and others. I love writing different fantasy type stories, and hoping I can finally write a book.
I've had many forums, and administered them all well. I found this site by looking through some gaming forums, and decided to check this one out.
Glad to be here, thanks.
:cheers:
---
16th October 2003
0 Uploads
#2
10 years ago
You're very diversified. Welcome to the Frontline of gaming, dinosuar.
We have a great tech and graphics forums but we're adverse to Warez violations and hacking. Strictly against the rules.
I'd like to see your work if you don't mind. Set up a thread for yourself if you wish in the Graphic Forum, subform "Showcases". and just name it after yourself so others might see your gallery of work.
...and I'll see you out there.
---
#3
10 years ago
I personally just tamper around with certain layers, and pictures. I really don't do much with it anymore. And I may not have anymore pictures lying around. But I'll look around for you.
For the tech, that sounds great. I'll check it out soon. But for right now, I gotta do some work administering my own forums.
And yes, I've read through the rules, and it seems the FAQ is being updated. Idk.
---
#4
10 years ago
Just make sure you stop by the FAQ every once in a while to check up. Welcome aboard and have fun ;)
---
#5
10 years ago
Thanks Odessa.
I have a quick question: How long has this forum been up and running? A couple of years or so?
---
#7
10 years ago
Wow. No wonder the community is thriving. And it has a great setup, (meaning the Staff, Rules, FAQ, ect.)
Anyways, thanks again.
---
Sovereign002
VIP Member
Adeptus Moderatus We purge with chain and bolter
105,915 XP
#9
10 years ago
5 years is the understatement of the decade. GF has been up and running for quite a bit longer. ;)
Anway, welcome to GF, you seem like a pretty social and talented fellow. If you have any questions feel free to PM me or any her staff member.
---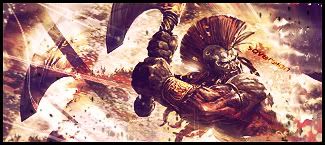 #10
10 years ago
Ah well, you can't blame me for not getting it right ;) I've only been a member for about 6 months.
---