#11
13 years ago
Welcome to the forums and have fun... There are other chicks on this forum :p I'm curious What kind of video games do you play?
---
#12
13 years ago
im a guy, but ive mets serveral females around here, worry not, your not alone
---
#13
13 years ago
Dont bump old threads :nono:
---
#14
13 years ago
who, me? im not bumping threads!
---
Sovereign002
Advanced Member
Adeptus Moderatus We purge with chain and bolter
105,915 XP
#15
13 years ago
Euh, yes you are, nobody posted in here for 2 1 week and then all of the sudden you post something...This is called 'bumbing'...making threads come back to the top of the line of threads.
---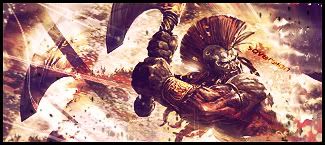 #17
13 years ago
Just to clarify, when i posted saying NOT to bump old threads, it meant people stop posting. :thumbsup:
---
#18
13 years ago
bulletproofLOGIC;3222980
which one are you? :p
Nah, seriously, there are more taking a dip in the sea of testosterone. Enjoy :D
---