#1
10 years ago
Well, I hardly ever have time to get on these forums, but I thought I'd actually take some time to really introduce myself. My name...er...well, on most forums at least...is Fettman 53. I'm a pretty big Star Wars fan, as are most people in my family. Well, to start out, the copy of JKA that I use is actually my little sister's. Back when the game was brand new, my sister LOVED Star Wars to the point of obsession, as did I. We ALWAYS hung out and played mock duels with our Anakin and Darth Vader replica lightsabers (which I sort of regret now due to the sorry state mine is in. Kids will be kids, right?) and for Christmas, she was given the game. She was very into the singleplayer story mode, although sadly she was not very good at it. She became quite puzzled when she had played it since she got it and could never get past a part, and I got past it on my very first try with no problem at all. Soon she just gave up playing it...I guess after that, I kinda started to get into in it for a bit. But if it wasn't for this site and jediknight3.filefront.com, I probably never would have truly gotten into it. One day, while looking for add-ons for a PC racing game I played, I began to wonder if it was possible for JKA to have the same sort of add-on "feature." And thus, I came across the JK3Files site. I finally registered on the site and these forums on...well, now it'll be last year but...apparantely two days after my nineteenth birthday. Hm. Anyway, as I've said, I haven't had the time to really get as involved in the conversations held here due to the fact that I am currently into my story I am writing (which I am pretty sure I started posting up here somewhere...), but now that the second stage/season of my story is coming to a close, I decided to come out of JKA retirement. After testing out the Edward Elric model Jose kindly made for my best friend, (who also loves the game and has already played through the single player game who knows how many times...) I sort of noticed that I still have a soft spot for JKA. Well, after seeing Sith-J-Culley's new map, sporting none other than the Ebon Hawk (seriously my favorite ship out of the entire Star Wars universe. KOTOR were a great duo of games.), I was finally convinced to put the disk back in the tray. Now, with my newly-downloaded Averus Retruthan skin operational (many thanks to Inryi for the help!), I'm back and ready to relearn all the stuff I forgot! :uhm: Hmm...well, now that that's all out of the way, a little about me besides that I like Star Wars... Well, as I already mentioned, I am creating a story that was inspired by an old racing game called Tokyo Xtreme Racer. I named my story exactly that. It sports some of the rivals you race as actual characters. In the game, the rivals you raced against had identities...but there was no story line and no real character or anything...so I made one! And like I said again, some of it's probably around here somewhere, but if you're interested, I can give you a link to a site with the fully-updated, grammar-checked copies up and ready to be read. Or, if you'd like an original copy made on Microsoft Word, I can send you one as well. :deal: (awesome smiley) I love cars. Probably more than anything. *sigh* I guess it's just that way with some people. To some people they're just flashy machines that get you places, and to others...well...they're just something more than that. Like...like...I don't know what, really... I also like to listen to good music. I'll listen to something new, as long as there's no profanity or something with a sexual theme to it... Annnd...well, obviously, judging by this post, I don't get to talk to people much. They're all busy with their own lives. If you don't have anything to do and feel like talking, send me a PM! Also...my computer is not strong enough to be a dedicated server, so I can only join matches. Since I don't know anybody right now, I never join any games, so multiplayer is lonely...so if you ever feel like doing some RPing and need an extra player, I'll probably be available. Unless I'm at work or asleep, of course. Anyway, I hope you all don't mind the late introduction. It's nice to introduce myself so I don't seem like some random guy on the forums. Hope to meet and get to know you all! And maybe I'll even meet the guy I'm using the skin of! :eek: -Fettman 53
---
#2
10 years ago
fettman53;4776998Well, I hardly ever have time to get on these forums, but I thought I'd actually take some time to really introduce myself. My name...er...well, on most forums at least...is Fettman 53. I'm a pretty big Star Wars fan, as are most people in my family.[/QUOTE] Little bit late, but I wish you welcome anyway. As you can (probably) guess from my User Name and Avatar, I'm a Star Trek fan, but I also like Star Wars, Battlestar Galactica and other SF things. Nice to meet you. *shakes hand*

fettman53;4776998I also like to listen to good music. I'll listen to something new, as long as there's no profanity or something with a sexual theme to it...[/QUOTE] I'm not much into music, but I like listening to game and movie soundtracks. [QUOTE=fettman53;4776998]Annnd...well, obviously, judging by this post, I don't get to talk to people much. They're all busy with their own lives. If you don't have anything to do and feel like talking, send me a PM! Also...my computer is not strong enough to be a dedicated server, so I can only join matches. Since I don't know anybody right now, I never join any games, so multiplayer is lonely...so if you ever feel like doing some RPing and need an extra player, I'll probably be available. Unless I'm at work or asleep, of course.

Do you have MSN? If you do, you can add me. I'm quite chatty, so I'll be glad to talk to you. And you can ask me anything you want. I'll do my best to answer it. [QUOTE=fettman53;4776998]Anyway, I hope you all don't mind the late introduction. It's nice to introduce myself so I don't seem like some random guy on the forums. Hope to meet and get to know you all! And maybe I'll even meet the guy I'm using the skin of! :eek:
Yeah, your introduction is a bit late, but better late than never, right? Anyway, we'll see what S.T.A.L.K.E.R. has to say when he gets here. Until then, enjoy. :cool:
---
#3
10 years ago
Thanks, my uncle is letting me borrow the complete first season of Star Trek, so I'm getting into that. Pretty awesome stuff. And pretty soon I'll be studying up on Battlestar Galactica and maybe Stargate too. *shakes hand* A majority of the music I listen to is actually game soundtrack music as well. Some games out there have some pretty good soundtracks. I don't have MSN at the moment, but I could probably get it anytime. I think I might go ahead and do that when I have some time to fill out a lot of things. :uhoh: When I get it set up, I'll give you my MSN name if you'd like. It'd be nice to have someone to talk to after work or whatever I'm doing that makes me tired... Nice to meet you! -Fettman 53
---
#4
10 years ago
I'll leave it. You're one of the few who actually put some effort into their (albeit late) introduction.
Welcome!
---
#5
10 years ago
Welcome to FileFront. I'm short on time so I did not read your entire welcome post but if your alright with Tricorder your alright with me. I hope you enjoy it here. Feel free to add me aswell xfire: data079 MSN is in my profile.
---
#6
10 years ago
Quite an effort I would say... Nothing much to say from me except for welcome. STALKER seems to be fine with the delay of your introduction so I guess it's alright... So once again welcome.
---
#7
10 years ago
Very nice introduction mate, you can haz a cookie :) Welcome bro, and cheers
---
14th August 2008
0 Uploads
#8
10 years ago
Indeed, a very nice introduction. Nice to see a person who's into JKA. I'm a huge Star Wars fan, and a little less of Star Trek. But, if you're ever up for some nice battles in JKA, you can find me on the (JAWA) server.
You can also add me on MSN or AIM, if you like to. Both are displayed in my profile. Cheers!
---
Formerly known as Graeme and Arld.
Sovereign002
VIP Member
Adeptus Moderatus We purge with chain and bolter
105,915 XP
#9
10 years ago
Wow, that's the biggest introduction thread I've seen on here in a while. O_o
Welcome to GF, always nice to see a Warsie who knows a bit about Trek, too. =)
---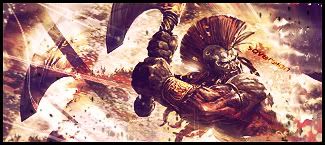 #10
10 years ago
Thanks! I'm glad to be here! Just so everyone knows, I am unable to host games on my computer, so I'm hoping that it'll let me in to other games at least. Hopefully I can hang out with some of you all on the game. If not, I'll always be here at least.
---