#1
13 years ago
Hi. I'm new. My name is Brandon. Glad to join the community. Big-ups! -B
---
Sovereign002
Advanced Member
Adeptus Moderatus We purge with chain and bolter
105,915 XP
#2
13 years ago
Nice name you have there.
Welcome to GF, please read the FAQ and ask the mods if you still have any questions.
What are your hobbies?
---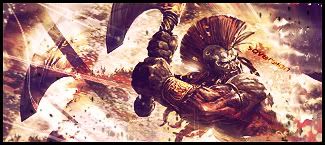 #3
13 years ago
Welcome to GF this place is rad..(rad wtf?)
Anyways are there any games you play in particular?
---
#4
13 years ago
Hobbies? Well, In the states I like to play pool, chill outdoors. Here, in baghdad, I like to play chess, I play in photoshop, make maps for unreal, and draw/paint. You can see some of my stuff at artwanted.com/brandoom Games? Dawn of war DC, UT2004, Counterstrike source, C&C 3, Supreme commander er... thats all that i play on a regular bases. Thanx for the warm welcome, peace!
---
#6
13 years ago
I dont have one yet.I just play offline and via wifi with chums. My connection is so slow here that it times out. But, Its running prety fast right now (6-7Ks) so I think Illl try and download steam now. Youd think that buying the game would include the steam update.
---
#7
13 years ago
If you bought the game in bagdad, it may be a warez version... Gotta be careful about that kind of stuff overseas
Anywho, Welcome to the forums, have fun, read the FAQ, eat pie, and do things.
---
24th April 2007
0 Uploads
#8
13 years ago
Ah, welcome to the forum mate.
I hope you have a very pleasurable time here! :cya:
---
#9
13 years ago
Hi and welcome to GF please enjoy your stay.
---
9th September 2007
0 Uploads
#10
13 years ago
Hello there, and welcome to the FileFront! Try NOT to become completly addicted on the forums!
---