15th January 2005
0 Uploads
#51
16 years ago
He was forced into an AA unit, he didnt skip down the road to go sign up. He isnt a nazi and never was.
---
#52
16 years ago
9thDogbertHe isnt a nazi and never was.
:gpost: :agreed
---
28th September 2003
0 Uploads
#53
16 years ago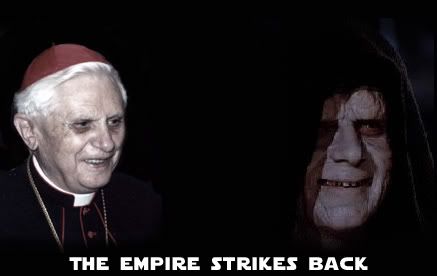 I'm pretty sure that settles my opinion.I'm positive at any moment he'll blast out lightning from his hands.
Oh I also heard the popes been tipped to play a role in Episode3! :)
---
#54
16 years ago
Darn, I don't visit the off topic forum here much, but I had made these for another forum, mere minutes after the announcement on the news. Palpatine was the obvious choice for a photomanipulation, but after I did the Saruman one, I did a double take at how you can almost not tell that that isn't Christopher Lee under there. And then I also did a more topical piece.
Hopefully nobody's offended. :)
---