#1
16 years ago
Well..... Whatever i do, i cant get a server to work. With dedicated, ppl can find it but cant join. With Listen, ppl cant even find it.....
I have opened mapping ports 7778 7787 7788 7777 and 28902. I have also put (in the ut2003.ini) file - Behind NAT as True. Still nothing. What is wrong ! :uhm: Also, is the public port UDP? Is the truigger type UDP?
---
#2
14 years ago
Hey guys,
I am having some major problems with my srcds dedicated CS:S server. The deal is, nobody can connect to my dedicated server, it appears as when added to favourites, it doesn't show up in their steam list when searching, and when people follow me via friends or xfire, they get the error "connection failed, after 4 retries", or something along those lines. Only I can connect to this server. I have read basically every thread in these forums and still cannot get it to work.
My sv_region 5 is correct, because I live in Australia. I have sv_lan set to 0, as it should be.
I have a Linksys router WRT54GP2. I have tried to forward ports via my router, here is a screenie (please tell me where i'm wrong, as i believe this is where i'm going wrong): And yes, I have been to portforward.com and follow their instructions.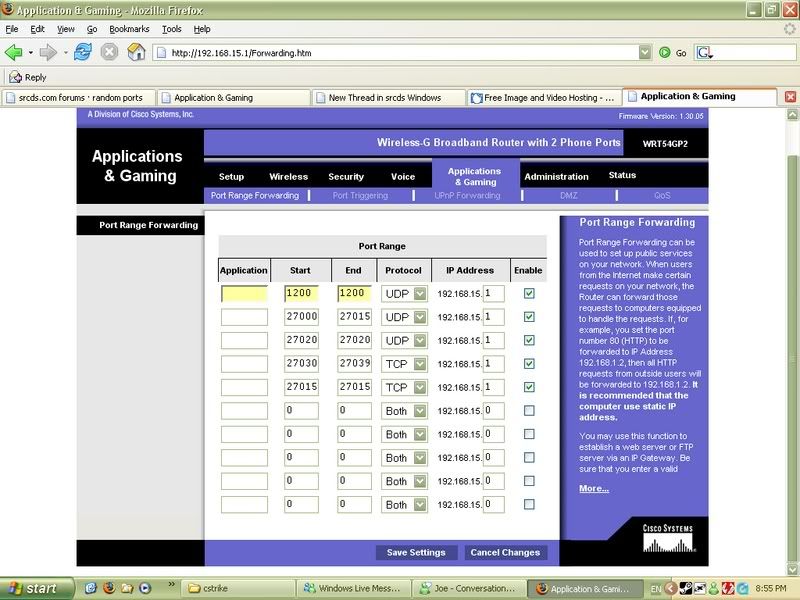 I am not 100% sure my ISP has given me a static IP adress, so i have follow this guide to 'get' one: http://www.portforward.com/networking/static-xp.htm
As for the IP adress I give to people to connect to my server, it is the one that appears in srcds.exe when opening my server (in the command prompt).
I would GREATLY appeciate Any help given. Also, if you are willing to contant me via MSN, plz leave your msn addy here or pm me. Once again, thankyou!
MSN is [EMAIL="tech-for-less@hotmail.com"]tech-for-less@hotmail.com[/EMAIL]
Isaac
---
#3
14 years ago
Static IP costs big bucks.Got 2 things, the game will probably read the modem-router-lan ip.Look for your connection and see different IP, not lan.UT99 finds my lan IP, I have to get my real IP elseware.Try some ipconfig prog to see whats what. All those "192." are lan, not the IP your connected with to the internet.
---