#101
12 years ago
Atrocious;44641371. You closed his laptop. :p

...about the other cars I don't know. :D
Its rather difficult to get a car into prypiat, or the NPP....or into the 'carcophagus'..... :naughty: I know other car obsessed players have probably done it but i have never seen a screen shot of it. If I could only get that stupid little car from armywarehouses and give it the same sort of stats as the green machine I could probably get it much farther into the station itself....or maybe the jeep....but I would prolly get fragged on my way there since the jeep is such poor cover.
And there is nothing cooler than driving down the NPP level with Helis doing a bombing run around you..... =p
---
#102
12 years ago
RK them photos look pretty cool. i tried the vehicles back with patch 10003 and i think faiakes mod 2.1. they did not work well. they ran out of gas after about a minute or 2 and they kind of floated. i ran into a dog. he tore off the whole front bumper and broke of the mirror. dogs or what ever could just run into the thing and knock it all over the place. it was funny. i felt i had better armor or a chance on foot and never tried to drive stuff again. it would have been nice to drive stuff and choppers and such too. be nice if the vehicles had a stash box on them to haul your goods around and across spawn points or levels what ever its called.. ha ha. a parking lot out side of the bar trader. have fun see ya.:)
---
13th January 2008
0 Uploads
#103
12 years ago
Cars were fun, one of the only mods I ever played. The others unlocked cut monsters and one to add blow outs into the game again. Got a few old pics of driving around the zone (Mostly Cordon and Garbage before I deleted the mod).
Here's a "hood" ornament.:0wned:
Oops, hit someone's dog.:eek: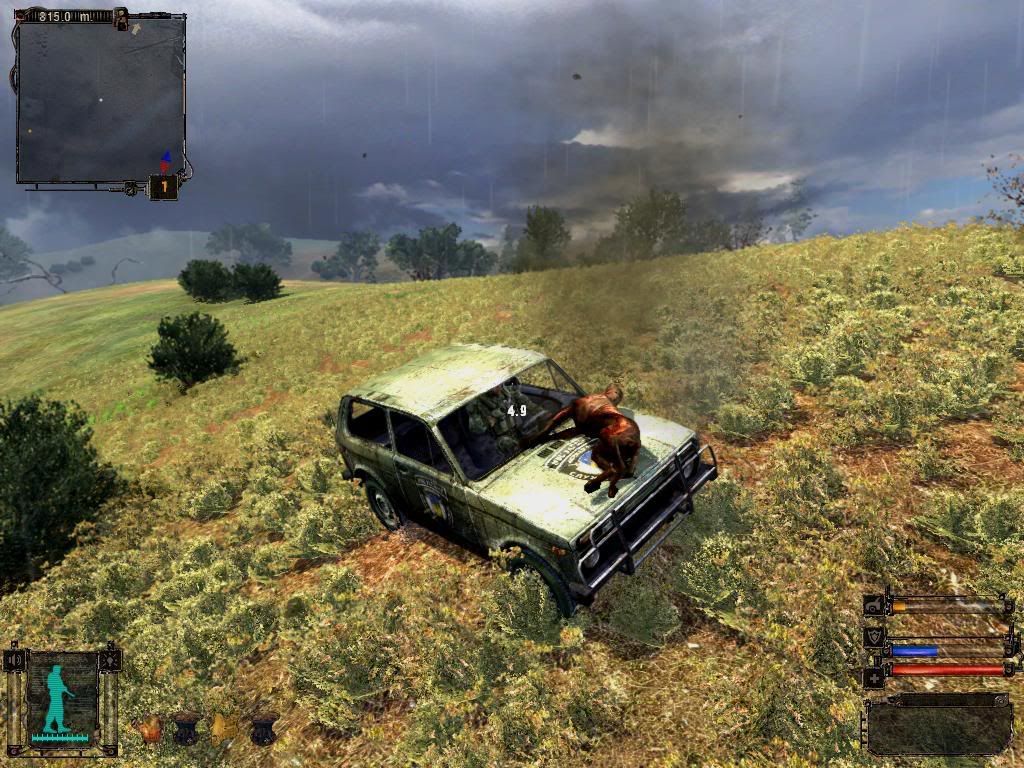 But I usually just ended up a tree or exploded in a anomaly, which is why they were removed.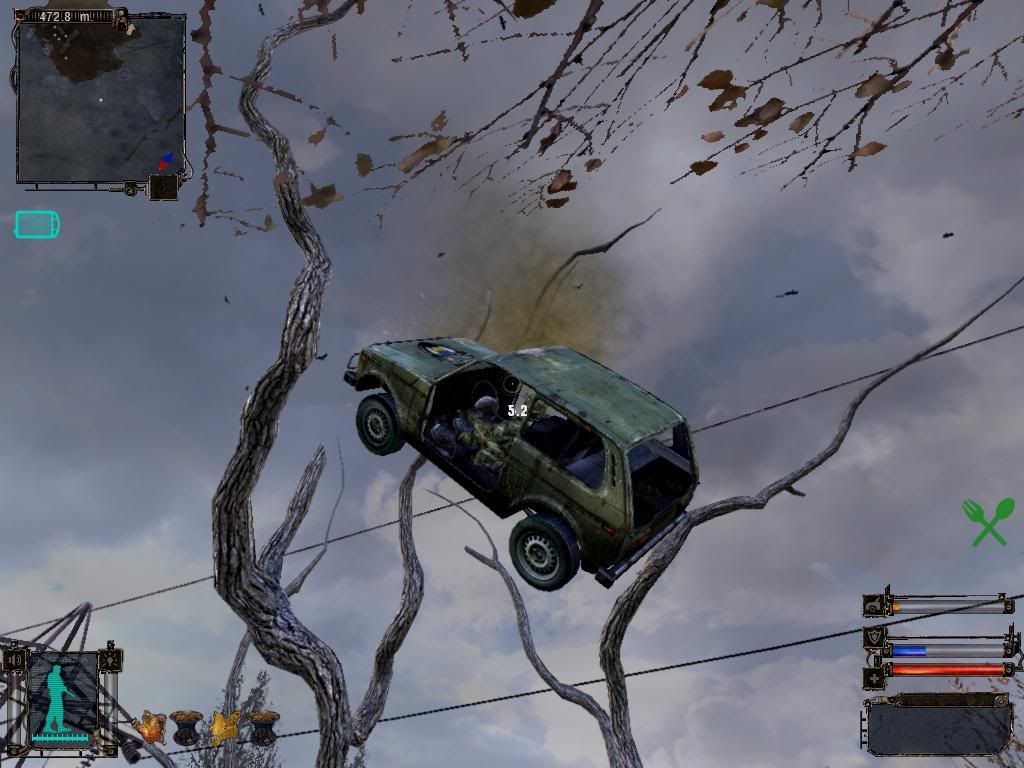 ---
#104
12 years ago
Heres another showing where the car is actually parked....
I have driven it down the hallway leading to the Gauss rifle guy who ambushes you, but there is no way to make the next turn.... :(
Luckily in OL 2.1 there is an exit I can drive it out of the SARC so I took it back topside and slugged it out with the tanks and Helicopters.....
OK, so I cheated and killed them with my Knife of a thousand rpg's but still, it was murder driving around, when one hit from a tank kills you.
I am standing where teh Gauss rifle guy was standing.....
---
14th April 2008
0 Uploads
#106
12 years ago
dear jesus, you had to be realy bored
---
#107
12 years ago
hehe well i was messing with the views to take screenshots and I accidentally discovered how stupid he looks when doing anything except standing still.
---
#108
12 years ago
abandonator;4518364dear jesus, you had to be realy bored
hehe well i was messing with the views to take screenshots and I accidentally discovered how stupid he looks when doing anything except standing still.
Can you tell I like the electro? :D
---
#109
12 years ago
A Duty member in combat stance with his MP7
Dusk at the bar
Early morning at the hangar
An Ecologist member at Yantar
Blowout - One of the best blowout pictures I've taken.
Dr. Gordon Freeman - Funny easter egg.
Early morning - I'm a sucker for lens flare. =p
Bandit massacre - On my first visit to the bandit base two bloodsuckers and a dozen rodents got in before I did and killed all but five bandits. (They even killed Borov!) I was reduced to doing the mopping up. :(
Pile o' mutants - I found this mess on one of my visits to the Wild Territory. I counted 12 rodents, 7 blind dogs, 1 pseudodog, 1 poltergeist and 1 Merc. God knows what happened here. :lol:
Silouettes on the horizon
That's gotta hurt
---
4th September 2004
0 Uploads
#110
12 years ago
Where are screenshots kept? I can't seem to find mine.
---