#1
12 years ago
Ok, So I have seen a fair few attempts at Asteriods and to date the most convincing has been the sprite efforts of Yacuzza and Fleetops. These however had a serious issue when they were viewed close up as the asteriods looked flat and totally unrealistic, although at a distance they were unsuppasable. The alterantive method which is used in the stock game was to make asteriod models and put these together to make fields, the problem is that this looked unrealistic and under detailed all the time. To make all the necessary detail would require a stupidly high poly model.
By combining the two methods and being a little more generous with my poly counts (this field is 900 polys) I made this:
Spoiler:
Show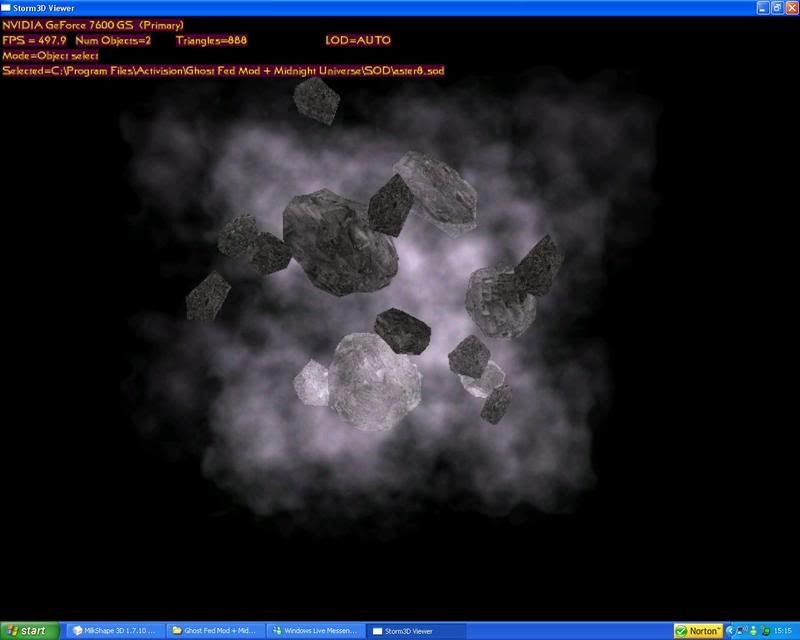 Please give oppinions.
This picture is a little misleading as it is as close up as you would get to the asteriod field so the detail is a bit iffy, also in game it would be moving so you never focus on any bit of detail quite the same.
---
5th August 2004
0 Uploads
#2
12 years ago
i like the idea, the asteroids look very good
---
#3
12 years ago
that looks nice, good work, what we need now are ingame shots :)
---
4th August 2004
0 Uploads
#4
12 years ago
I think it looks very interesting.
---
#5
12 years ago
Your going to have hundreds if not thousands of these on most maps, is this not likely to have performance implications, especially considering most people are still with A2 because of the age of their PC's?
That having been said, it looks quite nice.
---
#6
12 years ago
well the mod I am making has the policy of: "I don't care about other people, this is my mod and my PC is up to it"
Indeed in this mod I will have Nano FX, high poly models and high resolution textures.
Indeed I am using high poly models, but many PCs are far better than they were when A2 came out. While many people maybe behind on PCs, mine has had no problem with stuff and the processor is a AMD Semperon 2800, which you can get for £25. ($40ish) So mine is hardly high spec with a Core 2 Quad processor, DDR2-1100 RAM and 2x8800GTX Graphics in SLI.
Also in the case of these asteriods, there is a distinct difference with the stock. Firstly, a single model of these will cover the area of 5 or 6 of the stock ones I imagine while maintaining a realistic and quality apperance. As the stock asteriods are around 100 polys each, this isn't so bad anyways.
---
#7
12 years ago
Looks good, but I've never been disappointed with the stock ones (or moded ones). They're not that high priority to me. I do have a question though. What are the rotation settings on yours? Have you got 'em set to spin omnidirectionaly, and such? Okay, technically, that was two questions but you could hide duplicate rocks with some clever axis rotation.
---
#8
12 years ago
I agree with all those that link this ;) I think it looks pretty darn nice, though the asteroids could do with some new textures.
---
#9
12 years ago
Kel:
Well I think that in a mod that improves a lot of the graphics in a game, things that aren't of the same quality stand out.
I haven't got any odfs or anything like that done for these yet, just the model. However as it is a single model the whole thign will rotate together which may not be idea but it is the best i can manage without a lot of hassel that I don't really want.
Ash:
I'm afraid I am hopeless with Textures, these I got off various pieces of work by Yacuzza (and yes I have had permission, several times actually.) If I came across some better asteroid textures then I might be tempted to use them.
---
#10
12 years ago
Ah, okay. It's been a while but I just remember seeing some settings for asteroid rotation somewhere and thought it would be helpful.
---