#1
11 years ago
hey hey all!
I was just wondering if anyone has modeled this ship for STA2? I've looked everywhere but I think no one has :uhm: I would try myself but 3dsmax milkshape etc isnt exactly my calling lol would anyone be up to adding this to STA2? :):):)
heres a pic
and another
clicky:
Diligent Class - Bravo Fleet InfoBase
edit: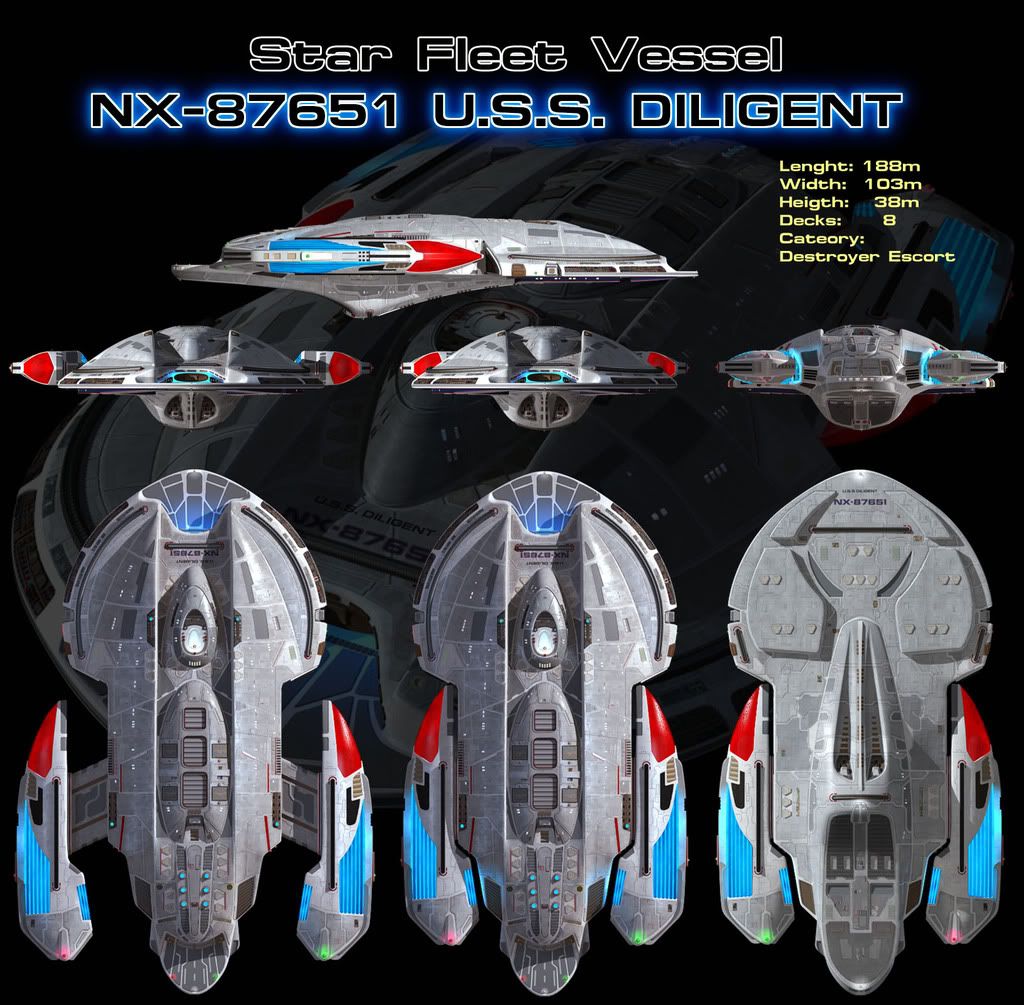 ---
#2
11 years ago
Hey, welcome to the forums.
This is the first I've heard of the Diligent class starship. I haven't seen it for A2. It's possible someone's working on a model of it out there, but I doubt it. Good luck to anyone who gives this ship a try, though.
:cool:
---
#3
11 years ago
Yeah, that is a nice ship...I dare ask for someone to make a SFC III version, but given the game is old, probably not.
---
#5
11 years ago
Aww guys! You destroyed my surprise :P I'm working on a Diligent Class for a while, so sooner or later, it will be released for both Armada II and Bridge Commander. The ship is truly awesome, but the poly count is incredibly high (~300.000, if I remember correctly), so it really needs some rework. But I'm on it :)
---
6th October 2006
0 Uploads
#6
11 years ago
yh u making another ships from there
---
7th August 2002
0 Uploads
#7
11 years ago
Has already been made, but not released.
---
#8
11 years ago
sweet! Sorry to ruin your surprise :/ but ive just wanted this ever since I got the game, its a cool little ship! :) cant wait for your release
---
#9
11 years ago
Oooohh man! People are ganna be doing double flips over this ship! I have to admit though, she looks far more better when the nacelles are not retracted like that(has a more Starfleet feel to the over-all look)thanks QuietRiot522 for posting her here, if anything, I can make use of some of the TNG design elements for future ships but yes she too would definitely make a fine project(especially for Bridge Commander)I just wish that she wasn't named as another Deligent class as that has already been given to a ship by Hobbes that's just as inspirational and is also on my to do list. :cort:
Spoiler:
Show
---
6th October 2006
0 Uploads
#10
11 years ago
well thats called uss diligent dsnt mean its a diligent class tho :P
---