#1
10 years ago
Right,
How do I make them fly closer together? I have set the float FORMATION_SPACING = 50.0; in the RTS file. Cheers.......
---
#2
10 years ago
Simple, you lower the number of the Formation spacing, my version has it set up to 18.0
---
#3
10 years ago
Sorry to be off topic, but omg Galactica is in the corner xD Cannot wait for this mod. Especially when the last season is almost over. Need this to supplement my losses ;D
---
#4
10 years ago
Well, I have change the spacing down to 20, and it stil aint there. Doesnt it mess up the pathing if its lower than 50? What do the avoidence class's do?
---
#5
10 years ago
It could be possible that the ships are just too large to maintain closr gaps. It's an inherent flaw in a2 when you try to join ships of different sizes in the game, there tends to be massive gaps.
---
#6
10 years ago
Avoidance classes set a hardcoaded distance that other ships have to give in spacing. Lower the avoidance class and with the smaller spacing setup they should get closer. I use 1 on all ships and stations when I set them up.
---
#8
10 years ago
What StarFox said is correct. The Avoidance class places a bubble around each object which no other object can be inside of. I had the same problem with TFCs when I was working on A2PP X.
I suggest trying the following values.
avoidanceClass = 1 for fighters and shuttles
avoidanceClass = 2 for scouts
avoidanceClass = 3 for cruisers and destroyers
avoidanceClass = 4 for battleships and science ships
avoidanceClass = 5 for BattleStars and BaseStars.
I also would not set the formation spacing value any smaller than 50.0. If you do, smaller ships may "flutter" while trying to align themselves into a formation which is stationary. Using an avoidanceClass = 0 tells the game engine the object does not exit and other objects will pass through instead of around it. The maximum value allowed for the avoidanceClass line appears to be 9. It will accept a bigger value, but it has no visible effect on the game.
All of the above will occasionally enable the ships to make some odd pathing choices in game. But these incidents are infrequent and short in duration. In a fleet action with 10+ objects in view, they are not noticeable at all.
I hope this helps.
---
#9
10 years ago
Tried it and this happened (it is the spacing that the ships stopped at in formation with avoidanceClass = 5):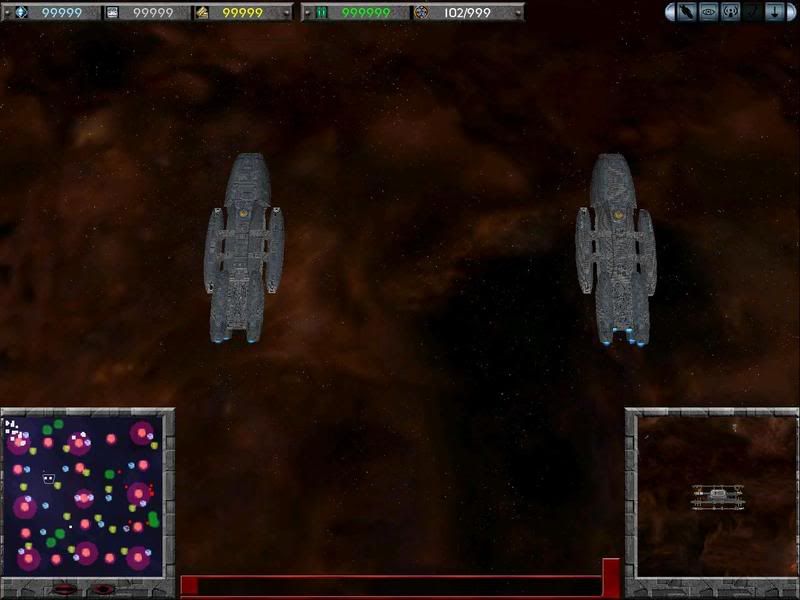 I wasnt sure if it would help, but I dont know what else to try.
---
#10
10 years ago
Place the grid back up so you can tell just how far apart they are. IN game scale is one grid square = 50 meters.
---