#1
14 years ago
Ok, here we go people, the Hyper-Drive class!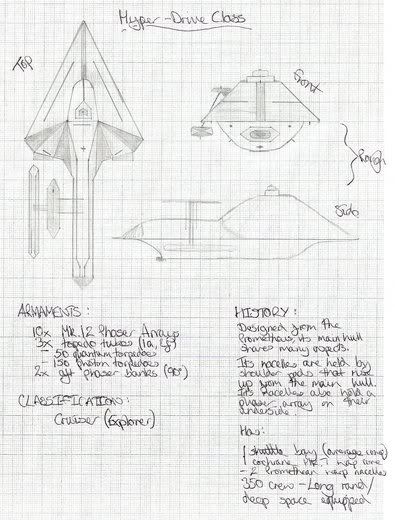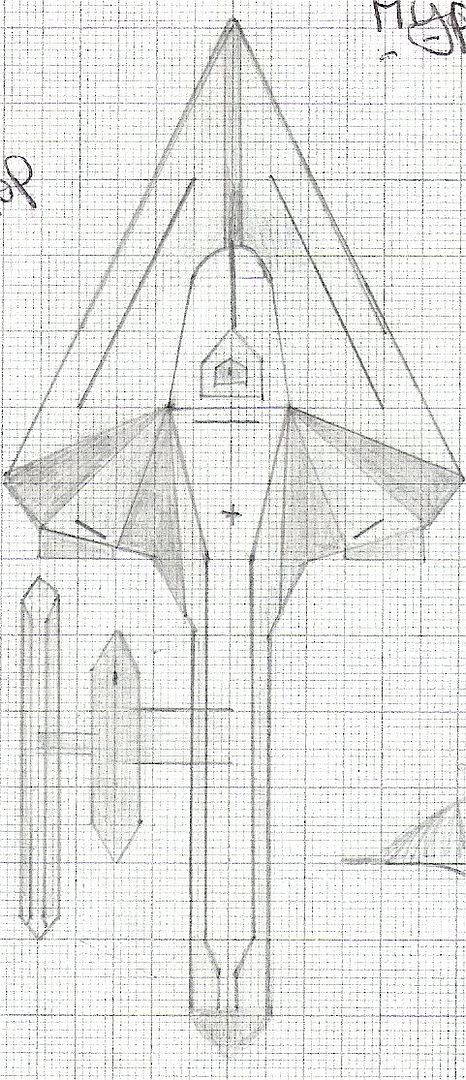 Obviously the second pic highlights the main drawing which has a few scaling issues, the warp nacelle for a start is a bit thin but other than that its pretty much all there. The other two designs are just rough ideas that I got down, the top right one does look like an Intrepid I know, but, as mentioned in the history, its supposed to look more like the Prometheus but not have as many wepaons. You'll also notice the bizarre nacelle arrangement, ok, picture this. You have a Prometheus with no nacelles what so ever. On the top of the extruded rear, two struts come out. Where the struts end there is kina like a rectangular shape which has a phaser nak on the top (rear weaponary, weak but enough (the other strut can fire one too, if positioned well they can fire at one target at the same time...)). Now, next to the first strut, anohter one comes out from this rectangular shape which leads down to the nacelle. On the bottom of the nacelle is a phaser strip allowing it for some kewl kick-butt action on its belly lol. The lines represent the phaser arrays (going on the enat design: 2 forward phaser arrays (above), 2 forward phaser arrays (below). 1 phaser array per nacelle. 1 phaser array behind bridge 2 on aft section of saucer 1 below engineering. The cross marks represent torpedo launchers and the blocks coming out form the saucer section are the impulse engines... Hope that makes sense, the only question I have left is can somebody make this? (You'll note, as I've said before, its basically a kit-bash of the Prometheus...)
---
#2
14 years ago
Good stuff, except one thing... What class did you miss drawing that :p
---
#3
14 years ago
I was supposed to be going to classes...oh dear... Nah, that was cobbled together last night while Big Brother was on and boring me and when some neighbours were having the loudest party at 1:30am...bah, anyhow, that's th ebest I could do, its only supposed to be an outline...
---
#4
14 years ago
Damn, you would have a gotten a medel for "Best Reason To Doss Off Class".... Ah well, you'll have to try again ;)
---
#5
14 years ago
Meh, so I will eh...by the way, I can't help but go: "Knowing me knowing you, aha!"
---