#1
13 years ago
ok i have an idea for a klingon ship, but i dont have any of the skills to make it on the computer, where could i find some one to make the ship for me or would any one here be willing to make it for me.:) *im more of an idea guy, until i learn how to do this stuff my self, im mostly SOL*:bawl: the ship is called a "Neg - Cha" and once you see a pic i make of it, you will understand why i would call it that. :nodding::deal:
---
#2
13 years ago
Hello: There are tons of great modellers in here, and I must say they will all going to have a look at your petition as soon as you show us a pic of your ship (and I'm eager to see your design too :D ).
---
#3
13 years ago
I have a theory on what it could be, judging from the name. A cross between a Negh'var and a Vor'Cha? Even remotely? Lol
---
#4
13 years ago
ya it would be a cross between the 2, but not as strong as a negh'var but stronger than a vor'cha. here is a very simple .... edit of a pic using the 2. i dont have a scanner any more so this is as best i can do ... for now :D i know its going to be slopy, but its my first time trying to actually blend the 2 of them but only using paint to do it. negcha by ~SPY46 on deviantART
---
#5
13 years ago
so ... any thing to say about my ship blend? (was never sure how to attack a pic on this site)
---
#6
13 years ago
Hello: Yep, I saw the pic of the ship and I may say it may be a great battlecruiser, since indeed looks stronger than the mighty Vor'cha. I hope we can see that ship blowing up some Cardie, Rommie or Borg stuff soon :stallard:
---
#7
13 years ago
ya me too .... i just wish i had the know how and skills to make that ship, because i also have a few other ideas for other races :D
---
#8
13 years ago
Something a little different there, though I would have it shorter and wider to make it look bigger than the Vorcha.
---
#9
13 years ago
oh ya no dout, i just wanted to give you guys an idea of what i was thinking of, i know its kind of shotty right now but in time i will DRAW it out, just not detailed really
---
#10
13 years ago
Something like this?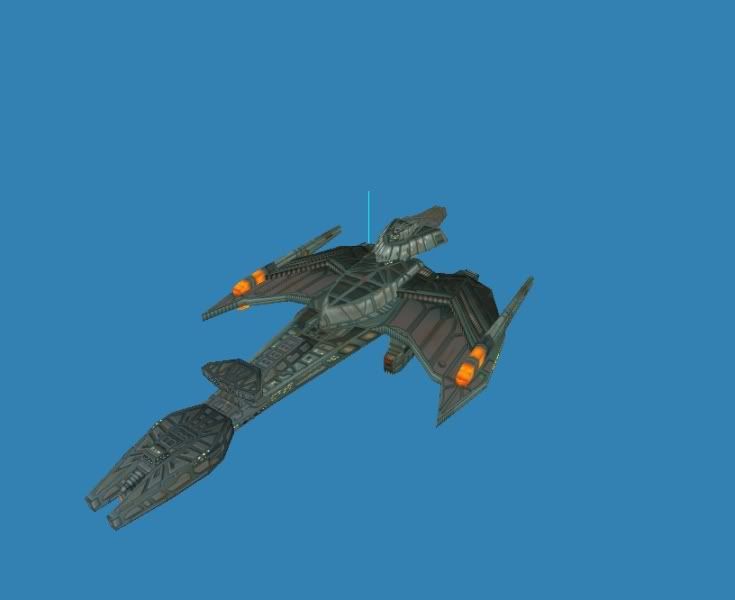 Joints were a bitch, so they had to be deleted. They'd have to be redone.
---