#1
12 years ago
Hey, I have been working (like several others) on a MVAM Prometheus, now I know that AdmiralRyan has already released a wonderful version up at the site, but I still want to finish my own because:
1- I want to. I could not finish my "baby" mod a few years back, I'm not quitting this one :cool: 2- It's different: New textures and sounds. I actually sat through about 2-3 hours of recording and editing that resulted in more sounds than the Enterprise-E! LOL Custom voices FTW! w00t! *cough* I'm tired...
Anyways, this is a quick introduction to my mod. I am also asking for some responsible reliable people to help me test it. Before you go saying "But it's just adding one ship, why all the trouble?" Well I have three reasons:
1- I have not made my own mod for Armada in 2 years, I'm bound to screw up 2- I have never edited sounds or done some of the things this mod does 3- These are fresh, warm scripts off the FleetOps people, and i'm sure they've done their testing, but you never know...
Wireframe and lightmaps are not done because I'm having issues with the alpha channels, but the rest is ready! Done and working! Those interested in helping out, send me a PM or an email: thun712712 at hotmail dot com
Sum clikable screenis: :D
Bunch of Prometheus doing MVAM on and off for collision tests:
The MVAM Button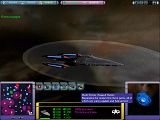 Reintegrating...
New textures on Deemon's Model... his texture was a little too purple-ish. Excellent nontheless!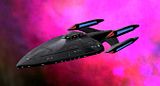 Texture comparisons!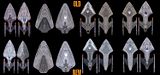 Photobucket sometimes is a "B" to me so if you don't see the pics, give it some time.
Thanks guys! Thun
---
#2
12 years ago
I really like the texture improvements. Looks like you've put a good amount of work into this mod already. Well done.
---
13th November 2004
0 Uploads
#3
12 years ago
I agree, looks like you're doing a good job on it, though you may want to clean up the wireframe for the complete ship (image 2).
---
#4
12 years ago
Thanks guys! I tried hard. It would be nice if someone could port over the models from ST: Legacy or Bridge Commander. I would definitely like to take a look at those, if anyone has any info on these, please let me know.
Thun
---
#5
12 years ago
I really like the new textures. This is the nicest Prometheus I ever seen!
---
#8
12 years ago
dan1025;4187031Yeah its a great model, though I prefer the one found in the Prometheus-X mod, as it comes with all 3 sections and the saucer has the extended mini-nacelle when seperated. Prometheus-X3, Star Trek: Armada 2 Downloads, Star Trek: Armada 2 TNG, DS9, VOY and Future
I like that one too Dan but I am affraid if memory serves me right that it was quite high on the pollies, over 3000 if I can remember. Don't quote me on that last one though. I am sure someone with the time could poly reduce it and removed the extra nacelle above the shuttlebay.
---
#9
12 years ago
I was actually looking at that one. I will consider the possibility of removing the nacelle by myself, but I can't reduce the poly-count. I really like the model, if I do get new models I will still release my re-textures to Deemon's model so it's not lost effort.
Thun
---
#10
12 years ago
Fair enough, it'd be good to have the alternative textures anyway, as they look like a real improvement.
---