#1
14 years ago
What is Midnight? Well, lemme tell you: It is a mod project, brought to you by myself and Yacuzza (primarily, you'll probably have other names helping in) doing a smaller project then that of Twilight for A2 (remember, Twilight is due for Legacy now) where we will unlikely be doing the mission changes (unless the codes come out soon) and even if they do, won't be the Premonition story line, though I'm sure we can come up with something intersting if need be ;) Our main effort is in creating balaned sides for the stock 6 races to the extent of changing ships, replacing ships or exchanging with better models. Currently, we have a ship list up for the following: -Federation (with a current 20 ship maximum) + Includes everyone's favourites, the Excelsior (refit and Lakota), the Galaxy, the Miranda, Defiant and many more. -Klingons (current ship listing of approx. 15) + Including some of the most fearsome battleships, including an upgraded Negh'Var, the Bird of Death and many others punishing ships. -Romulans (similarly about 15) +Warbird to Scimitar, want anything else :D -Cardassians and Dominion (About 12) +Cardassian cruisers to your Dominion behemoth's! -Borg (9 ships) + Assimilation guaranteed. Regeneration, as standard. -Species 8472 (8 ships, I think) + Bonus damage to the Borg makes these the ultimate Borg-busters! Idea's: -Flagships: These ships, that are limited in your armada, will lead your fleets into battle providing area effects that boost the effectiveness of the fleet. Most of these ships will have special weapons, which have been mostly removed from other ships. -Special weapon control: Only selected ships now have "special" weapons (button activated) and they are greatly reduced in number. +Regeneration for the Borg has now come about as odf coding, so they will be much more difficult to defeat without the proper means (a nice fleet of at least 50 ships per Cube I'd say ;)) +Some ships will have special wepaons that are ship specific, example, a Galaxy X would be the only ship to have an assault cannon, but this is auto-mated and does not require a button to activate. +Some ships will have less notable special weapons, such as a Norexan having heavy disruptors. These types of weapons are spcific to that race in particular as only the Norexan and the Scimitar would have these heavy weapons. Other ships might be classified as heavy a special, of which the Romulan D'Deridex warbird has, with it's barrage of weaponary. So, special weapons have changed, but not gone :) -Fleet sizes: No longer restricted (bar your flagships), you can have an armada from 10 ships to 1000 providing you had the resources! -More canon weaponary effects: Older Federation weapons will do little to no damage to Borg but quantum torpedoes do an enhanced damage to quell the Borg threat they were originally intended for use against. -Revised tech trees: No longer will you know where the enemy is at, as with each race having a unique tech tree, or some, such as the Borg, having almost none, gameplay will vary incredibly making it fun to play against an improved enemy. -Enhanced physics: Re-designed ships physics and hard pointing will mean taking on a Cube from any angle would be bad, but taking on a Warbird from her dorsal shielding with a Defiant would definitely be a wise manouver. There is a bit more, but for the mo, I'll leave you with a few pics to ween you into Midnight:
The borg mining freighter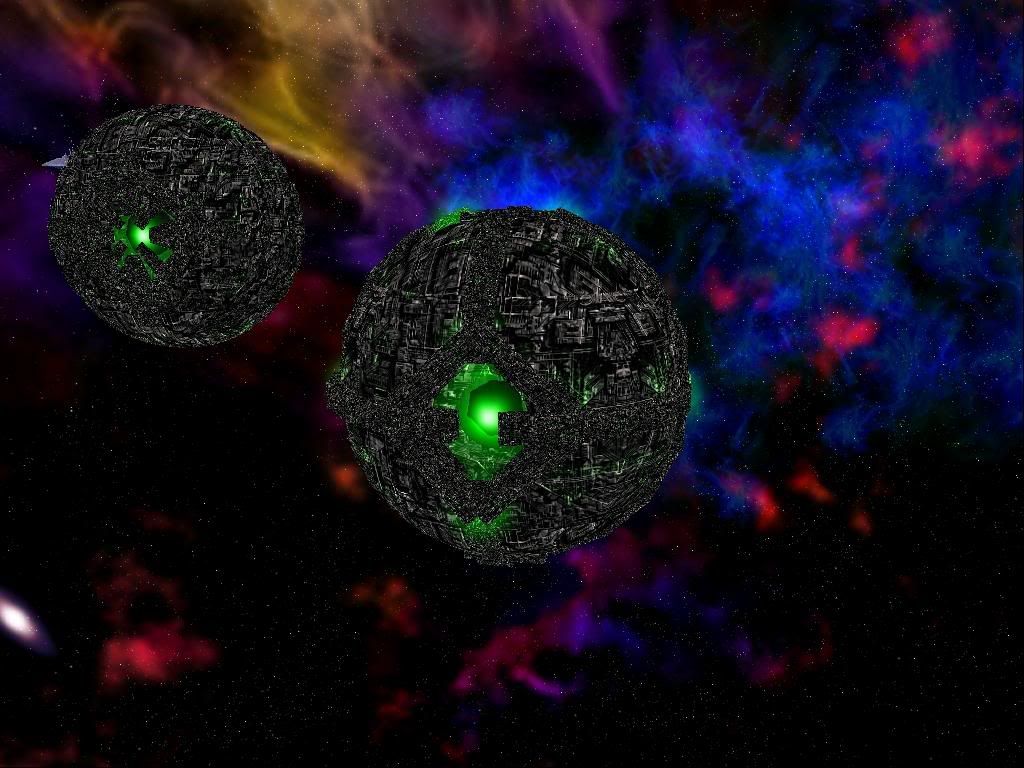 Introducing two ships that you shouldn't get on the wrong side of; the Sphere and Tactical Sphere.
And two more that wouldn't be best met either. A Dominion cruiser and an upgraded battlecruiser.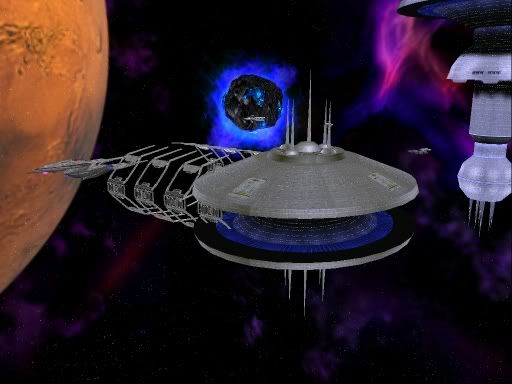 A Fed shipyard. The flagship, USS Soulwolf is on guard of this base, be warned.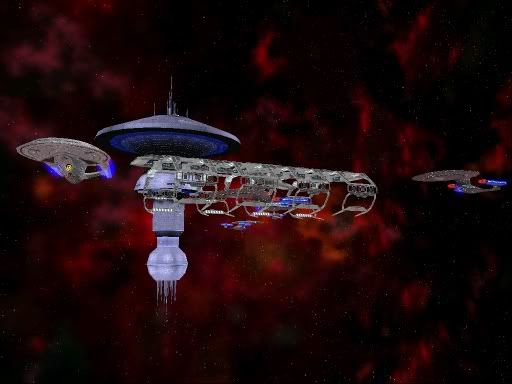 Just a stroll for a few Dreadnaught's.
"Warning, big fleet in construction." Expect a Mod Profile soon :) *Note, ships shown might not necessarily be in the finished product.
---
#2
14 years ago
brilliant work Yacuzza, love the backgrounds as always :D
---
#3
14 years ago
Looking great Joel. Love the Dominion ships, I have been making a personal mod with them in and having a hard time trying to find high quality vessels (that match the Dreadaught out of BIVR) of them.
Looking to be a good mod once completed.
---
#4
14 years ago
is this mod going for cannon? i know u said a fleet too destry a cube and + dammage too borg with species 8472 but are u going too go as far as having hull impacts on the borg ships like in the cannon and the borg cutting beam and anti-shield torpedo for weapons, and what about the cube launching spheres? trans warp standard w/ borg ships? omg and are u going too have a prometheus w/ MVAM !? these are just some of the things i want in my dream mod that i don't have the modding ability too create:bawl:
---
#5
14 years ago
-MVAM Promtheus is bordering on impossible, sorry. -Aiming for as canon as balance will alow. -Weapons will be attempted to get as close as possible to the real thing, obviously, in some cases that won't be possible. -Cube launching Sphere's hasn't been discussed yet. -Transwarp will be like regeneration, coded into every Borg ship :)
---
#6
14 years ago
Yes I did made Cube that launches Sphere's, only problem is that you can launch as many sphere's as you whant, but that is as close as it gets now.
---
#7
14 years ago
Actually, if you used a special weapon, like one of the Cardassian's drones, you could have the "drone" be the Sphere that would launch and then return into the same point?
---
#8
14 years ago
explosion of borg sphere
---
#9
14 years ago
sweet this mod will be perfect then too bad about mvam and sphere launching:( but there not that important too gameplay anyways. o and what about the borg hull impacts like in cannon star trek? or are u just going to have shields on borg vessels like regular a2? also are u going too use the blue shields in this mod which look completly awsome:p
---
#10
14 years ago
Blue shields = Yes Borg having shields = Not discussed yet, but personally, I don't want them.
---