#1
11 years ago
Well, it's been a bit since I've done any modeling since College, so while I'm out on summer break I'm trying to get back into the mix of it. The guine-pig for this is a Bird of Prey design for the Remans that's been floating around in my head. So far it's a bit over 300 polys, but I haven't gotten rid of any stray ones yet.
She's suppose to be small, around the Klingon's B'Rel Scout (or their Bird of Prey in A2), but she's a tough one. Her offensive power is going to be slightly greater than the Shrike, but what she gains in power she'll lose in defense.
What do you think?
Spoiler:
Show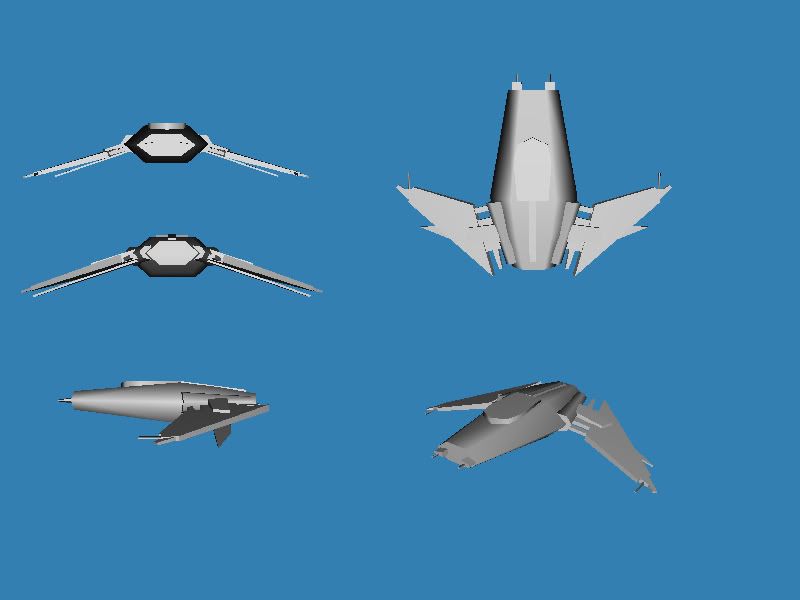 ---
#2
11 years ago
I quite like it :D Especially the wings. Wonder what it'll look like textured. Welcome back too :)
---
#4
11 years ago
Great model, looking forward to seeing it textured. :)
---
#5
11 years ago
Great start, looking forward to seeing the fininshed product.
---
#6
11 years ago
Reman bop = epic win. Cant wait to see her done
---
#7
11 years ago
Thank you everyone, I don't know if I'll be able to get it textured this week, but once it's done I'll post the pics :).
---
23rd March 2004
0 Uploads
#8
11 years ago
O...M...G... ITS!....ITS!....ITS!!!...ITS BREEXX!!!!!!!!!!!!! Duuude where the hell have you been? or have YOU been here and I haven't?? Hmm..i don't believe so though.. ship looks great good to see you're still around bro!!
---