#1
10 years ago
yeah, another noob who messed up his game... i don't know which button i pressed, but i can no longer see my instruction button line in my game.
means, i can click on a ship, but the build buttons and such don't show up. what did i do? please help.
---
SFC3
HL2: Leak: Mod Fan/Geek
50 XP
#2
10 years ago
That happened to me. Reinstall.
---
#3
10 years ago
Try pressing ctrl I a few times and it should come back.
---
#4
10 years ago
reinstall? is there another solution? the game is so heavily modded, i would loose a week of work.
@Greathor: sorry, the other small windows and such vanish and come back when i press crt+I multiple times - but the buttons remain gone
---
Freyr
VIP Member
A2Files Staff
46,875 XP
6th February 2005
11 Uploads
#5
10 years ago
Lets just work back a bit, did you install or edit anything just before it stopped working, or were you just playing the game when you lost your toolbar?
And just to clarify, is this the buttons that have gone, or the tooltips on the buttons that tell you how much a ship costs when you hover over it?
---
24th February 2007
0 Uploads
#6
10 years ago
Reinstalling is a little extreme for this problem lol. Go to the buttons found at the top right of your screen and open the advanced buttons, then press the button labelled "Toggle Palette", it will bring the buttons back up :) I've provided a pic just in case:
Spoiler:
Show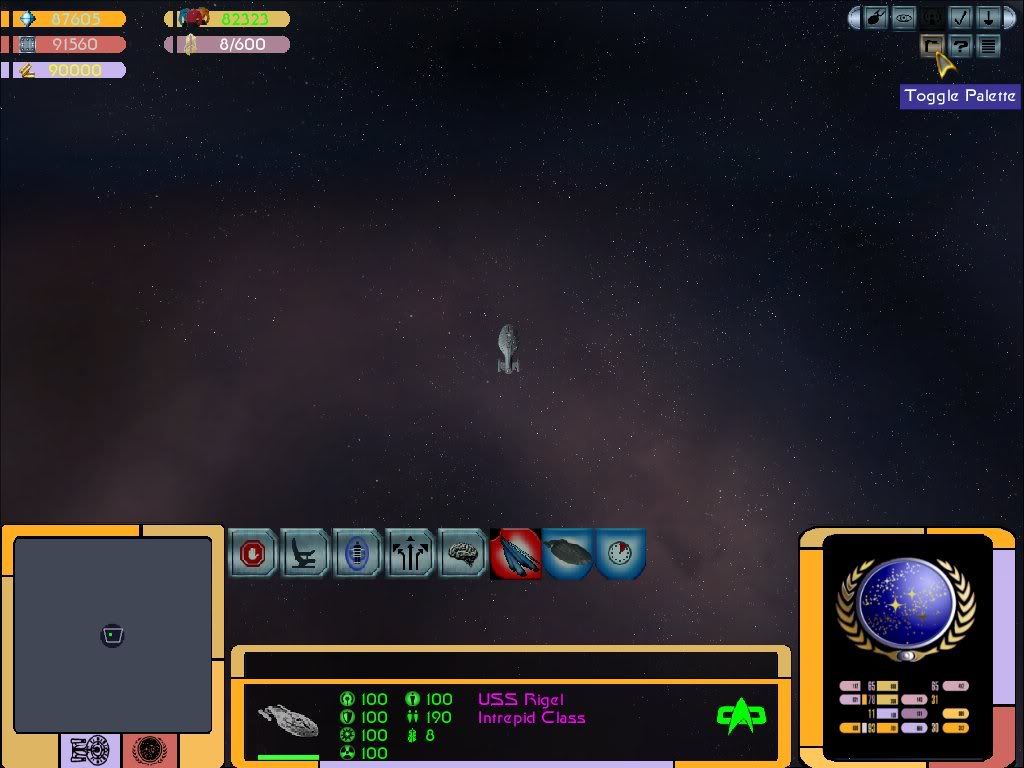 ---
#7
10 years ago
@freyr: it is the buttons that have gone. i lost them after editing the fed stations, but i think it happened ingame.
@dan: no, the toggle palette button does't bring them back, too.
---