#1
10 years ago
We must first establish peace and mutual respect among the clans, before we can get down to the important part of killing each other in space. I'm setting up a website where all clan leaders can meet and discuss the details of this worthwile goal on neutral ground. Any and all clan leaders posting here will be given the link to that site in a pm from me. Now let's put our differences aside Commanders and make this work. Remember, your leaders of men.
---
#2
10 years ago
As the representative of UFDF, you have my support.
---
#3
10 years ago
As the Sage of the Korunnai. must say this, me. Not really sure how this is gonna work, me. some balawai from the ISS is sure to make a flaming war of some kind. us Korunnai dont like balawai that try to destroy entire game communities. and can be quite vicious if provoked. do like your idea tho, me. we wish you goodluck on your efforts and offer our support :)
---
#4
10 years ago
hope to see you out there on the battle field and hope when we get the bugs worked out you will join us
---
24th April 2008
0 Uploads
#5
10 years ago
as current Leader of UFDF , as Adam has said, i support this idea 100%
---
21st December 2005
0 Uploads
#6
10 years ago
representing -=USF=-, we're in
CPT Torrex
---
#7
10 years ago
As the one of the go to guys from the Devil Dogs, along with my compadre Browneh, you have the support and assistance of the Devil Dogs. There is new blood in the BC Division of the Devil Dogs gentlemen. I hope you will trust Browneh and I and be able to negotiate and eventually have some outstanding tournaments and matches.
Regards, Gendrix
---
#8
10 years ago
I for one am willing to put the past behind us and star a new. All clans should be given a chance to participate in this.
---
4th February 2006
0 Uploads
#9
10 years ago
As acting leader of Federation Empires, while our President is indisposed, I would like to formally announce our participation in this venture. :)
---
#10
10 years ago
Several clans have already joined the Embassy. I hope other clan leaders will follow suit and send me a pm, so I can give them the link and set up an Embassy HQ for them as well. Thanks for all your support.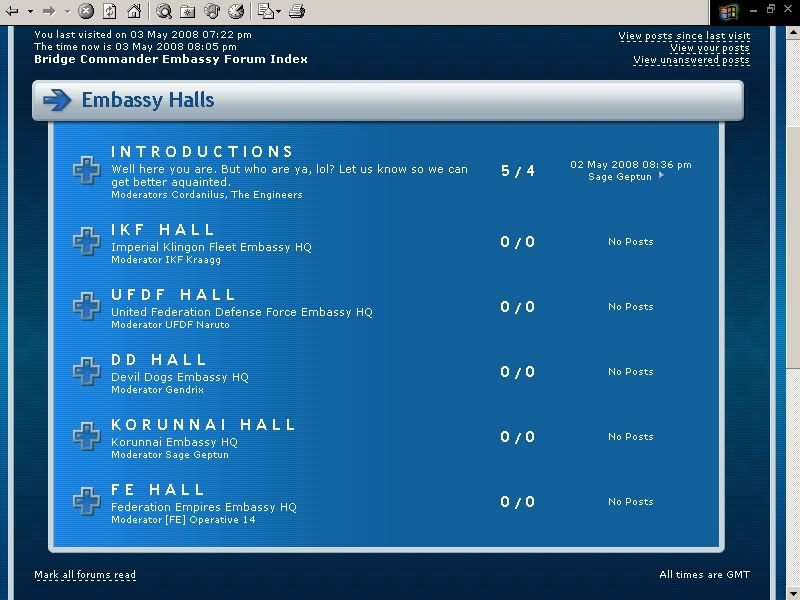 ---