MScott
CGI Rendering and Animation
50 XP
20th February 2007
0 Uploads
#1
10 years ago
This tutorial will show you how to make starship registries in 3ds max. I'll be using 3ds max 7 for this, but other versions should work the same. First start by going to the top and choosing "create/shapes/text".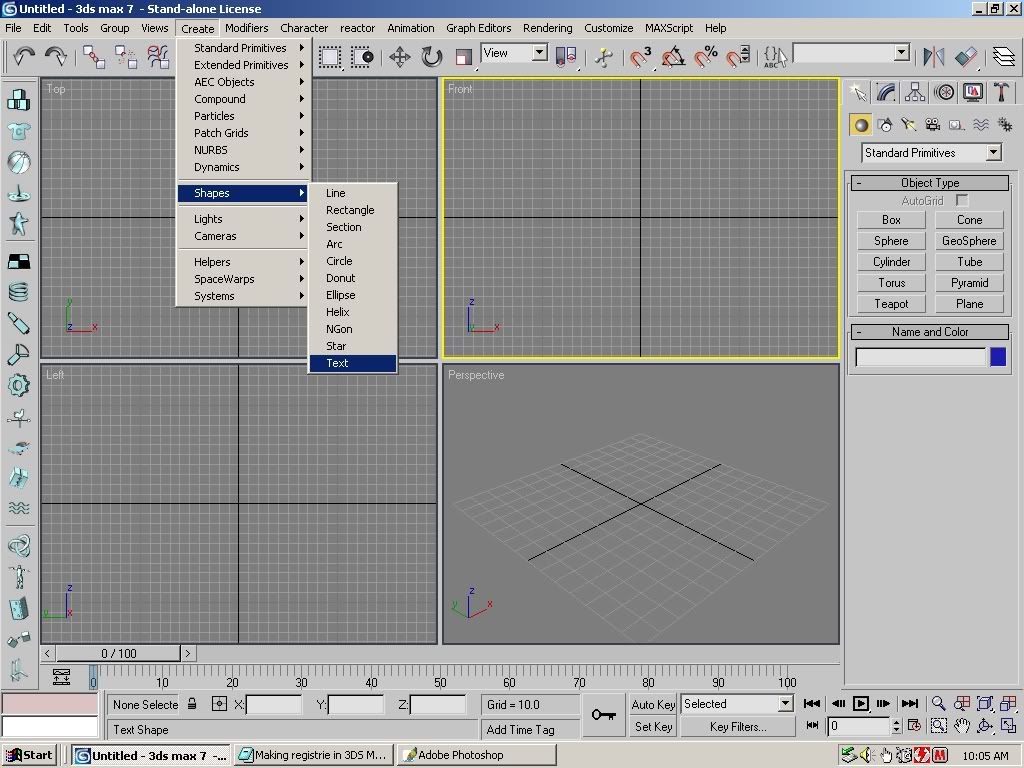 The font I'll be using is called "Federation Starfleet". It is easy enough to find on a search of the internet. Once you select the font, type in the name you want and set size to 50.0. Then open the front pane and click in the middle and the text will appear.
Now add a UVW modifier so you can add some color.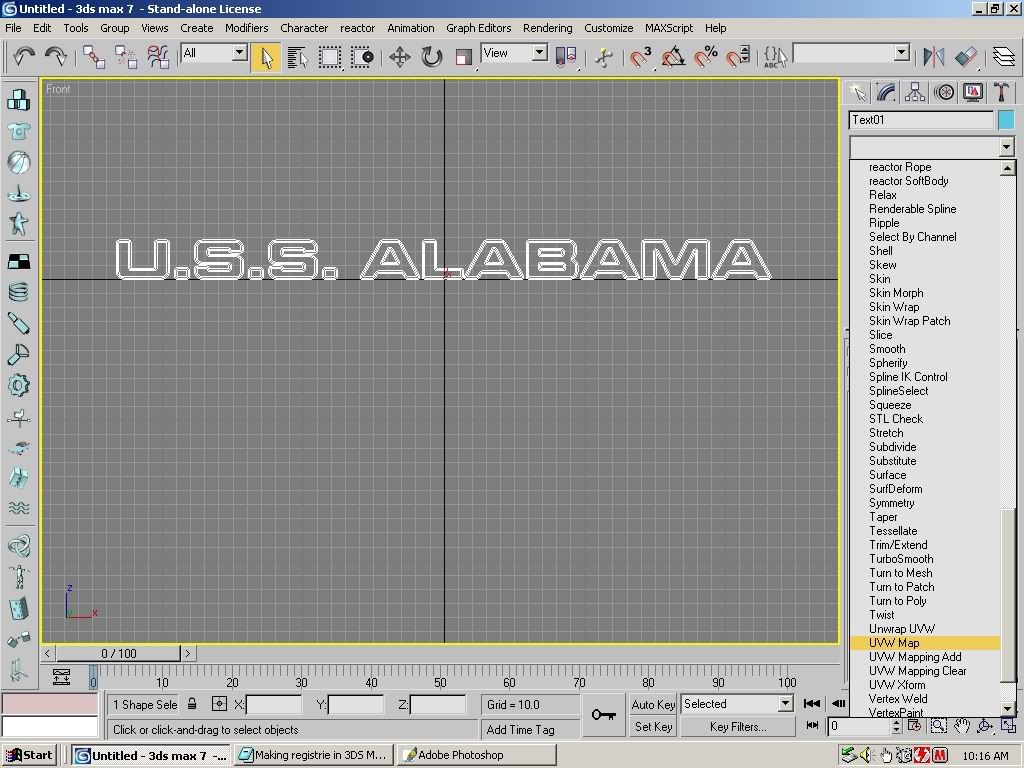 Press "m" to bring up the "material editor" box and make a new diffuse material for the text model.
In the first material slot click on "diffuse" and make the first color RGB=141/57/70. This will give you a deep red hue.
Then drag that on to your text to apply it. If you do'nt see it, you will need to right click at the top of the pane over "front" and select "other/smooth". The color should then appear.
Drop the material editor box down and right click on the text and choose "convert to editable mesh".
Then in the modifier window select "polygon". This way you can select the inner polys and apply another color to them. Hold the "ctrl" key down and select all the inner polys.
Bring the material editor box back up and make a new material with RGB=44/44/82. This will give you a nice deep blue for the inner polys. Drag it on to the selected polys and then click somewhere off the text and they should appear blue.
Repeat this process for the registry numbers but make the text size this time 100.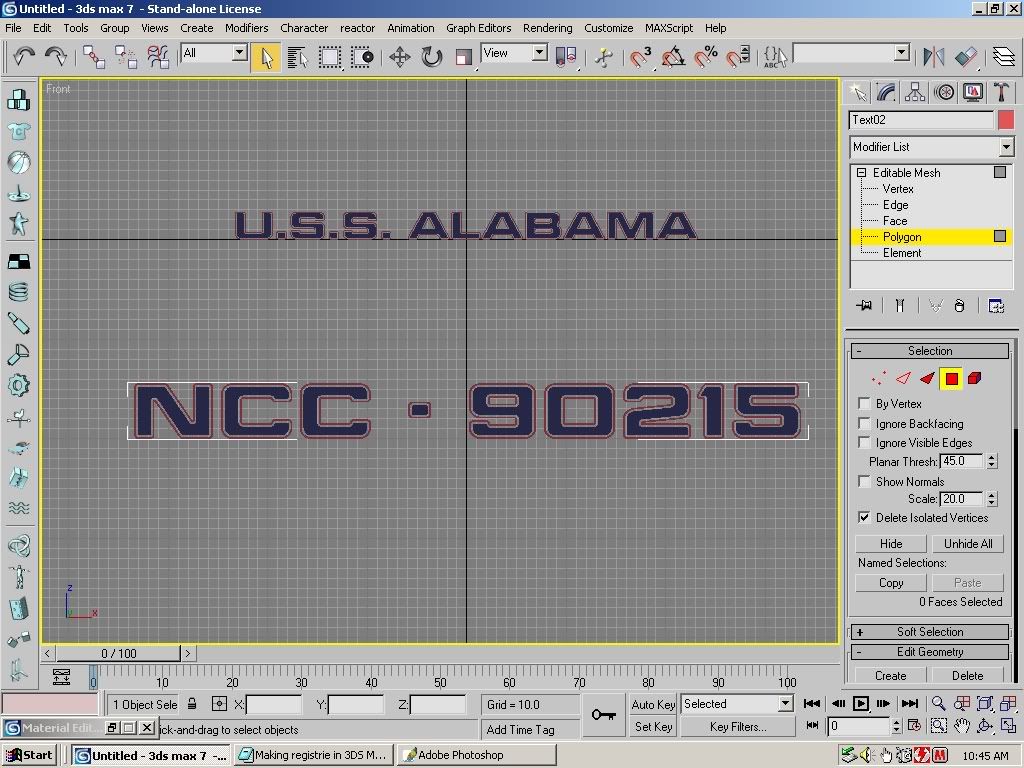 Now if you want to curve the text to match the saucer, you'll need to add a modifier. First right click on the text group you want to bend and convert it to an "editable poly" then go to the top and choose "modifiers/parametric deformers/bend".
You'll have to play around with these settings to get the angle you want.
Now just set the background for rendering to white. Do a quick render and save to file,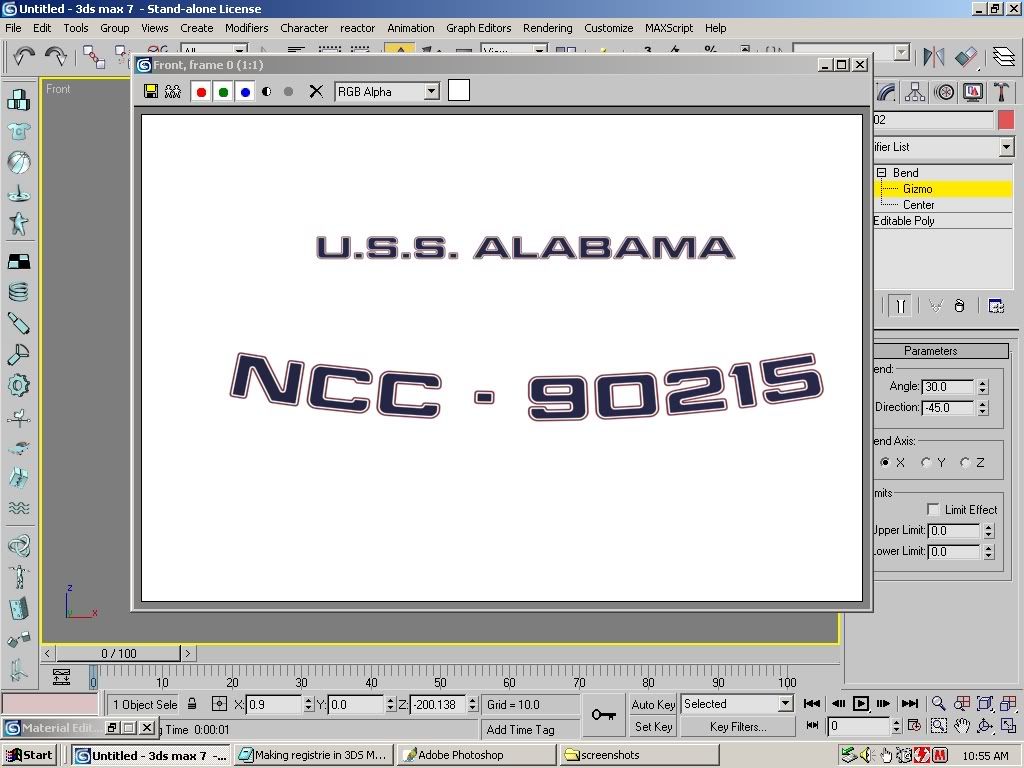 3ds max is a very robust program and I'm sure I could have made this easier to follow along with. But I hope many of you will find this usefull. Enjoy, MScott.
---
11th March 2008
0 Uploads
#2
10 years ago
Thanks MScott, I'm a beginner and I just got 3ds and was feeling a bit lost.
P.S. :cheer:Roll Tide!!!!:cheer:
---
JimmyB76
Filer
ST: Bridge Commander Central Forums Admin
30,798 XP
19th March 2003
0 Uploads
#3
10 years ago
indeed! that is most helpful!
you should put this guide up at BCS and BCC as well :)
---