#1
11 years ago
What is the best star trek series? Consider everything (stories, FX, ships, actors, ect.) 1. Enterprise 2. Origional (including the 6 TMP movies and animated series) 3. Next Generation (including the 4 TNG movies) 4. Deep Space Nine 5. Voyager Rate them and give your opinions :)
---
#2
11 years ago
1: Enterprise: Stories are medium to weak, only 1 in 15 or so episodes are really engaging, the rest has already been done on TOS, TAS, TNG, DS9 and Voyager. Some stories on Enterprise are pretty emotional, but like I said, most of them have been done before on the shows that went before. My opinion was that they did just a little to much long story arcs near the end. Xindi arc was cool, but I would've preferred it if they did that story arc, but then evolving around the Romulan war, and devided into smaller arcs. FX were great, a real treat sometimes. But you already can see that the FX are not really on par with shows like nBSG or SG: Atlantis anymore. Then again, these shows were produced just after Enterprise ended, some 3 years or so after Enterprise aired it's pilot of the first time. Music could have been much better, but that's always been a shortcomming on the shows. There are only 1 or 2 episodes where the music really compliments the story, but most of the time it just seemed they just had to fill some dialogue up with some random music. I know that the look of a series should evolve into something better, especially when you look at how TOS looks like, but I think they overdid Enterprise. The ship looks like an Akira turned upside down. I also think they should have equipted Enterprise with nukes, and not those weak spatial torpedo's. The actors weren't bad, I really liked Phlox and Tucker, but most of them were under used. The crew just doesn't seem that memorable if you compare them to the crew of the other shows. (You think they would be, considering what they've all been through). Enterprise wouldn't be on the top of my list, but still... 7.5/10 2. TOS: I've seen only bits and pieces of TOS. I'm not really a fan of it. (Could be that I'm too spoiled with the special effects nowadays :p.) Still, I'm impressed they could produce something like this 40 years ago. Because of the engaging stories and issues that caught the light during this show, TOS became very populair and a worldwide recognised show. Seriously, who hasn't ever heard names like Spock or Kirk, or the starship enterprise. I think the movies did pretty well, and it's nice to see how the crew aged over time. It's only to bad that they really screwed up with the 5th movie: The Final Frontier. That one should be erased from memory, or atleast the script should be written all over again. Nowadays, the effects on TOS are laughable. I think it's good that Paramount decided to 'facelift' the FX a bit, to keep the show fresh. The movies did a whole lot better on that department, and I think I wouldn't change that much on it. It's funny I think that they even dicided to make cartoon (TAS). I think that's clever, because they that way, they could show us things, like more none-humanoid aliens and ships, that weren't possible to show on tv with a minimum budget TOS had in those days. The ships on TOS were also very minimal, but I know designing new ships would consume time and alot of money, and that's something they didn't have on the show. The Enterprise is well designed I think. Matt Jefferies did a good job there, my only complaint is that the ship look a bit fragile IMO. The Enterprise did look a bit sturdier in the movies, luckily. Movie ships were done really well. There's nothing nicer to see than a very detailed model of a starship. I think it looks just a little bit better then CGI, used in later movies. The actors were mediocre at best. A really big plus is that they used actors with different skincolor. I believe that Uhura was the first woman on TV that had a high function in a military vessel. And a Russian at the helm, who would have thought that. Acting was sometimes pretty good, the better episodes from TOS were filled with good conversations and acting. Other episodes, like Spocks' Brain for example, the acting went over the top. :D The movie acting was pretty good I think, even Shatner could sometimes really make his character come alive. What's also nice, is that they hired most of the cast of TOS to use their voices in TAS. The thing I really liked about TOS and the TMP movies was all the humor that was put in it. I really loved that. The actors really knew how they could portray their character best, and that's why the TOS crew are one of the most memorable in the entire Startrek saga. If I merge TOS, TAS and TMP movies, the score for TOS will be affected by a few things. First off, one of the TMP movie really sucked, secondly TAS didn't really appeal to me and isn't really canon in my eyes. Thirdly, if I look beyond the sometimes boring fx and often mediocre acting, the entire picture still looks nice, especially for those who grew up with it. TOS/TAS/TMP gets a 7/10 from me. More comments on TNG, DS9 and Voyager will follow shortly.
---
15th September 2004
0 Uploads
#3
11 years ago
There was a series comparison thread like this in here, but I can't find it so I won't worry about it unless it's only a couple of months old.
---
Sovereign002
VIP Member
Adeptus Moderatus We purge with chain and bolter
105,915 XP
#4
11 years ago
Yes, there has been a thread like this not too long ago. And my answer is still the same.
Deep Space Nine! The storyline was thought out, I loved the characters and the action was simply awesome. How can you say Trek sucks after watching Sacrifice of Angels?
---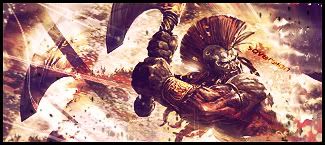 #5
11 years ago
I'm having trouble deciding between DS9 and TNG. I love all of the movies, though.
---
#6
11 years ago
my vote goes for DS9. great story line, great character development and neat setting. only setback are the first 2 seasons wich arent weak but a bit slow. the action really starts when sisko cuts off his hair :D
sencond place is for TNG. there just arent much story arcs exept some double episodes.
third is voyager. the whole setting is just appalling.
TOS is just cult. its the original even though they arent as exciting to watch as in the past but they are still lots of fun. but there are so many crappy episodes.
enterprise comes last since they changed everything. it just didnt feel like star trek anymore. also the reference didnt really match and so the construct didnt work.
ps: yeah the movies all rock ;)
---
#7
11 years ago
I didn't like Enterprise series mostly because the actors didn't seem to be quite ST material. Or maybe I'm just too used to good old ST.
---
#8
10 years ago
TOS. It was no more cult than any of the others, and most every episode was gold.
---
16th October 2003
0 Uploads
#9
10 years ago
My vote goes to Voyager.
Voyager over DS9 because we got back to exploration. With a space station everything intresting has to come to you and eventually they had to bring a war to the story line to engage the characters. I wasn't a fan of extended war.
Voyager and TNG are on equal playing fields. TNG was actualy better but Voyager had something that every Trek series should have....A sense of family. It took 7 years and the last episode to recognize the others as family and not just friends.
Voyager over Enterprise. WELL there are just so many reasons...starting from the ship to the worse than Shatner acting from Bakula. But the issue of continuity is by far the biggest problem. There's nothing like feeling that everything you knew was wrong...
Voyager could never be over TOS. It's just the best spin-off. The original article is the only series that matters.
---