#1
16 years ago
:bows: :naughty: :beer:
Partytime. Enterprise get's a fourth season. So what do you want to be it about?
I hope the Xindi start working with the humans. They unite against the Romulans and are the founders of the federation (among the Vulcans and Andorians).
---
#2
16 years ago
Party time? More like 'Damnit.' Enterprise is one series I wouldn't mind seeing go away. With the exception of Linda Park, and the occasional good visual FX shot, Enterprise isn't even worth watching.
Now--If they put the crew on a ship that better fit the timeline, with weapons that better fit the timeline, then maybe it'd be okay. But constantly undermining TOS and early TNG is not cool.
---
#3
16 years ago
*Kicks himself* Dammit, they got my hopes up with cancellations, now they throw it back in my face again!
---
#4
16 years ago
Although, you have to wonder..After this whole Xindi nonsense, what will the crew of the misnamed NX-01 screw up now? Almost makes me curious enough to at least watch the first couple episodes of the next season.
---
#5
16 years ago
I like Enterprise, I'm glad it didn't get cancelled in its fourth season like TOS did (mind you only three months aways from the Apollo 11 moon landings). What I wan't to see in season 4 is perhaps the beginning of the alliances with Earth, the Andorians, the Tellerites, Denobulans and Xindi. I actually want the crew to visit Phlox's homeworld, its much talked about but never seen in any episode. As for the Tellerites, the NX-01 crew could secure an alliance through helping the Tellerites secure their government after a civil war or assassination. Maybe as well, the Romulans should be in an episode or two, of course not showing their faces, they could communicate through audio only but show the audience (us) their silohouettes.
---
25th November 2003
0 Uploads
#6
16 years ago
I'm glad enterprise got a fourth season, i like it
if they put the crew on a ship that better fit the timeline, with weapons that better fit the timeline, then maybe it'd be okay. But constantly undermining TOS and early TNG is not cool.
i think the NX does look like it should fit in it's time, and i think there probably trying to make enterprise more of a fitting future to the real world timeline, i mean look at TOS, they used lasers to start with, well geuss what, the U.S. Military already has prototypes of laser weapons for mounting on rifles and aircraft (seen it on the discovery channel a while ago) i hate when people just say "enterprise sucks because it don't fit the timeline" if you think about it, most problems have a reasonable explanation, mainly revolving the temporal core war in the 31 first century. i think enterprise is a great show and hope that it goes on for a long time.
---
#7
16 years ago
RemanWarbird, Enterprise, and I remember this well because I originally looked forward to seeing it, was advertised as a prequel to the days of Kirk. Not once did they say "oh, yeah, well it'll be a completely different universe and all". Now, if they had said this, Enterprise, although still terribly un-Trek, would have been fulfilling its original goals. At least this would have been credible. But, Enterprise never set out to do this. Enterprise is NOT fulfilling its original goals. This loses a lot of credibility. Plus, there are things you cannot explain away with a temporal war, unless such a war moves space itself. Remember how long it took the Enterprise (I shouldn't use that name, really, it's offensive to those ships who deserve it) to get to the Klingon homeworld? Look on any galactic map, then look on any warp scale, new OR old. It wouldn't work. Not at the speeds they're capable of, anyway. Sure, there may be other miscalulations. But of this magnitude, regarding a pre-established place? No-siree-Bob! And why would a temporal war that only they first discovered in the first season, affect things like Starfleet, or phasers? Starfleet was created AFTER the Federation. Earth itself donated a lot of Daedalus-class starships to the cause. Just because the US military has a prototype laser, it doesn't mean it will be ship-mountable. It won't nearly be as powerful as the lasers we're talking at the beginning of TOS. And the jump to phasers probably will take as long as it did in Star Trek. That is the first time I've heard that reality argument. Especially considering our world breaks off from Trek history some decades ago. It has no bearing on Trek whatsoever anymore. For example, have the Eugenics wars happened yet? No. I suppose they'll write that out of Star Trek history too... Phasers would have taken 'Starfleet' a considerable time to develop. They would have begun testing long before they'd even heard of any temporal war. AND before they discovered the Borg crash remains, before you start. Minor continuity violations I can tolerate. Voyager's violations, I can just about tolerate. But re-writing the history of the Federation, the starship Enterprise, Starfleet and their technological capabilities cannot be forgiven, nor explained away with any of the reasoning I've heard in any of the forums I visit.
---
#8
16 years ago
Very, very well spoken.
And you say Enterprise looks like it fits it's timeline? Pre-Dadelous, Pre-Romulan War (Something else Enterprise has conviently swept asside) era?
U.S.S. Yorktown. Yorktown-class: June 2158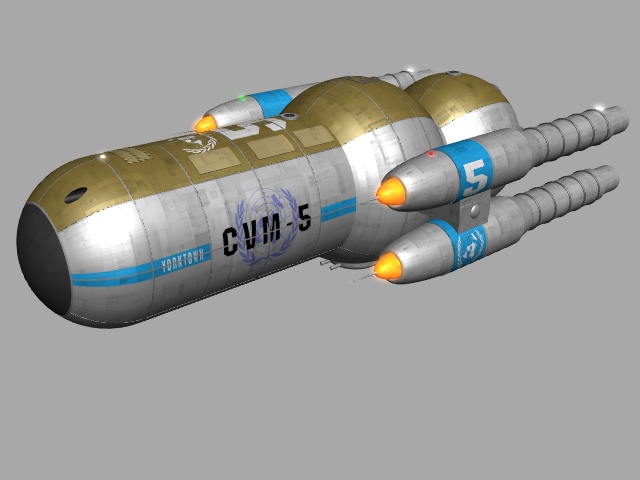 (S.S.? U.S.S.?) Enterprise. NX-class: Late 2151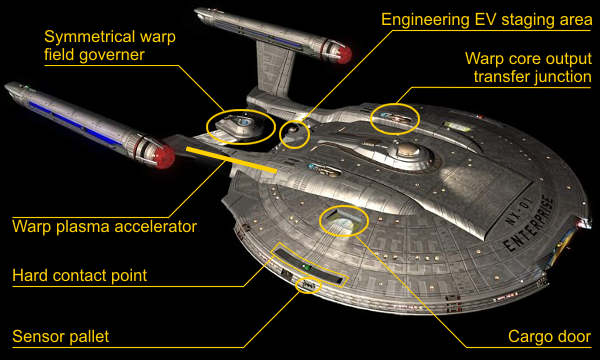 U.S.S. Thunderchild. Akira-class. Late 2360s.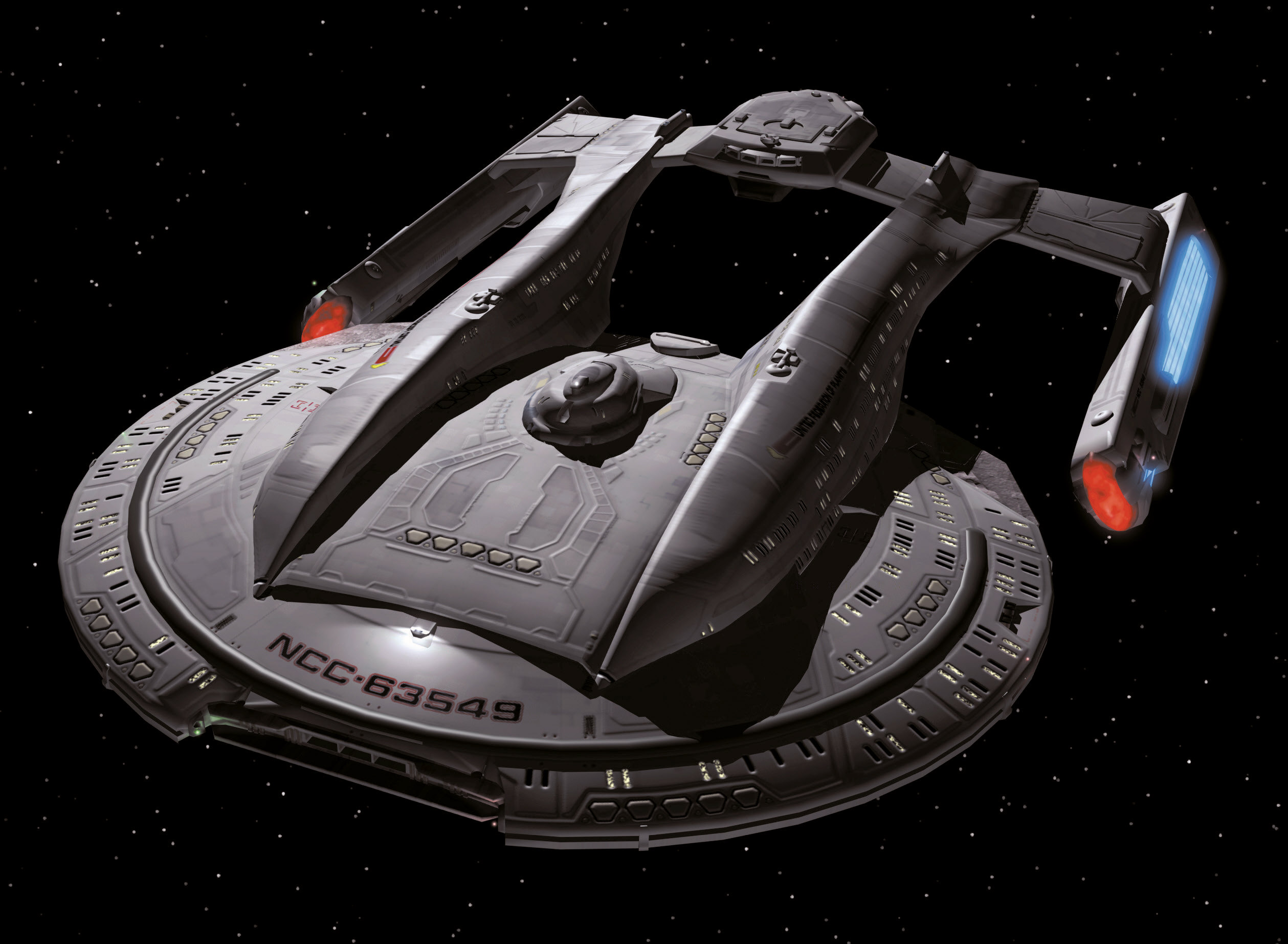 And you don't see an issue here? They could have easily made a ship that fit the timeline more effectivly, and still made it look advanced by today's standards. Not take a ship from First Contact, flip it up-side-down and retexture it.
---
#9
16 years ago
Quite so. A 22nd century ship with what must be very similar warp dynamics of a 24th century ship.
By all accounts, the Enterprise should be something similar to a Venture-class starship, or maybe a combination of a Venture- and Daedalus-class. Heck, a Constitution Refit-class would have been more believable. But the Akiraprise?
---
25th November 2003
0 Uploads
#10
16 years ago
personally if the ships looked like the 'yorktown' in your post, i wouldn't watch it at all, i think less people would watch it if it looked like that than with your so called akiraprise, i mean look at the Space Shuttle, modern Fighter jets, and general designs of flying machines in general, if they can make the space shuttle look like it does, fast looking, streamlined and smooth looking, than why would ships 100+ years in the future start looking like metal tubes with nacelles? i know your point about it not following the timeline, but you also have to think about what the general public wants to see when they watch a show, if the ships in enterprise looked like your "yorktown" people would turn it on and say "geez that ships looks stupid!" now for when TOS was made that ships might look quite good, but nowadays, after TNG, DS9 and voyager, not many people are gonna want to sit through a show that looks like it was acually made before TOS, execpt the most hardcore trekkies, but not just the regular viewer. all i'm saying is that you just need to stop thinking about those things and give enterprise a chance. and you would find that if you just stopped bitching about everything wrong with it and sat down and watched it, you would find it's a quite good show.
---