#1
14 years ago
this is the cover of the new Star Trek Art book SHIPS OF THE LINE based off the yearly calender
First of all i cant wait for the book second this little tease showcases a glimpse of a frontal shot of the ENTERPRISE J oo....a little different than i thought
---
10th November 2003
0 Uploads
#2
14 years ago
top right it was in the enterprise season 4 the ep ware john is trans ported and convinced to go on the mission to give them the old medel to the one guy. sorry for the spelling and grammer(it is exrea bad today)
---
#3
14 years ago
the enterprise j was a wierd design.i think some of the fan made future enterprises were/are better
---
#4
14 years ago
Phoenix_56

this is the cover of the new Star Trek Art book SHIPS OF THE LINE

First of all i cant wait for the book
Me too i cant wait to see that book. Something like it was going to be released in winter 2001 but it was cancelled. As for the Enterprise J it is apprantley a Celestial Class vessel.
---
3rd November 2005
0 Uploads
#6
14 years ago
I like the Enterprise-J as it's got enough of the classic fed look in it to be a fed ship, but it's odd look is what makes it a breath of fresh air for me. Could use a little tweaking (necels mostly) but it's still a valid design.
---
29th April 2006
0 Uploads
#7
14 years ago
I also think its reasonable, for a far future federation ship it still fits Roddenberrys starship design rules so why not.
---
#8
14 years ago
haha actually i got a looking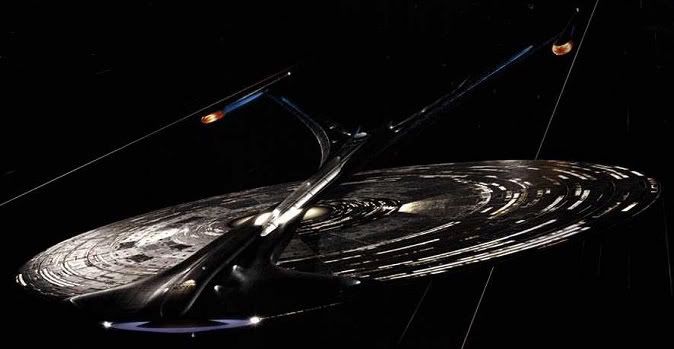 and the artist has changed the design of the J
perhaps to carry on the design lineage because he has removed the NX style deflector and apparent single hull design for a more standard deflector on the secondary hull...

odd...
---
3rd November 2005
0 Uploads
#9
14 years ago
Not to mention the necels look slightly more along the lines of TNG. The redesign in general looks better than the orignal seen on Enterprise.
---
#10
14 years ago
I dont know, i started to enjoy the look of the old design
---