#11
14 years ago
The breen are pretty cool but they copy off star wars(Boushh's mask is just like it)
It doesn't matter though. I'd like to see the breen in something other than DS9, any other one...unless there already has been. maybe TNG?
---
25th November 2003
0 Uploads
#12
14 years ago
there are alot of differnces in the mask if you look close, but i don't know, i never even heard of "boushh"
I'd like to see the breen in something other than DS9, any other one...unless there already has been. maybe TNG?
the breen were mentioned in TNG but i don't think we ever seen them.
---
#13
14 years ago
It was close between the Jem'Hadar and the Borg but in the end the Jem'Hadar are too limated and easy to kill. The borg can go with out air (first contact) Jem'Hadar can't and the Jem'Hadar cant adapt to stuff. The Jem'Hadar will also go crazy without catrezel white (no idea how to spell that but u know its the stuff thats pumped into their necks). I guess the Jem'Hadar cloaking suits were cool but im sure the borg could asimilate and use that in a flash. So i have to say the borg and the worst.
---
#15
14 years ago
Yeh, I still think they are badass too. And the Borg are too stupid to use cloaking technology, becuase they have obviously assimilated Klingons, Federation, Romulans, and countless other species possesing cloaking ability, or knowledge of such technology, but they never use it for some reason.
In answer to RemanWarbird, Boushh was a bounty hunter of the Black Sun in Star Wars, but the mersenary was killed by Leia, and she took the armor and used it, that's who that was. And as for the copy, I don't think it was modeled after it, I think it is a mere coensadense (crappy spelling), but there are similarities, but enough differenses to tell them apart for me.
Breen were mentioned in TNG as an aggressive but reclusive species, and again in the movie Generations as a possible suspect for the killing of the crew on Amagosa, so they are obviously aggressive, from these two mentions, and the fact that they were in the Dominion War and all. They were also mentioned in Voyager, saying that Breen vessels incorporate biological components (in other words they use bio-ships like 8472). Breen have no blood, so that's kinda cool (to me at least), and they are just really cool. But I still have to go Jem'Hadar, as they don't care if they die, they go psycho without their drugs (ketracel white), they use polaron weapons enhanced with anti-coagulants, bio and neural toxins, and other nasty things to make your life hell, they are reptillian looking and, use their shroud technology, which is cool, they ram stuff, and they have really awesome ships!
---
12th August 2003
0 Uploads
#16
14 years ago
Who are the Hirogen? Ive never heard of them?
---
#17
14 years ago
they are a nomadic "tribe" of hunters in the delta quadrant
---
#18
14 years ago
Yeh, the Hirogen are a nomatic species with a hunting based culture, and an extremely formidable species. They are roughly seven feet tall and are covered in body armor.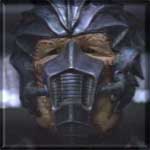 The Hirogen culture revolves areound "the hunt". They find formidable prey (humanoid or otherwise), and kill them. Their ships use monotanium-based armor, and is typical of their ships to have several redundences to back up main systems. They use three classes: the Hirogen attack cruiser
The Venatic-class heavy cruiser
And the Hirogen holo-ship (which may or may not be standard issue).
Hirogen ranking goes like the Greek alphabet, with gamma (lieutenant commander), Beta (commander), and the Alpha (Captain). Rank can occasionaly be indicated by paint that is put on the Hirogen's helmet before the hunt as part of their ritual, but most often, they have to tell what they are for anyone who doesn't know to tell (unless that little light thingy on their chest can tell you).
This is on of my favorite species, and one of my top contenders for top bad ass, but I also like the assimilated Hirogen that has been told to exist (even though I don't think the Borg are bad asses, an assimilated hirogen would be).
---
#19
14 years ago
the "holo-ship" is actually a light cruiser.
---
#20
14 years ago
fine, but the fact remains, the Hirogen rifle is bigger than I am!
---