#1
13 years ago
im making a Troy_v3, the beaches of troy new additions: - vehicles! - The temple of Apollo has been SEVERLY decorated and looks more greek :)
- 9 CP's total in the map - more city area, including palace and a "park" area - "troops hitting the wallS" error COMPLETELY fixed (added paths :) ) - added hintnodes, such as mines and sniping - a river?? - WATER!! W00T W00T - a whole load more fun! ( if you capture half of troy, such as one team outside the walls and one team inside, the city becomes total havoc and chaos!!! in a good way) still to come: -A Trojan horse vehicle - (maybe) new teams/sides if anyone has any good ideas on any of this new WONDERFUL map, please give me some, and you have any files you want to add (such as odfs and meshes) hand them to me and i will put them in and give you full credit GIVE ME SOME IDEAS!!!!:feedback: :flag: :aug: :ak3: :tommygun: :dpistols: :aug2: :band: :bandit: :banana: :greenflame:
---
#2
13 years ago
Sounds great! Can't wait for the Trojan horse.
---
#3
13 years ago
some screenshots for Troy_V3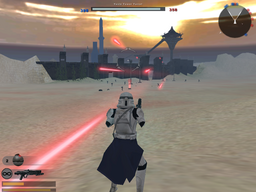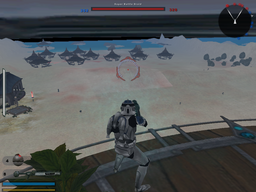 ---
#4
13 years ago
if anyone wants something added or has a suggestion, notify me
---
#5
13 years ago
sadly to hear the trojan horse vehicle and new teams might not be joining us :( however, the map is still easy to get :0wned: and a great way for the opposing team to get :0wned: surprisingly, my map includes a wall going through the middle with only one door, which causes so much destruction in one area LOL!!!:D
to the left of the wall, the droids seem to conquer the beach, to the right of the wall the clones conquer the city. then the total mayhem begins around the letter J in TROJAN. when that CP is conquered the battle progresses and the whole fight really takes place in the small difficult CP to capture, i have set the trooper limit to 50 - 50 and the map is filled with turrets... the map really is mayhem and hell LOL ITS HILARIOUS!! :p mega ownage!!!!!!!
---
27th September 2005
0 Uploads
#6
13 years ago
so how many units spawn on the battle feild, how many on each team, is it laggy?
---
20th March 2006
0 Uploads
#7
13 years ago
Sounds like fun!!! Also,it would be c00l to include on both sides only Jedi/Sith to make a real melee style map! Rep:Jedi with NO force powers,only lightsaber attack and without saber throw Sep:Sith with NO force powers,only lightsaber attack and without saber throw
---
1st February 2006
0 Uploads
#8
13 years ago
What was the problem with the Trojan Horse and extra team?
---
#9
13 years ago
Voolvif MonnSounds like fun!!! Also,it would be c00l to include on both sides only Jedi/Sith to make a real melee style map! Rep:Jedi with NO force powers,only lightsaber attack and without saber throw Sep:Sith with NO force powers,only lightsaber attack and without saber throw
that rely sounds like a good idea it wud be like the actual troy battle...but not rely but it wud be cooler with the saber thingies than guns
---
#10
13 years ago
Can you add the place where they burnd the dead and the flame balls? The map looks cool :thatsgreat:
---