#1
14 years ago
I need a new X-wing model, when playing skirmish as the empire i realized how powefull the empires Tie Defenders were and that the rebels had no fighters that really matched to them (looked at the xml files too) since i favor the rebels over the empire this made me a bit edgy so i decided to do my research and i found out about the XJ series X-wing and i coded it in to be the rebels answer to the Tie Defender so i was wondering if anyone had a new x-wing model that i would be able to use (keeping it the same is fine but a new one would be better)?
---
#2
14 years ago
I think the XJs looked the same. A reskin could make them look different.
---
#3
14 years ago
i have the model, its from warlords and its all converted and junk but...i dont know how to upload a file somewhere...
---
#4
14 years ago
you can upload it here http://www.yousendit.com/ for the resipient email put [EMAIL="dfeeds@comcast.net"]dfeeds@comcast.net[/EMAIL] and thanks oh and gorbeh, no one really knows what exactly the XJ looks like so it could look the exact same, although a new model would really benefit this new unit
---
#5
14 years ago
EvilleJedi model, I just converted it.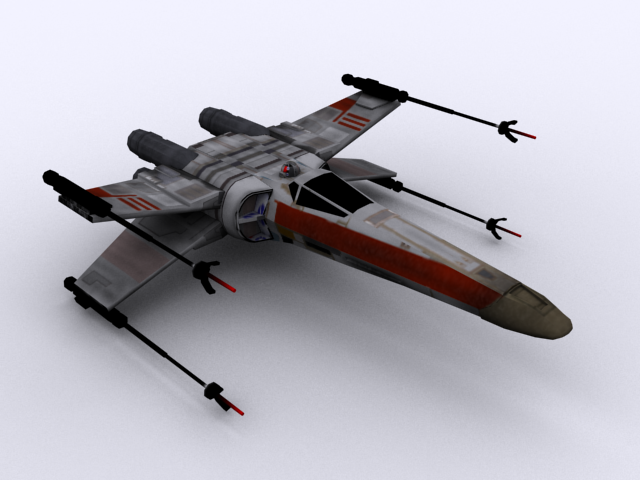 http://www.megaupload.com/?d=A3J6MQUR should be fine, tell me if it has any model bugs.and I know it doesnt have lock s-foils animation right now, I'll have to do it tomorrow.
---
#6
14 years ago
wow that's perfect, i was expecting a new model but not what the XJ is supposed to really look like
EDIT: i just tested it, model looks great although the texture could use some work but that's an easy fix, if you get the foils working it'll be perfect
although i am curious as to what Shushoni's model looks like as well
---
#7
14 years ago
If you want, I'll animate the S-Foils for ya. :P Just give me time to convert the skins and all if you'd like me to to do it.
---
#8
14 years ago
sure, but its up to swfan more then me anyways after looking at the texture some more, heh it's in bad shape, nothing on the skin is in the right place at all, almost like someone was skinning a different but similar model
---
#9
14 years ago
... the E-Wing was the answer to the TIE Defender and Avenger lines
---
#10
14 years ago
A new X-Wing Model with animated S-Foils would be a great replacement to the stock in game one. I'd like it to open and close its wings just like the movies as well. - I hope to see some one do that :)
---