7th August 2002
0 Uploads
#1
11 years ago
Hello all. Now before the criticism and "its crap" starts lets all remember that this is no where near the 10% complete that the MODDB profile suggests, and is extremely early alpha (i.e when this gets finished is anybodies guess). Also I'm posting this exclusive shot below simply as a means to show whats been going on (some may think "not very much"). At this point might I jsut remind everyone that whilst there was a BSG project (which before I started helping with this one I know nothing about), the models are being scrapped together and converted from scratch. Finally can people please remember that I am still no-where near as good at converting these models as other modders have shown, so they may not be the final versions.
And so to the point in question. Now while I dont' have the actual mod details I do know that this is assumed to be a complete TC of both ground and space, and as far as I've been informed a new member to Byrons team can animate ground based models so this will be a big plus. I'm also not entirely sure just how many space based and ground based units there is supposed to be in the final version of the mod but I would think that there may be (stress the word "may") a further update to the completed mod. Anyway, the image below represents not the AI's ability to construct the Galactica or any other ship that I've converted, but rather from a small bit of help from both Codeuser and swgbex (thanks go to both these people) for locating the starting units of space skirmish. Anyway, enough of my rambling: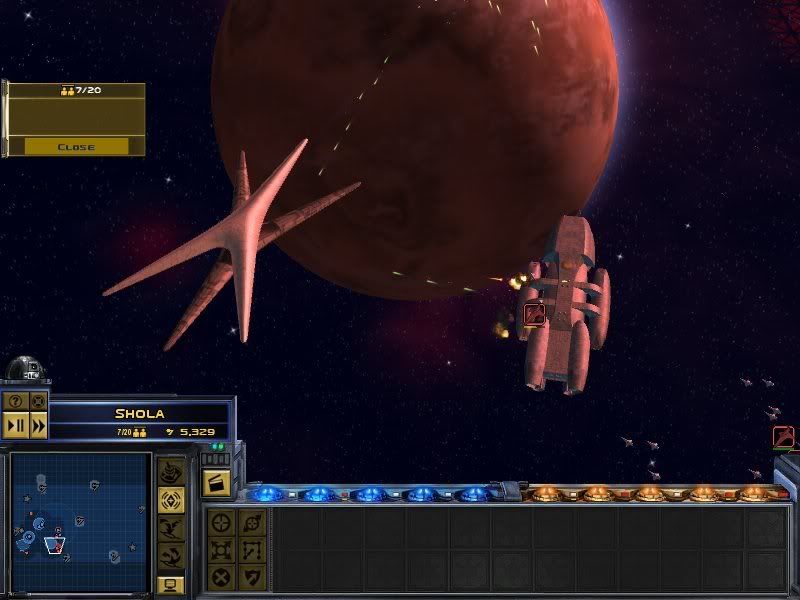 Please remember to check Byrons project forum as there are further images of ingame ships.
---
#2
11 years ago
could we have a link to it then??
---

#3
11 years ago
Admiral_Antilles;3707122could we have a link to it then??
It's in Mayor's sig;)
Nice galactica...but nothing really special. However I guess it will be improved in time:)
---
7th August 2002
0 Uploads
#4
11 years ago
I put the link in my signature as its not really right to go advertising another forum on this one.
I know theres not much to go by at the moment, but I've been digging aorund for some proper sounds for the ships. Problem is the public domain ones aren't overly brilliant btu they may have to do temporarily.
---