#1
13 years ago
It is a correct model from the old BTLS3 YWing, this model has a two pilot cockpit with a ion gun turret. This turret on Foc has full movement.
Spoiler:
Show
---
#2
13 years ago
thats pretty cool Nomada. you seem to like to make this stuff
---
24th April 2007
0 Uploads
#3
13 years ago
Did you texturize it? Because its not bad, one thing I would change is the Engine caps, maybe make them aittle rounder? If your in to making Y-wings modifacations, it would be great to have a mod with this in it too...... the BTL A-4 Y-wing.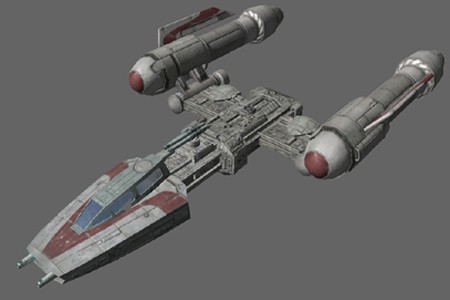 I got the picture from Wookieepedia [COLOR=black]NOTE: THIS IS NOT A MODEL FOR GAME IT IS A PICTURE, THATS IT.[/COLOR]
---
2nd January 2007
0 Uploads
#4
13 years ago
Nomada didn't make the model, nubs
---
#5
13 years ago
several errors in the modelsUnless the ones used in battle of yavin weren't S3, there was a grill on the back of the engine. The engines were pertty much parallel to the ship. these are attached diagonally. not right of what i have seen.
---
#6
13 years ago
The cockpit seems too slender... should be more bulky... 8/10
---
#7
13 years ago
This is the original FOC model with some changes as the turret or different engine glows. I only have added this changes and coded it for use the turret. And I have done two versions from same model. One is a BTL S3 Ywing and other is the same model without ion turret, it has one laser turret.
---
#8
13 years ago
Well EAW and FOC never were much on accuracy lol... good game though ^^
---
#9
13 years ago
thats y people mod this game
---
#10
13 years ago
nason;4044995thats y people mod this game
[COLOR=red]FAIL.[/COLOR]
---