#2
12 years ago
I would but the only thing is that the clones were in generation I armor not generation II which all reskins are based on because of the stormtroopers. But if you could do it :bows: i would DL it. when you say the rest buildable do you mean regualr generation I clones or other comnmandos?
---
#3
12 years ago
other commandos (with all white armor) and yes i am aware of the gen. I armor but i could compensate by make it look like gen. II but with the same paint markings (they'll prob end up looking similar to my 501st skin that I made)
---
#4
12 years ago
good enough for me though................... Delta Squad...
---
10th April 2006
0 Uploads
#5
12 years ago
I plan on doing some touchups to my dark trooper model and then Modeling the commando helmet and reshaping a few parts to make it more like an RC. But it needs a reskin.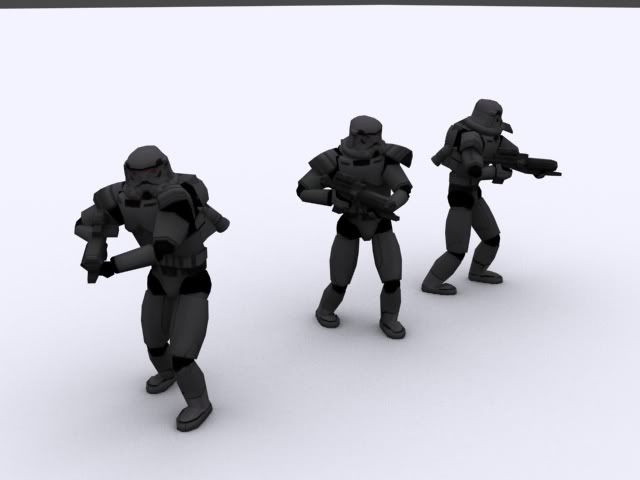 ---
#6
12 years ago
This is WAY off-topic, but Dfeeds, I LOVED your mod with the 501st in it.
---
#7
12 years ago
Yeah, Delta Squad as a hero would be wonderful for mypersonal mod where I'm trying tincorporate the clone wars.
---
#8
12 years ago
sorta not offtopic, cause he's talking about providing a fresh model.
---
Grig
I post therefor I am
50 XP
#9
12 years ago
#10
12 years ago
a fresh model would be nice, very nice i was skinning no more then 5 minutes ago to get one to look like 1138 and i realized that the helmet is too wide plus they only give me one side of the body armor to skin (1138 has half of his armor body armor orange with 4 orange dots on the other side) it makes it impossible to skin him accurately
and thanks for the comment gothic :)
---