7th August 2002
0 Uploads
#1
13 years ago
Hello again all, and here is CR3. As seen in the image below this is a new imperial tie class unit. Its not as its name suggests though as his was picked up from another version (has 4 bomb bays, not just two), and as such this is actually a heavy bomber. Included this time is something a little extra - Hardpoint file. I have decided to include the basic set of hardpoints I've used for the unit, so that modders actually know what they are, although in most fighters cases they do use the same Muzzle reference name, some do have other Muzzle names (A, B, C). I just figured this would be easier than trying to guess. Oh and ignore how bright the unit is in the picture below. It won't be that bright in game. Anyway complete contents is:
1) ALO pre converted model file: The models themselves will have a basic set of hardpoints, but not contain any special items (such as engine glows, break offs etc.etc.). These are just for quick coding in. 2) DDS based texture file/files. Depending on the unit will depend on how many of these there are. 3) 3d Max source model file. Be warned. These 3dmax files cannot be opened by versions of max that are lower than 6. Versions 7 and higher will be able to open these files, but not 5.2 or lower. The max file will be pre rigged and have Direct x9 shaders applied to them (so they are uvmapped already), but do not contain animations. 4) Complete readme file detailing credit instructions and associated information. 5) Hardpoints XML files (this can be directly used once the units main XML file is made (just pop both the HARDPOINTS.XML and Hardpoints_TIE_Interdictor.xml into your XML folder (if you havent' got one then you'll need to make one))).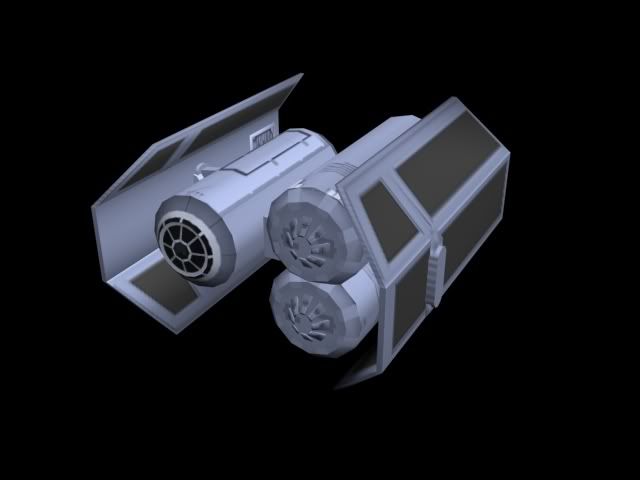 ---
#3
13 years ago
nice Major A, im really liking these fighter models
m4d props to you
---
#4
13 years ago
wow these are very good. youre a great modeler man! hopefully you do model packs soon. =]
---
20th November 2006
0 Uploads
#5
13 years ago
Sick fighter dude! you ROCK!
---
7th August 2002
0 Uploads
#6
13 years ago
They are only as good as the original reference material I use. Remember I don't make my own textures, and its the textures that carry the detail, but thanks anyway.
---
#7
13 years ago
Texture is somewhat bland, But nice job.
---
#8
13 years ago
seems quite high poly, unless that is a picture from a site.
---
#9
13 years ago
vadereclipse;4040240seems quite high poly, unless that is a picture from a site.
Not really.
---
3rd September 2007
0 Uploads
#10
13 years ago
Nice work MP. How about a Phase 1 Clone Trooper model? :-D
---