#1
13 years ago
ok does any one have or could make a hyperspace marker just as a prop here is a pic:
because i'm tryin to do something for MNM but i need this model
---
#2
13 years ago
yo i have 1 to has anybody made a battlestar galatica model and have it in empire at war
---
#3
13 years ago
YingYang can you please stop spamming random stuff in unrelated threads its getting annoying. Deadman_T can't you just use any old model for that?
---
#4
13 years ago
well what looks like that in EAW ???
---
#5
13 years ago
a reskin of the sensor jammer in the first tutorial :P
Really depending on how big it is
---
#6
13 years ago
do you know what xml it is in or what the model name is?
---
#7
13 years ago
Hmm I am wondering what would be the point of a hyperspace marker in the game anyway - such as abilities and purpose ? I otherwise like it though.
---
#8
13 years ago
well i was watchin the ep 4 and han said that they need special equation so as not to run into obsactles so i did some reading and found the hyperspace marker and trade routes don't go from planet to planet they go from planet to marker to planet so i need this model or something like it the make a simple area of sapce that battles can happen but no space stations, no land, no credit value, so just emtpy space to have even battles in or just whatever
---
#9
13 years ago
oh! so empty slots in deep space. cool. The name is NB_COMM_JAM.alo Might need a reskin, but cool thing is it has lights :)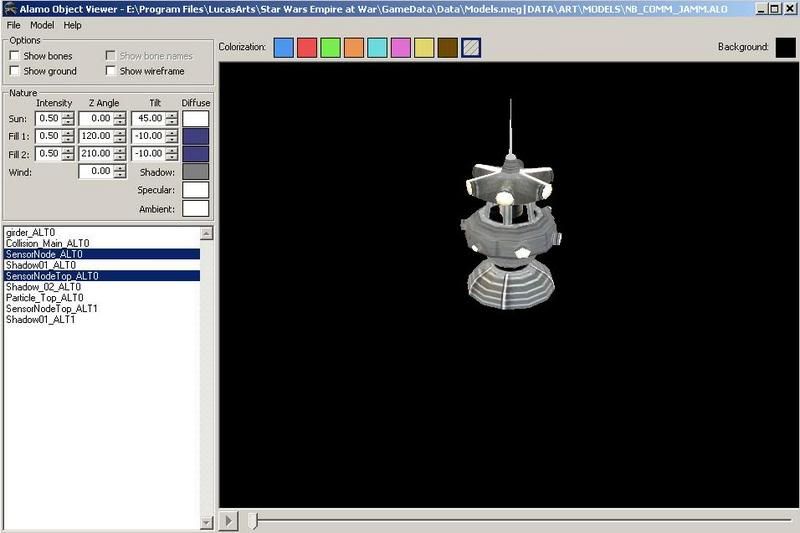 ---
#10
13 years ago
thanks droid that will work quite well i might have to place 2 of them together so you don't see that flat base
---