#1
12 years ago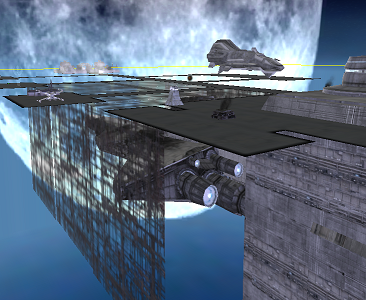 This is a preview of a new map that will be released soon. A orbital shipyard land map. It will be available in skirmish, or Galactic Conquest. It will feature a bunch of new land props(up to 30 landed, or crashed, spacecraft so far), and new skydome(shown.) Any requests for a prop from an existing model, please let me know. PS- Just to let you know this map is unfinished, it will have much more detail. It has been tested in GC, and is working.
---
#2
12 years ago
That looks pretty good. Really good. Any idea when it will be released? Offtopic: If I may ask, how do you do make it like a bridge?
---
#3
12 years ago
If you take a look at the Bespin map you'll get a good idea on how to make a bridge. Look at the Reinforcement Pad platforms. First go to View, and look at the map in wireframe mode, then change it back, and select hide object mode. You'll see how they made such a detailed map. If you click on an empty texture in the editor, don't select a texture map leave it blank, and click on the box marked "Hole." That creates a see-thru texture to the skydome...
Then they use the "Vertical" key on the "Object" menu to place buildings down in the hole to make it look like there many levels.
I actually colored in some of the cliff to show you where it is....
---
#4
12 years ago
very cool i cant wait to have it
---
#5
12 years ago
New Screens....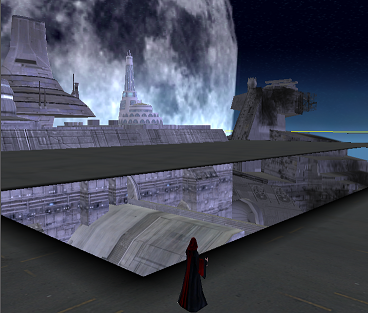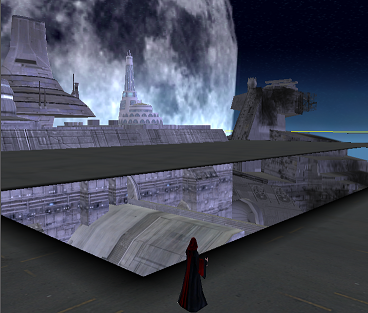 ---
#6
12 years ago
i want it very badly it is so cool very cool
---
#7
12 years ago
do you think i could test it
---
#8
12 years ago
I'll let you have it when I can add passability to the new sections I have added. It's set up for GC right now, do you want a skirmish version?
---
#9
12 years ago
yea a skirmish would be cool send it ot my email [EMAIL="clonetrooper37@yahoo.com"]clonetrooper37@yahoo.com[/EMAIL] i would love to test it
---
#10
12 years ago
I would like the galactic version if possible. very nice work.
---