#1
8 years ago
Hello, i modeled a Heavy AAT Heavy AAT (old version picture) the horizontal turret part rotates correctly but when i rotate the vertical part it missforms totaly, and yes i did follow swgbex's rotating turret tutorial. can someone please help.
---
#2
8 years ago
Why would a AAT turret need to rotate verticaly anyway :confused:
however, that was not the question.
It sounds like you missed the last part of bex' tutorial
"the most important thing to do is lock the rotation on Y axis. This will allow the turret to lock the pivot point Y axis with the turret no matter which way its facing" In other words, it can only rotate up and downd when the Y axis is locked.
---
#3
8 years ago
click the Heavy AAT link, it not a AAT .... it is a diffrent unit then a AAT well, i will try that thanks for the help. tryed didnt work here is a picture of what happens when i rotate.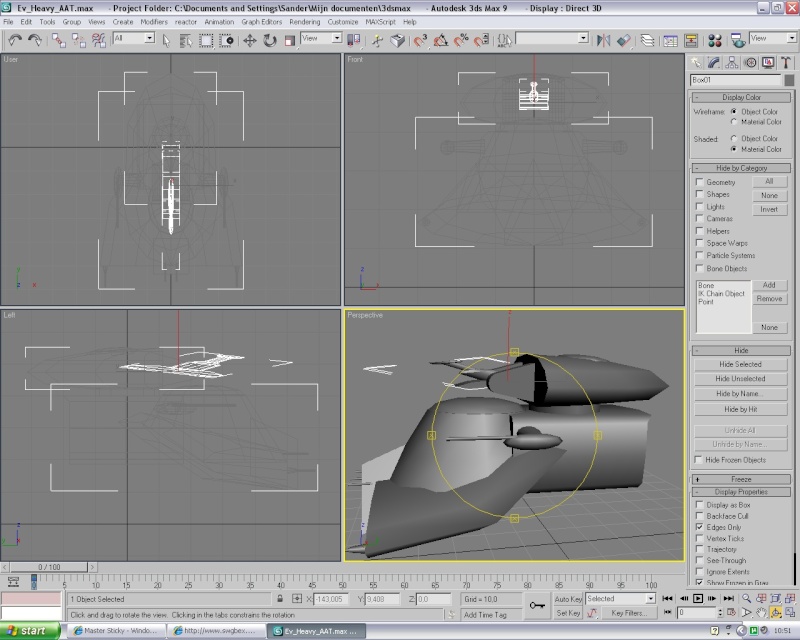 ---
#4
8 years ago
I have seen it. What i meant was, it's not going to shoot things out of the sky is it. It doesn't realy need to be able to point up or down. But it is your model, if you want it to it shoul be able to do just that. Edit: I see what you mean now. Forget what i said. It has nothing to do with that. It's a bit hard to see but it looks like your barrel is scewed when you rotate. Would you mind sending me the model so i can see what might be wrong
---
#5
8 years ago
sure, thanks for helping me out. can you PM your email? P.S. It IS gonna shoot things out of the sky :P, and a fully moving turret should add soemthing to the quality.
---
17th April 2007
0 Uploads
#6
8 years ago
looks like warbs helpping but if you all need more help let me know and i can take a look at it to
X
---
#7
8 years ago
Well, Warb_Null gave me help, but at the end it didn't work the last step of SWGbex's tutorial + unchecking the scale X Y and Z which did work on another model, but not on this one. Well if anyone knows another answere, i am glad to hear otherwise it will not have a rotation up and down.
---
#8
8 years ago
The unchecking scale x y z with the barrel selected did solve the first problem didn't it. As for locking the Y rotation axis, maybe it's a different axis in your model (probably x) but there is no way to be sure until you get it in-game (atleast to my knowledge there isn't)
---
#9
8 years ago
oh yeah sorry you were right, the rotating on the Y Axis is good now, but it still missforms
---