#1
11 years ago
I made this model based of a T1-series droid. can soemone help me to do allt he stuff to make it a model able to use ingame? like rigging, animating, skinmap and whatelse that needs to be done. IF you wnat to help me mail me at:sandernator@hotmail.com
---
7th August 2002
0 Uploads
#2
11 years ago
Bly. I would make one suggestion. Go back over your model and remake some of the primitives. I'm seeing cylinders with at least 6 stacks and 12 slices. If you use a cylinder with 1 stack and 12 cylinders you'll see a significant difference with regards to poly counts whcih as far as I'm concerned is much more important in an RTS game as your detailing is taken care of by its textures. That being said its a wierd little design but interesting in its first WIP.
---
#3
11 years ago
Before rigging, I'd rework that model to get the shapes more similar to what we've seen in KotOR. Like this:
Spoiler:
Show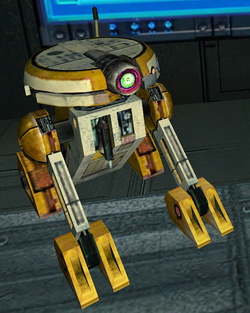 I mean mainly the "torso" and "foots". If you correct them, the whole thing should match the original. It's always good to stick to the ref images :)
---
#4
11 years ago
Yeah i tryed to base it of that one and 1 other i will try to redo the foots and give the torse more detail. and Major A Payne how to do that? acualy untill now, i find modeling much easyer then expected. edit: well those foots are pretty hard to make. I will hold the old feet. gonna try the body. and another failure, i hold it to this model. It's a bit diffrent then the pic.
edit: uplaoding a picture of the new shoulders. and little eye improvement
---
7th August 2002
0 Uploads
#5
11 years ago
I tell you what. If you export it to .3ds and email it to me (am going to bed just after posting this), I can rework the model a bit and send it back. You'll see how its done, but I don't use 3dmax for any kind of modelling myself. I use Milkshape so unless you use that I can't really explain it.
Mind you. If someone else wants to help in that respect then for lords sake. I hope they speak up :)
---
5th September 2009
0 Uploads
#6
11 years ago
Dang that little thing has got to be 1200 polys.... id reduce the numbers of sides and use mesh smooth also whats with all the parts. That model should be able to be built with one or 2 meshes. If you are gonna use that many I hope you plan on welding all the verts also.
---
#7
11 years ago
I have gotten to a problem again, the model poly's are done right this time, myor a payne did them (of the grey parts) but afther that i wanted to add more detail to the model, i putted the little gun from his head on it and the arm thing, now i tryed the feet again, see the picture how far that got. How can a make a shape that fills the open space of the feet?
---
16th April 2007
0 Uploads
#8
11 years ago
you need to show us the wire frame so that we can tell how the poly count is also
ok time to note things: - shorten the poll that the gun is on, also make it a 3 sided cylinder if its not - the feet should just be 1 mesh not 4 use the torus primitive and remake it
its coming along thou
X
---
#9
11 years ago
ah *o* d***t, licencse error in 3ds max, need to reinstal but dont have the license anymore and neither have the installer. this adventure is over......for now. Edit: I might have max 9 in a week of 2 Edit: :) ah well maybe in 1-2 hours now Edit: ok got working 3ds max 9 gonna continue modeling this unit
---
#10
11 years ago
Make a box, change its shape, clone it, move the copy a bit, attach these 2 boxes together - ta-da, foot is done.
---