#1
7 years ago
I choose start this thread here because when somebody try add a constructive critic on their moddb site, they delete it. A shame but I suppose that filefront is more free for this.
This mod looks very good at least from the perspective from somebody walking around the street and looking the posters because by the moment there is not a single screenshot from the game.
Lately they published this model from a strange Vong starship. It looks well but it does not look even as a aloviewer image, it looks as a very 2D image.
Spoiler:
Show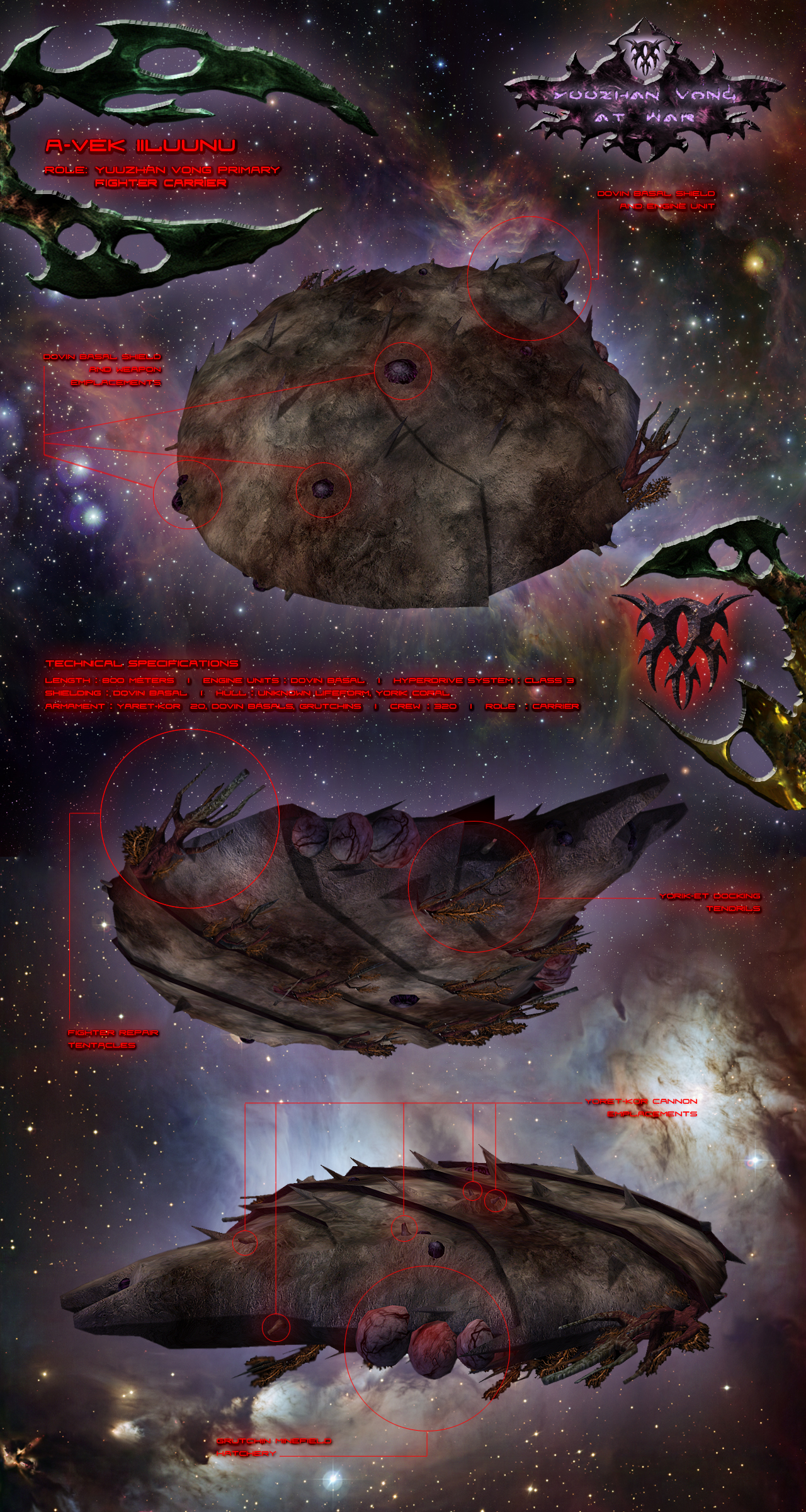 What do you think from this? please feel free you for share your thoughts.
---
#3
7 years ago
The future is very unknow for all us. We can see the present and we do not see nothing telling us the contrary.
I see a picture from some like a cookie but it is not the game. It is a simple picture very well painted but nothing more. We have seen it on other mods but at least most of them published images playing the mod. Nobody could tell the stuff was not running. At this case......well, I do not see nothing running.
Sure that you can tell that you are afraid from be copied but.....at this moment with a game released 6 years ago. Are you thinking that you go to make some new? different graphics sure. But the people which they have released their mods should be more afraid from you.
Of course nobody has made a complete mod on one year, the date more realistic would be 4 years. On 4 years, I do not see many people playing this game......:rolleyes:
Must we wait to the mod? sure, probably for years. Can we speak about it? all we want, if you public information on a public site, you must accept all the answers from the people, if you do not like them, you are not nobody important for to tell to the others what they must write.
---
#4
7 years ago
I can catch quite some nice quotes about the future or presend from all kinds of philosophers but that doesn't really contribute.
As I always awnser fans' questions, I will explain the other part another time, but you're pusing it ;)
This ship is called the A-Vek Iiluunu. It's a vong ship. Semi organic. It is medium sized ingame, though the bump map makes the detail stand out pretty good on most maps regardless of it's size. It fits the carrier role, deploying many Vong fighters and bombers.
About seeing it ingame, I shall explain that too, again, just for you: "You're not any more special than any other of our fans and will just have to wait for us to grand you any glimpses of our new pictures."
Don't feel like waiting? Feel free to apply to join our development team. I'm sure Burntstrobe would love to read the application form. One tip though, I'd be more polite in the application form than you've generally been commenting on our site.
---
28th October 2003
0 Uploads
#5
7 years ago
It looks good Geroenimo! A very impressive design. You captured, in my opinion, an organic feel for the Vong ship. Can't wait till it finished!
---
16th April 2006
0 Uploads
#6
7 years ago
The only thing I see is Nomada Firefox trying to tear down another competing mod...surprise surprise :rolleyes:
what, not enough to troll them on ModDB, now you gotta troll them here too?
---
#7
7 years ago
Hello everyone,
First of all: Nomada, you know exactly, that we haven't deleted your post, because of a disrespect in constructivly meant critism. In fact, your argument about the ship being 2D (which is non-sense, 2D indicates it is not a real object, but because of the 3-camera-angle shot you can clearly see it IS 3D, what you mean is flat) hasn't been deleted, I've even answered to the assumption you meant "flat". However, I have already written to you in a PM that you should rather act like an adult, than flaming at our moddb-page. Well...at least you're not flaming anymore at our moddb-page, but you have started to discredit us at GameFront. Which is not really better, in fact it is just...cowardly (not meant as an offense at all, I'm just trying to express how brave it is to start a discussion in another forum, thinking we won't join the talk). Another thing I would like to mention: The whole subject of this topic is just offensive by you. You know exactly (it is furthermore written VERY large at the image) that the name is "Yuuzhan". So I assume you want to make fun about the Vong, which I won't blame...but also shows how VERY less you know about them, so you're not even in the right position to argue about ANY aspect of our models, apart from maybe the quality of the texture or model. But really, NOT about the appearence. So what is less to say? Ah right, to all other ones from GameFront: Sorry guys about the mess in this topic, it must seem like a bunch of flaming modders and I want to excuse for showing this low level (at least for my post), but it's really hard to argue against Nomada in another tone. Sorry again.
Oh @Adm_Stacks: This was burntstrobe who has made this model ;)
---
#8
7 years ago
Can't clame credit for the ship guys, model was done by Seregruth and the skin by Burntstrobe.
Also, enough Shim, we will not start an argument here, leave it to pms. Keep the fora professional.
---
18th October 2007
0 Uploads
#9
7 years ago
We have just officially announced the relaunch of Yuuzhan Vong at War.
We are totally revamping the game, we have a very strong team of talent and support. We welcome any and all (well maybe except one person ;) ) to join our efforts. We have many surprises in store, and some great things in the works.
Please visit our site, very soon we will start showing off our pics on FF.
Thank you
---
#10
7 years ago
Excellent work guys, I've been waiting for a full blown Vong mod. Can't wait until this is finished.
---