#11
14 years ago
Unsunghero;3428757Spell Alucard backwards and get your answer.
I figured that one out years ago playing Symphony of the Night ;)
---
5th September 2006
0 Uploads
#12
14 years ago
His guns look alot like Ebony & Ivory
---
#13
14 years ago
Similar in design, and color, with the writing, yet entirely diffrent. Odds are that that's some copycat of this very weapon. Hellsing's been around for quite a long time, so I doubt it's the other way around. HOWEVER, for thoes of you willing to make either the Jackal or Joshua, you're in luck, I have plenty of info for you.
More available at http://www.advfilms.co.uk/titles/hellsing/armoury/armoury.php Official website, as far as I know, so it should be accurate as hell. (Maybe it's not official, I just read his name 'Arucard' on that site, which always makes me laugh at Japanese people unable to pronounce the 'L' sound) Lets add some more images shall we?
Replica.
Another replica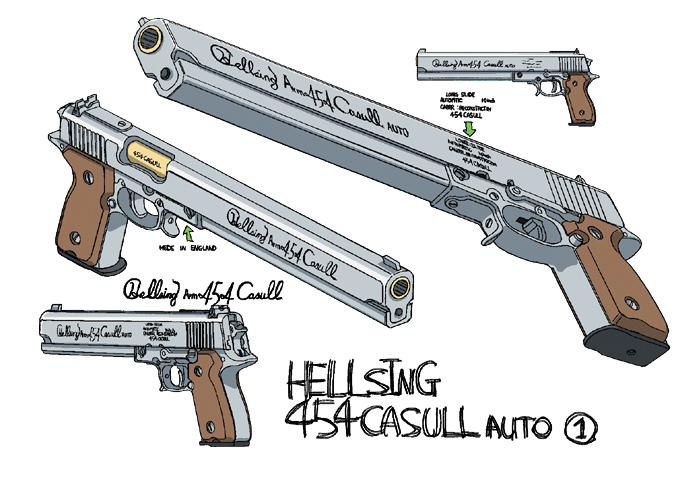 I could go on, but probably shouldn't for the poor dialup people I've just killed. I'm not exactly sure how that spoiler button works, I'm such a nub. An old nub mind you. Anyone mind filling me in on how to do it?
Edit: Should have guessed the guns you posted were from DMC, there's still the dramatic diffrence in barrel length and ornimentation, but they really are beautiful.. I want them all!
---
16th March 2006
0 Uploads
#14
14 years ago
hmm if i recall there is a hand gun like this for jka, jsut you'd need to stretch the barrel and possibly reskin, but making guns shouldn't be a problem
---
#15
14 years ago
This is one model I would -love- to see in JKA. Perhaps a version w/ his shades and hat and one w/out.
---
#16
14 years ago
Update! I'm so spamming my own topic. But oh well, updates are totally needed. I've modeled it partially and gotten it partially skinned out now, I personally think it's looking pretty good. I do realize the inacuracy, such as the lack of the side-shell despencer, I'll either leave it out or try to remodel further and re-uvmap everything.
Spoiler:
Show
---
#17
13 years ago
man if somebody makes it he or she would rock forever
---