#1
10 years ago
I've noticed we have a few new modelers in our midst, but still not a lot of talented texture artists (in my opinion those two things must go hand in hand for success). I thought I would give some of our budding artists the chance to jump right in. I modeled a sword tonight and I'd like to give you guys a chance to come up with a unique texture for it.
Most of you know I'm fully capable of making my own textures, so I'm not just trying to trick you into doing my work for me. In fact I'm not releasing this sword anywhere but my own website (with just my own work attached), but I may allow some of you to release it wherever you like with your custom texture, so you might consider this a little competition.
I also hope that some of you who consider yourself 'new' will participate and share your textures as they come along so we can help you make the most of your talent and your software; I'm hoping some people will take this on as a learning experience.
And if no one does, the only thing I've wasted is a thread. ;)
SO, with that said, the weapon is as below: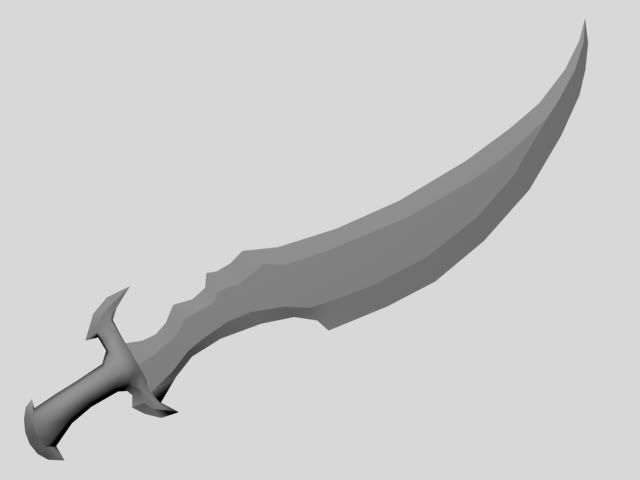 I also colorized the UV map to make it easier to work with: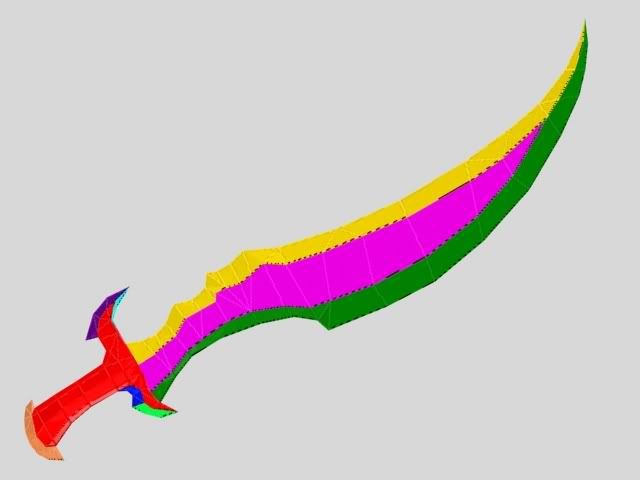 You can find the UV map here and the PK3 here. Both a GLM and MD3 have been included for easy import into modeling software (or just use ModView if you like).
Happy painting to those that decide to participate. I look forward to seeing some interesting designs.
---
#2
10 years ago
contest participant no.1,
---
#3
10 years ago
here is a basic skin and a effect skin, I know I am not a new skinner but I never really did weapons, so in a way I am new to this, the basic should be used with a spec or enviro shader and the fx one should be enviro shader to get best results but if any thing this could be a example or what can be done in about an hour. The brass one is the basic and the chrome is the effect so there is no confusion angelis2112 - Photobucket - Video and Image Hosting
---
#4
10 years ago
reelo2228;4751613contest participant no.1,
This is a texturing thread, not a photosourcing thread.
---
#5
10 years ago
Those was textures goofy, not photo sourcing, you whated a skins right and I made those textures.
---
#6
10 years ago
Welcome to Quoting 101: When someone quotes another person, they're not talking to you!
---
#7
10 years ago
i did it rough, but i wasn't photosourcing, sure it looks like it but if u look at every detail carefully u'll find out that it wasn't photosourced( still, maybe i am too noob that my works are considered photosourced...)
EDIT: should i send u the .psd( photoshop files) so that u could see my every brush stroke?
---
#8
10 years ago
Post the texture map please.
---
#10
10 years ago
You might want to finish. There are a few surfaces you clearly missed.
---