#1
15 years ago
*Lots of pics here, with over-zealous PNG compression. Beware, 56-kers!*
Alright, I'm assuming you figured out how to install GTK Radiant. You should probably be using 1.4, since I've heard 1.5 can be bad, but I haven't checked it out myself.
Ok, I'm going to also assume you don't know what the hell you're doing. That's OK, I didn't either, but I just needed a massive shove in the right direction. :) Now for some terms you need to know: 1) Brush - Brushes are what make up your level. They can be anything from walls, to floors, to ceilings: even massive tribute statues to IfritZero :nodding: 2) Caulk - Caulk is a texture that has a special attribute applied to it that makes the surface you applied to it invisible to the game engine. Caulk should be applied to all the surfaces the player will not be able to see, NEVER TO SURFACES THE PLAYER CAN. IF YOU DO THIS, IT WILL CAUSE SOME IMPRESSIVE ERRORS AND I WILL BEAT YOU OVER YOUR HEAD WITH YOUR OWN SHOE. :p Just don't.
Ok, now to make your first room!: 1) Make sure you're in the top view. To do this, look in the upper-left of the grid and make sure there's an X and a Y. All you really need to know about the other views is that they're side views. To cycle through views, press ctrl+tab. 2) Now make a brush by left click on the grid and holding the mouse button down. Move the mouse and look at the red box you made! This is a brush. Now size it until it's a least 128 x 128 units big (Look at the numbers on the side) You should have something like this:
This can be your floor or ceiling. 3) Now make a wall by making a brush along the side of your brush. Don't worry too much about how wide it is as you'll only see one side anyway. 4)Now for a uber-1337, awesome, kick-ass, time saving tool: Clone. To clone a brush (or just about anything) select your brush with the 'shift' and press space to clone it. 5) Clone your wall and move it with the mouse to the other side of your floor (or ceiling, doesn't matter). To move, just click the middle of the brush and drag and drop. 6) Do steps 3 and 5 for the other two sides. You should have something like this: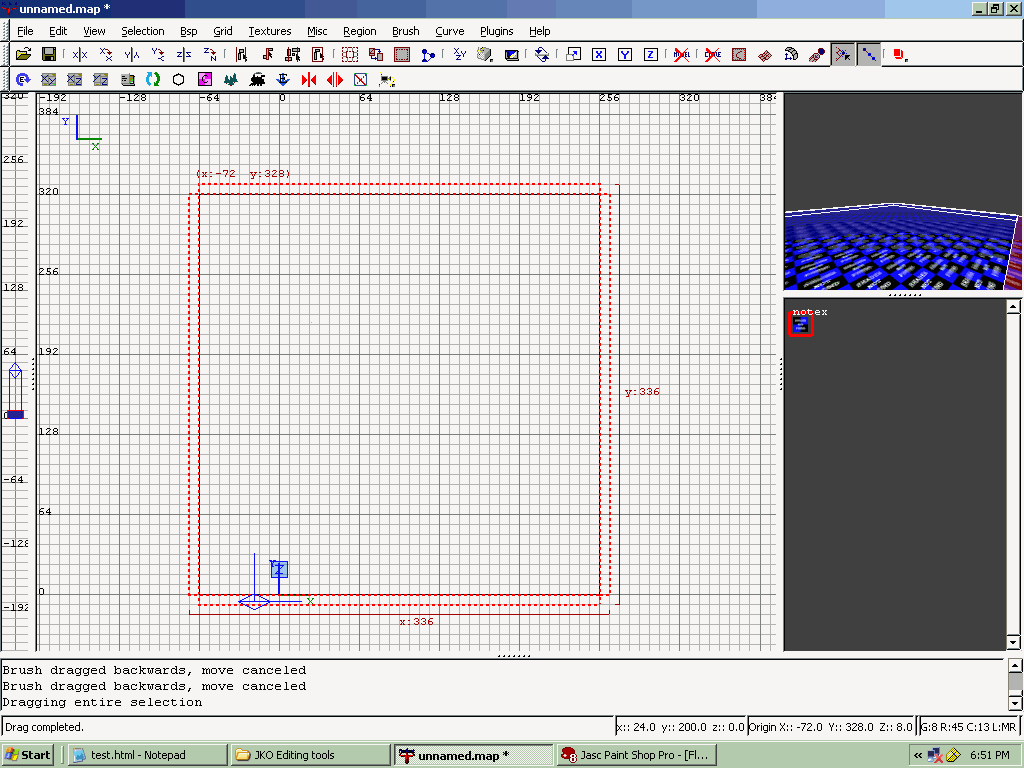 7) Now switch to a side view and stretch your walls a decent height (at least 75 units; preferably 128 or more.) To stretch, just click outside your selected brushes (remember to select ALL your wall brushes) and drag them until they look tall enough. :D You should have something like this: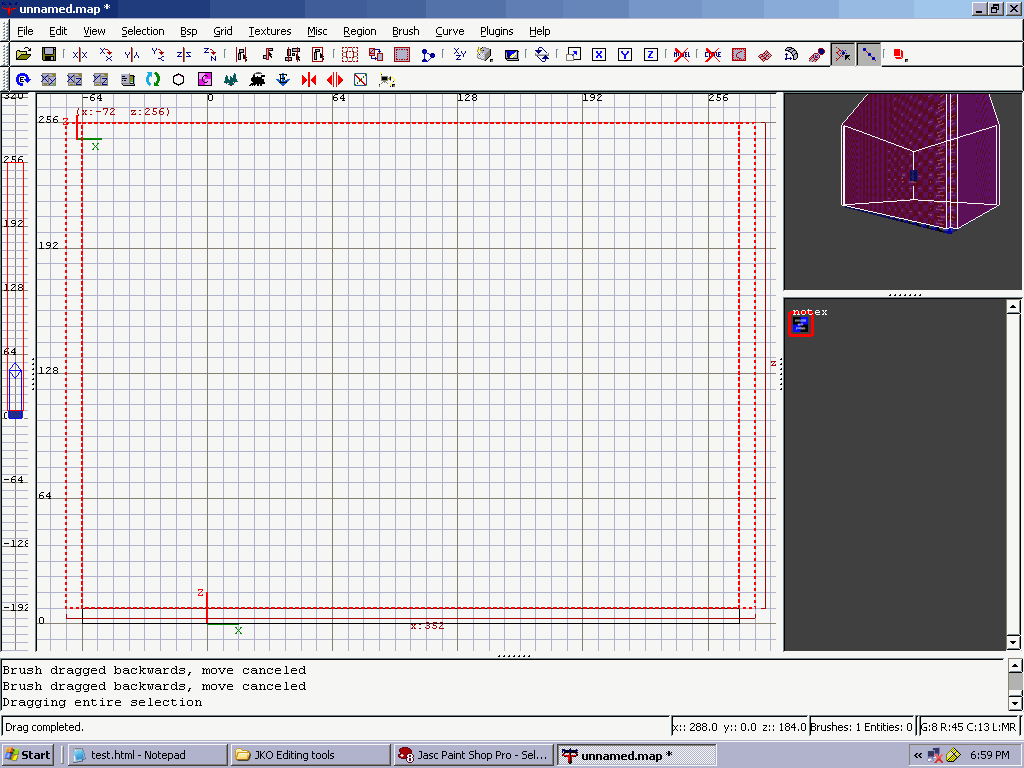 8) Now switch back to a top view and clone your floor. Noticed like before how it makes the new brush 1 grid space diagnally from your original brush? Re-align your cloned brush to your floor. Now switch back to your side-view (aren't you getting tired of that yet :rolleyes:) and move your new ceiling brush to the top of your walls. It should look like this:
9) I know what you're thinking: "But I made a room. I'm done right?" Not quite. We still need to add a player spawn and a light. Let's start with the light: 10) First, right click on the grid and select light: (I don't know what light junior is, sorry :()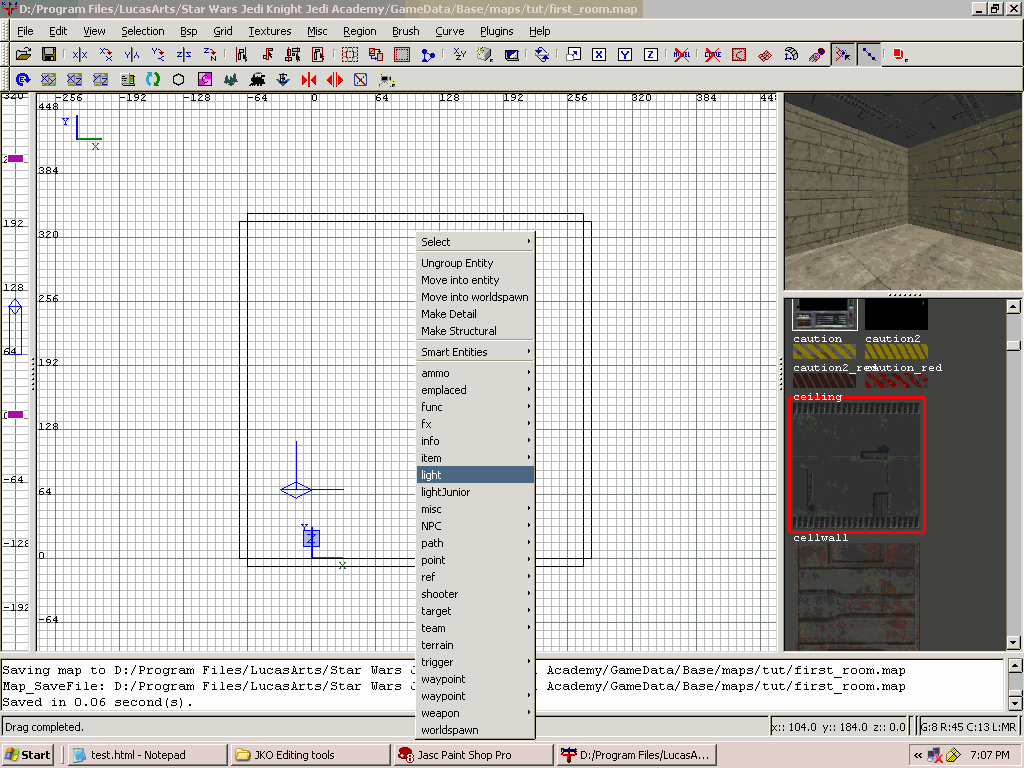 11) Now this should pop up:

Basically, lower number = lower light, higher = higher. I'm going to type in '50' since I never make dark, moody maps. I'm just such a happy fella (:rolleyes:) 12)It should look like this: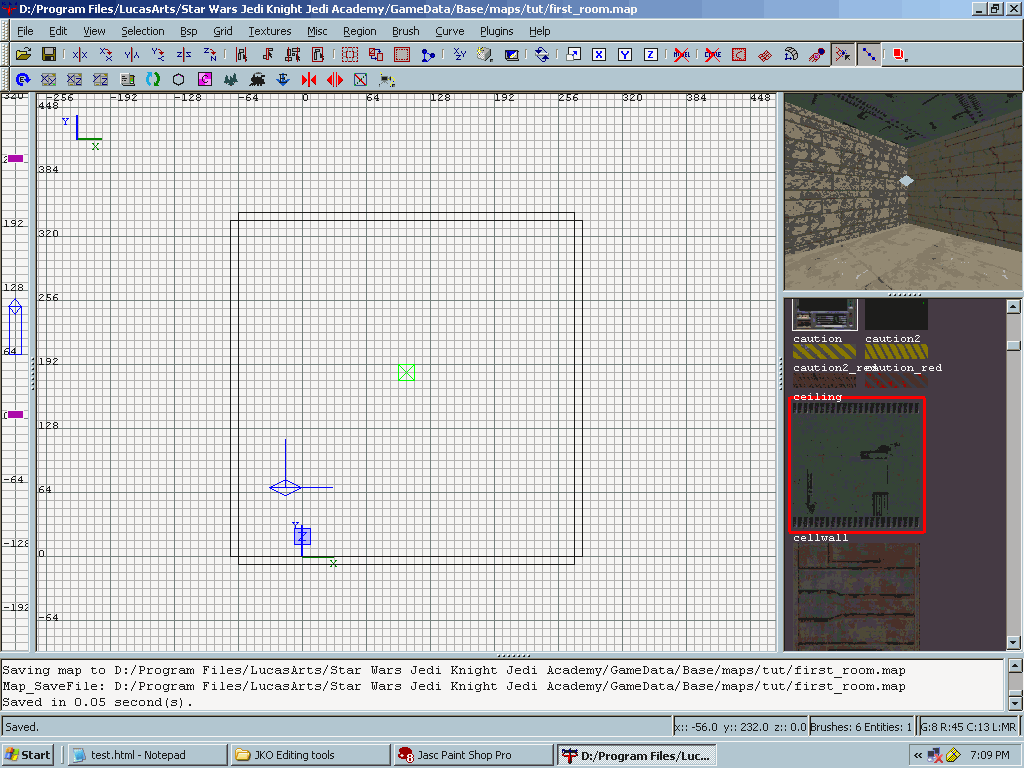 Now let's add a spawn! (Nothing to do with salmon, you dufus. :))
---
#2
15 years ago
13)Right click, go to info, find player start (or something like that :)) and add it to your map.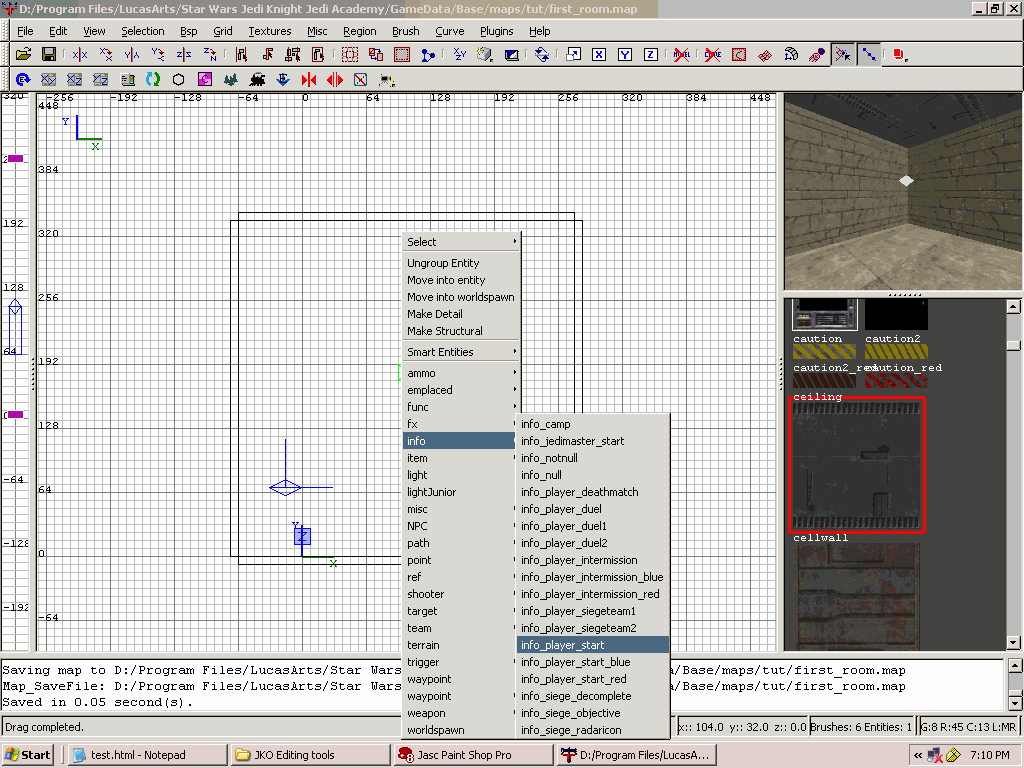 Go through your views to make sure it's in your room (make sure your guy isn't going through a brush ;)) Mine looks like this: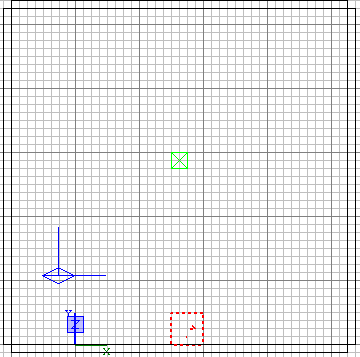 Dammit, he's facing wrong! Let's fix that: 14) Select your start and press the 'n' key. This'll open the entity window.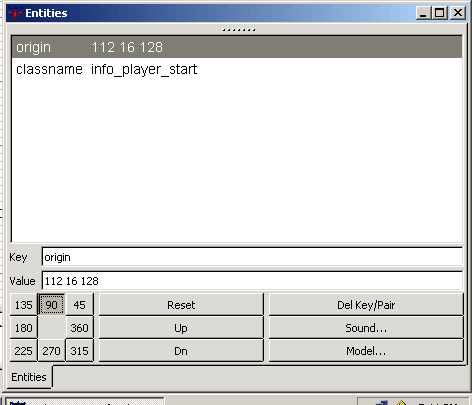 Now select one of the numbers that correspond with the proper facing. I.e. 90 is up, 270's down, etc. Now mine looks like this: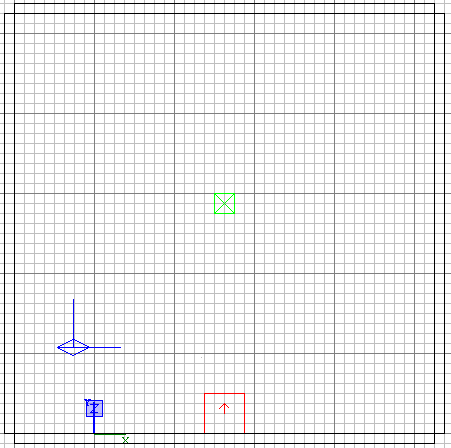 Yay, now he's facing right! Now we're almost done: (promise) 15) First we need to save the map. Now let's compile the map. This is a complicated process, and I can't explain it here. Just go to 'bsp' on the menu bar and select the last option.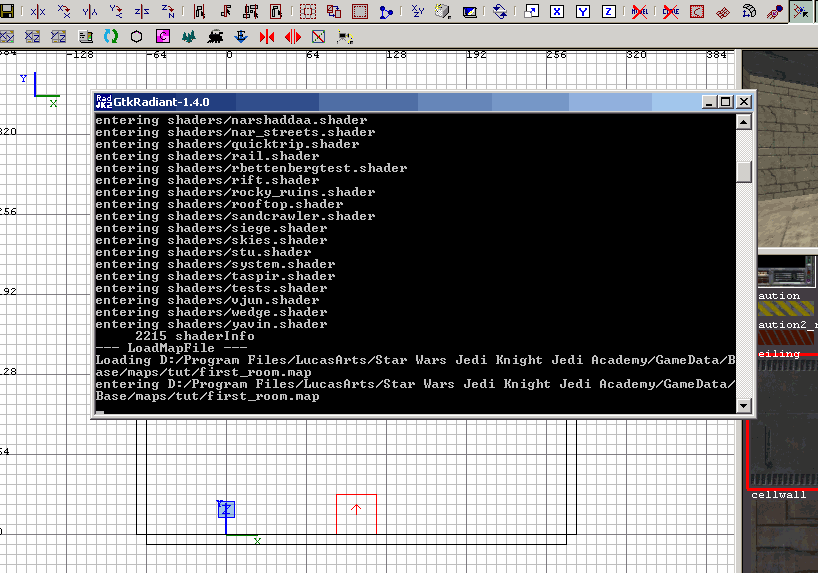 It shouldn't take too long, but don't get used to it. My highway map for the FFVII mod takes a minute and a half to compile, and I haven't even added details yet.:( 15) Now start JKA and open the console by pressing shift+` (above the tab key). Now type in map + yourmapnamehere (yes, not that exact phrase, your actual file name. ;)) Don't add .bsp to the end, however. 16) You should spawn in your lovely room. This is what I had when I finished: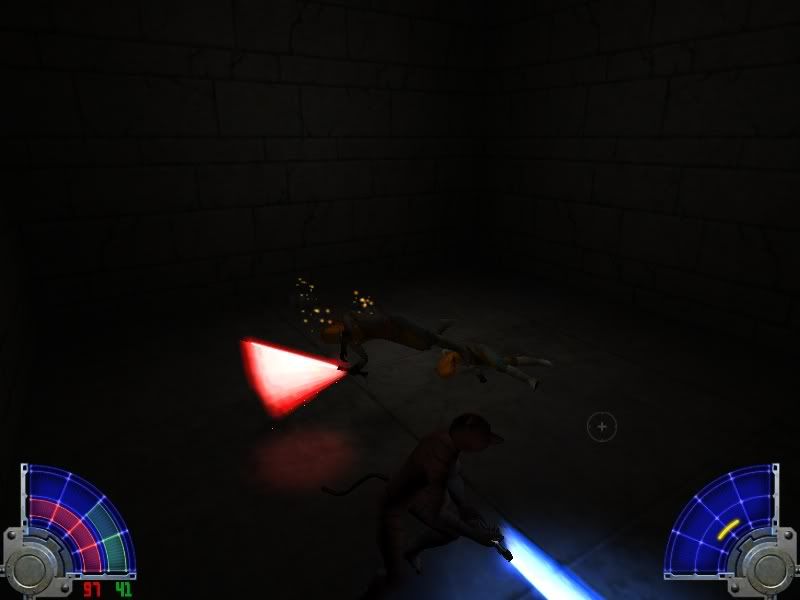 Yes Inyri, that IS your cute lil' kitty chopping a reborn in half. How'd you ever guess? Well that's it. I'll probably write another tutorial since it's so much fun (really :p), though I'd recommend going to Rich Diesel's site (tutorials sticky, top of this forum) since he knows what he's doing. If you have any questions about this post, post a question. That's why it's in the forums. Peace everybody. Oh, and sorry for the double post. Damned 20-pic limit...
Oh, one last note I forgot to mention: DON'T USE THE HOLLOW TOOL. IT CAUSES MAJOR PROBLEMS, SUCH AS BRUSH OVERLAP (IF YOU DON'T KNOW WHAT'S SO BAD ABOUT THIS NOW, DON'T WORRY, YOU WILL), AND I'VE HEARD IT CAN EVEN STOP COMPILATION FROM WORKING CORRECTLY. Now for some math: My method = no serious problems Hollow Tool = SERIOUS, EVIL PROBLEMS No serious problems = good and SERIOUS, EVIL PROBLEMS = Bad Therefore, Hollow = :mad: and My method = :) :) So just avoid the hollow tool, (and the CSG Tools, for that matter) like the plague, unless you hate your level, which other, easier methods of killing it (such as the DELETE key) come to mind. OK, peace out. I swear I'm done lecturing for now...
---
#3
15 years ago
I forgot to talk about texturing stuff yesterday. Here we go...
1) First, select your room by pressing the shift key and selecting the brushes, or holding the 'alt' key and drawing an invisible box around the room. Should look like this: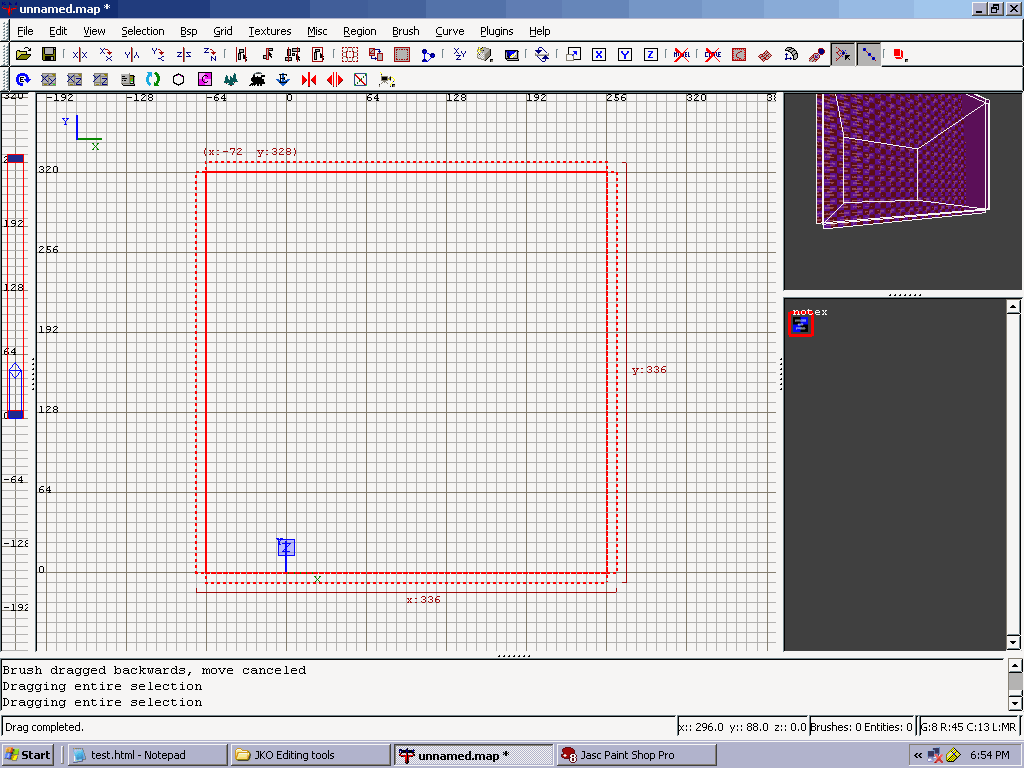 2) Now open up the textures menu on top and scroll till u find 'system'. Located here:
3) Now de-select your brushes with the 'esc' key. 4) Now just use the 'shift+ctrl' combo to select individual faces of the brush and texture them.
There, that's all, I swear. Next time I'll plan the tutorial more carefully XD
---