#1
10 years ago
Hello. I'm having trouble with weighting the facial animations. I only know which bones have to be used during this process but I have not a clue what weight to which bone. I've checked the tutorials and the only place I found something about my problem was Psyko's site where he only mentions which bones to use and not covering the actual weighting process. I would be thankfull if anyone could help me with that. Thank you, Wawel
---
29th March 2006
0 Uploads
#2
10 years ago
Trial and error would be the best course of action, I think. Of all the models I've looked at, I remember only Gir's last Sephiroth having a fully weighed face. No one really bothers beyond the jaw, mainly cause Jaden's about as expressive as Keanu Reeves.
---
#3
10 years ago
Haha, good one :P I was confused when it came to those lip bones, couldn't figure out which does what. Will keep on trying.
---
29th March 2006
0 Uploads
#4
10 years ago
This might help. I got it from Lightsource when he was making his Batman model.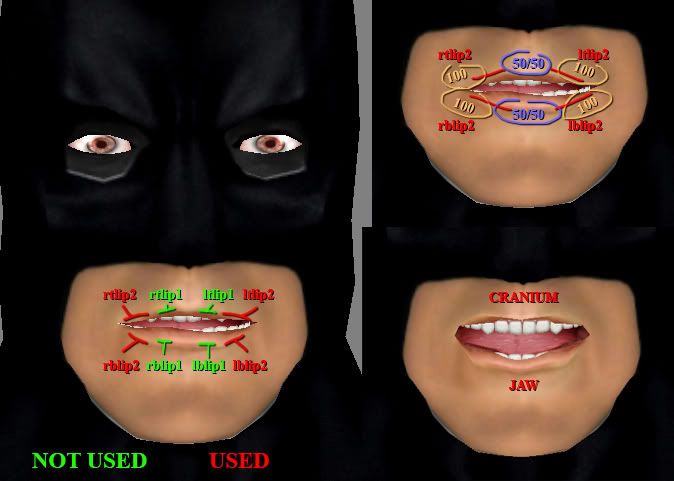 The color coding is a bit odd, though.
---
#5
10 years ago
Thank you very much Jose, this is priceless.
---
#6
10 years ago
Ok, so mouth movements are covered though I tried to weight the eyes. As you know it's possible to rig them so they blink. I've tried to weight them in order to make blinking work, however I failed and the result was awful. Any advice on how to rig the eyes?
---