#1
11 years ago
Hello again guys, its been a while, hasnt it? well i guess ill get to my main point.... I am requesting a model for a new gun. Something to replace the Heavy repeater in the game. Ive recently been playing alot of Call of Duty Modern Warfare 2 and have been quite font of the P90. so im just throwing an idea out there if anyone wants to pick this up. I have a decent picture of the gun in question, take a looksie :)
---
#2
11 years ago
sooo....you made a model of a p90? Cool i guess, i do see a few modifications but overall its still a p90.
---
#3
11 years ago
I didnt make a model... I wish i did, but i didnt, i mearly throwing the idea out there....
As for the picture, there are modifications, but like you said.... Its a p90...
---
#4
11 years ago
ok thanks for clearing that up..
---
#5
11 years ago
I know someone who's made a pretty awesome p90 for JKA. I'll try contacting them tonight.
---
#7
11 years ago
if you guys could do that that would be really cool. I managed to find a p90 model on lucas files that looks really nice in third person but the first person view needs work. its too flat... even for a p90... there seemed to be very little model texture at all in first person... it also looked streched out in the first person view. if i wasnt at school i would post a link to the file in case anyone is interested in looking at it themselves.... The File set with the p90 also came with a UMP45 model i was very impressed with... if the Gubnslinger academy/ Zombie survival academy mods are still afloat i HIGHLY recommend you look at it... only thing i didnt like was the supposed "red Dot " sight. Bit too big and oddly colored...
really quick, and even more off topic than my paragraph above... I believe this falls under the scripting section of the game.... I was wondering if its possible to look down the sights of a gun... i know there are scripts on JK files that allow you to zoom in, but i was wondering if insted a wide range of differing distances, is it possible to double bind a key to zoom in to a point, and as soon as you let go of said bound key, or hit it again, and the zoom is cancelled?
Also, when you shoot the heavy repeater and hit something, why id it no matter what mod i use that has blood, a seperate blood mod. the heavy repeater and alt fire of the sniper have no blood... its kinda annoying but at the same time life goes on.... wondering if anyone knows any quick fixes to this....
okay enough of my life story... if thoes p90 models could be found that would be super amazing :D :D thanks! sorry if my really long post ignored you.... :(
---
#8
11 years ago
I am still working on the zombie survival mod, and I believe Manhunt had an aim-down-sights feature, but it wasn't the best. I'll see what I can do in that regard.
Still waiting for Silverfang.
---
#9
11 years ago
Got to talk to Silverfang he said he would see if he could post it
---
6th January 2007
0 Uploads
#10
11 years ago
Ahh! people are inquiring about mah sexy p90 :o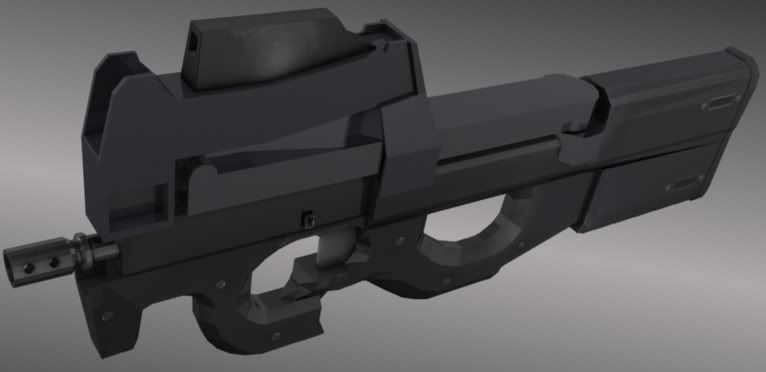 This is actually fairly old and I still plan on finishing it. The only problems are that I don't have the source files for it, they are on my friends computer (since his was better than mine at the time, I got a new one now) and his is crashed... I may, however, be able to revert to this version of the gun, after that I will either have to learn how to get it all into gmax and export from there or learn how to export from blender. if anyone can help me out with that, or teach me that would be awesome. Also I have no clue on how to do first person models >_
---