#1
7 years ago
ive started on my ghosts n goblins map finally, its a dark forest/ haunted graveyard, im considering making the graveyard, the center of the map, with two "bases" on each side so to speak, originally I wanted this to be a survival mod map, but knowing jack all about scripting NPC's even tho miss forge did grant me permission to use her ghost model and npc for this map, i'd also need zombies and undead, that would spawn and try to kill you. this is a very early build of the map, which is still being made and and changed, so all designs may not be final. debating putting hidden passages from the water canel area to someplace else. starting area: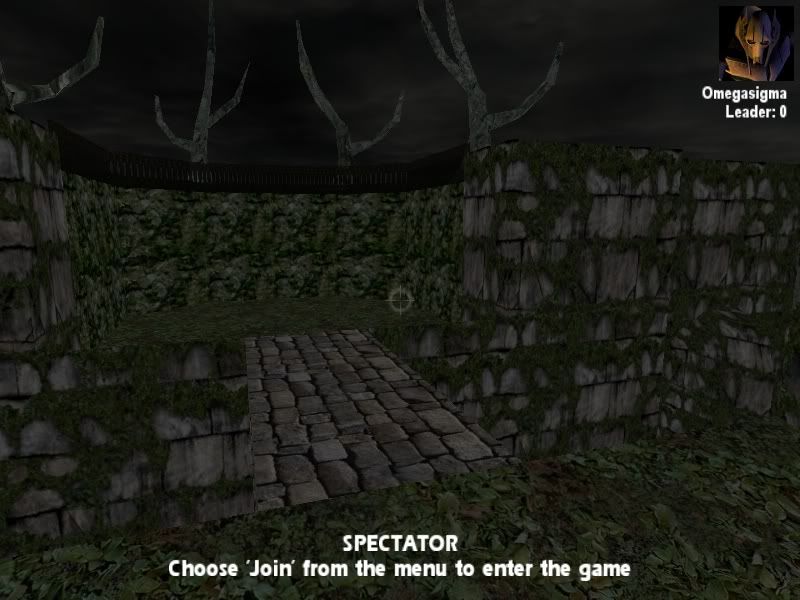 Water canel/sewar: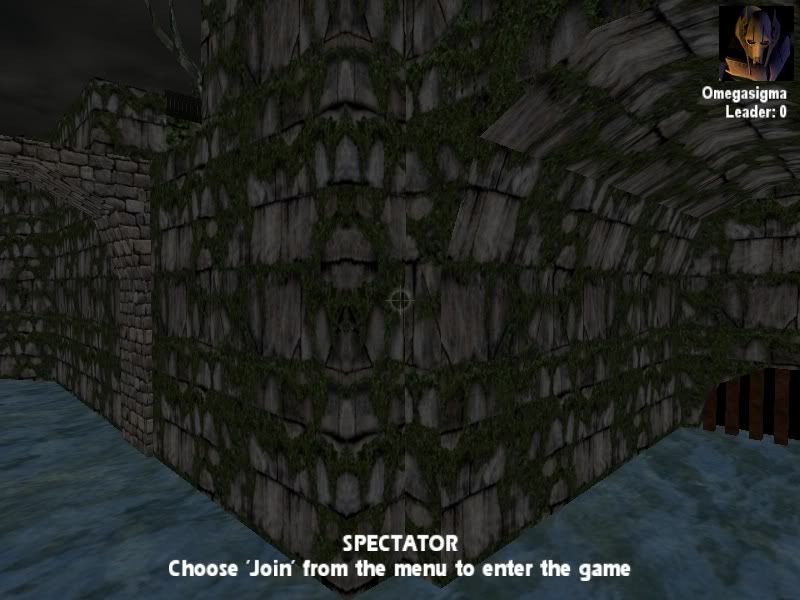 ---
7th January 2007
0 Uploads
#2
7 years ago
You reaallly need to work on your texturing, I understand that it's a WIP but that's my #1 suggestion, but let me give you some more suggestions from what I see:
1. Make the bridge more than just a single brush that's completely flush with the grass/leaves 2. Speaking of those leaves, you should trisoup or quadsoup that terrain 3. Put some decals on the walls 4. Put some columns on the corners of the sewer to cover up that odd way of making a corner (if you're keeping it that way) 5. Get a better water texture with vertex deform (for waves), make it look sludgy and slightly transparent with a nice mud texture underneath 6. Light that sh*t up, place some nice torches and maybe some accent fog 7. Don't make the sewer grate end at just a black brush, make it seem to go on and maybe put a light with a negative value to make it dark in there. 8. MOAR TEXTURES 9. Make vines and stuff along the walls (not just in texture either) 10. Get a new grass texture, maybe some dead or even gray-ish grass would be good 11. Make the edges of the cliff/grass/trench seperated or rounded (sorta) in some way instead of immediately angled at 90 degrees.
---
#3
7 years ago
theres going to be torches, lanterns and other various light sources around, its supposed to be a medival setting atm im working on the basic layout, i plan to add rocks broken headstones, and other decales like vines, plants etc, and some spots or open graves as well, the starting area In my opinion is bland and needs something on the ground like an emblem or something set in stone, eg ocarina of time had the triforce symbol in stone on the ground, and I like your suggestions with making the dirt edges more rounded, I dont know why I didnt think of that, maybe have some broken/downed trees around the map as well, showing the graveyard has not been maintained ever. im going to look for more textures since alot of the ones im using are stock yavin, and the water I agree 100% its way to bright, and clean, its like mario water, i want something rank, and I also agree with the negative light, I will also place some sounds for the water so its not quiet but has some ambience to it as well, your input is most welcomed also now that you mentioned it, i have a huge medival texture base that i could be using, and i will use parts of it for this map that more like it for the sewar grates?
---
15th March 2005
0 Uploads
#4
7 years ago
Needs custom textures badly. Otherwise a good start, though.
---
#5
7 years ago
yeah im sorting out my custom textures, their all PNG format tho, so looks like its either TGA or jpeg, but thank you miss Forge, the starting area, is loosely based off Maximo Ghosts to Glory, which is a spin off of Ghosts n Goblins, the map is designed like a war trench kinda, where as monsters (should I impliment them) will spawn on the high ground and the come down to you if your in their area, I might do two version in 1 pk3 then. Im aware I need more textures, im also going to be adding more terrian to the walls, as in brushes so they're not so flat, atm im working on the generic layout of the map and some minor other details, im thinking at the foot of these two ramps, I might change it so its a stone retaining wall, but in the center, im thinking maybe a large statue or oblisk or something memorial like, to give more to the atmosphere
---
#6
7 years ago
well ive got a nice idea how the layout will go, you start off in the forested area as seen above, then you eventually get to the graveyard with some slight walking, the graveyard will have tonnes, of crypts, some explorable, most are used for spawn points for players and maybe bots and npc's my biggest problem is the transition from forest to grave yard, tho I could have it still in the forest, looking at other games for layouts and ideas, mostly ghostbusters and left 4 dead 2, on this. im inclined to possibly add a gravekeeper's house or something with a bell tower on it as well, crypts would also double up for ammo and weapons, some you may have to "break" into to do some grave robbing, anyways thats my overall idea, now that the concept is solid
---
#7
7 years ago
TGA is the fastest to load and has a high quality. Largest filesize too but compresses in the pk3 to a relatively small size.
---
#8
7 years ago
well ive started work on the crypts, Im not using much brush work, yet, statues, tombs, headstones etc and more trees will help me out there, I use TGA Szico for my fences etc, anything that needs an alpha channel to be semi transparent in some areas, so yes im still using some Nintendo 64 techniques to save in some areas, mostly just fences and candles. the crypts there will be lots, also some will have urns in them, coffins, etc, im aiming to have 75% of them explorable, im also deciding on my graveyard's center peice, weither it be an oblisk or statue of sorts. for some other light sources, I plan to use some "eternal flame" lanterns and some torches, maybe a camp fire somewhere in the map as well. but there will be light sources, in this dark map, taking from the left 4 dead commentary track "players head towards the light" thus i can have a lit up main path so to speak, but allow plently of exploration in the dimmer lit areas, overall the map seems to have a rather adventure feel to it first view of the crypts: (stone buildings suck to work with) im also having issues making the candle light shine slightly more colored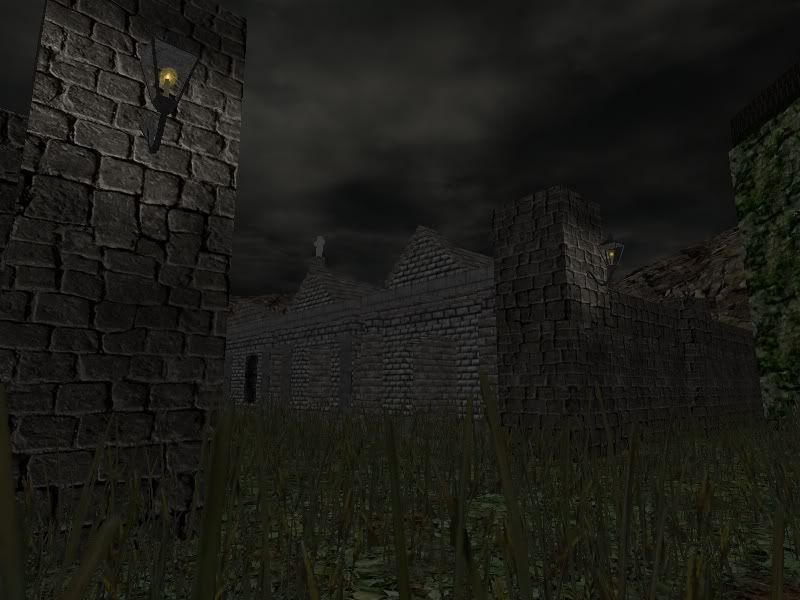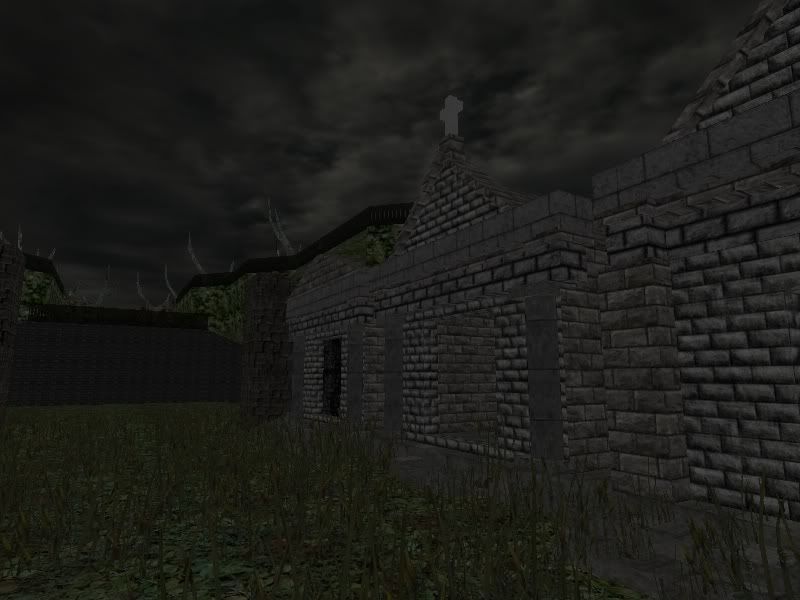 now with added rusty iron gate, again gate is in TGA format.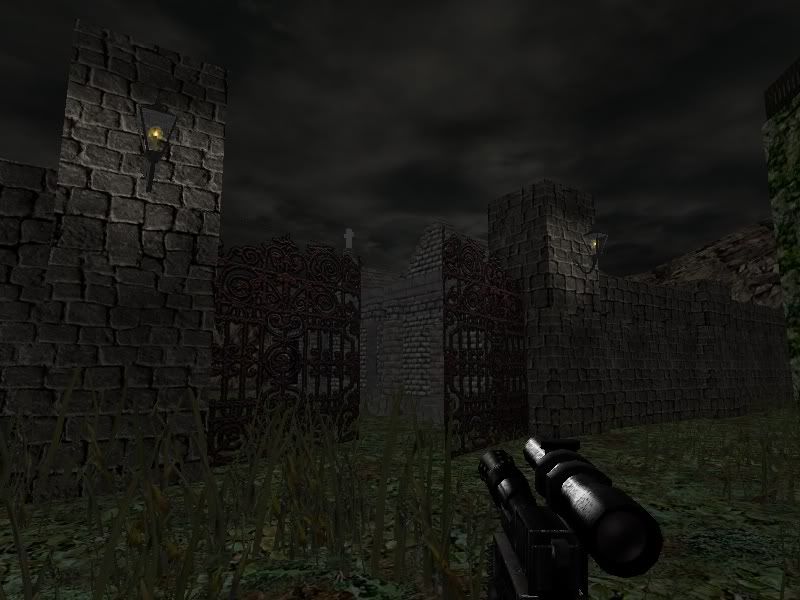 ---
#9
7 years ago
Make them open slowly with a creaaking noise :D
---
#10
7 years ago
Is it me, or is there a faint black line at the top of each gate?
---