#1
13 years ago
Well I have the glm importer for 3DS Max6, and I have 7. I was wondering if there was any way to get the "Import Vertex Weight's/ With .GLA skeleton" function to work?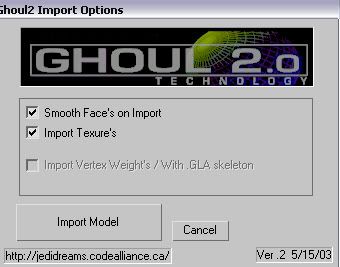 I dont think it makes sense to have that checkbox greyed out, and was wondering if anyone knows how to make it work right?
Edit: oops silly me, lol. I forgot to mention that I was asking, because I wanted to import Kyle, and make some weighting adjustments, such as adding a few things, but I didn't want to have to re-weight the whole model.:D
---
15th March 2005
0 Uploads
#2
13 years ago
Not that I know of. You'll have to re-rig him if you want to "tweak" the model.
---
#3
13 years ago
Ok, I was afriad of that. Thanks for replying. :)
---