#1
14 years ago
ive been following the Virtue's tutorial on how to build a lightsaber hilt, so that i can make new hilts for my species pack im working on, here's a pic:
my problem is: i can't get a hold of pop'n'fresh's exporter plugin for gmax, so i cant export it to md3, would anyone know of a direct link to a good known site so i can download it? oh and yeah, i know theres 3 blade tags, theres a good reason for this so im going to wait until it gets working properly before i can use this :D the idea of that is there are 2 inner crystals (shader will sort out the opacity of the outer one) and they're going to light up when the blade ignites :D Master Trauma Sensei's draconian judgement hilt inspired this hilt, so im going to say nice one :)
---
#2
14 years ago
I believe there is an md3 exporter in the master sticky, modding tutorials and tools section..
---
#3
14 years ago
tried that, it links to polycount, but its unavailable. finally finished the model of it, just a few touch-ups.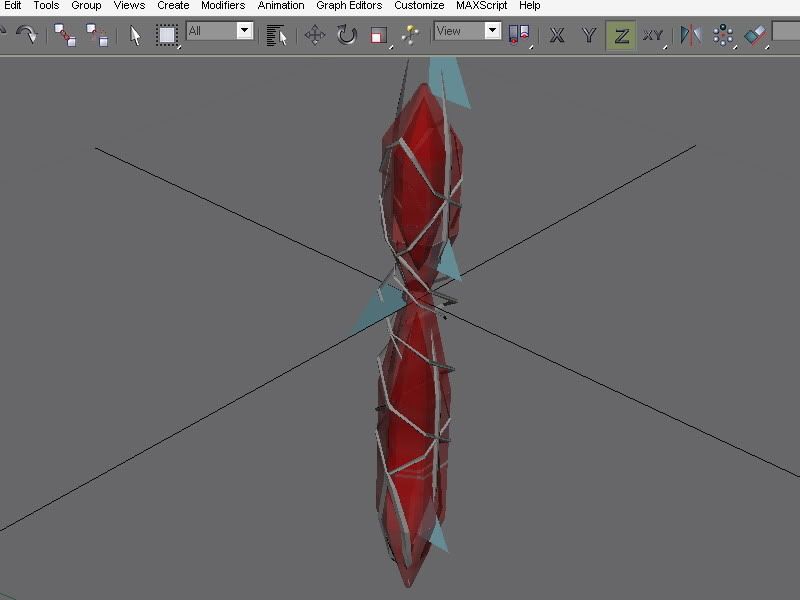 it would be really great if somebody was willing to convert it to an .md3 for me and send it back again, i could take it from there, ive got the .skin and .shader files ready to go.
---
#4
14 years ago
conversion works fine for me email me it [email]nickasummers@yahoo.com[/email]
btw very cool
---
#5
14 years ago
thanks, ive just set up the .sab file, ill send you the full version once it works :D
---
#6
14 years ago
ok ive definatly recieved it ill convert it ASAP
edit: umm...max objects is 32 youve got 78 i think you need to tone that down (i don't exactly know what u gotta do will "grouping" them work?) anyway i cant export it unless its 32 or less objects. also how do u make someting translucent/transparent i made a saber b4 and im making some guns
---
#7
14 years ago
ill work on 'toning it down' lol. they are already grouped so i need to work on that. when you assign textures to the model, further down the list theres one for opacity, setting the value lower makes it less opaque, then select the texture. is there an object counter in gmax? if yes, where is it?
---
#8
14 years ago
ok ive cut it down a bit, hope that works.
---
#9
14 years ago
srry its still too high its 60 if you go to file>summary info and then look at the left side of the window that opens and the top value is "objects" must be 32 or lower
---
5th September 2006
0 Uploads
#10
14 years ago
On the subject of limitations, what are the limits on vertices and faces?
---