#1
9 years ago
Hi,
So, i've been working on learning mapping for a while, and i originally was using gtkradiant 1.5, but, for some reason putting models in my map wasn't working. So, i read a tutorial for setting up gtkradiant 1.4 so it can read from the gamedata folder and stuff, so i decided to uninstall 1.5, install 1.4, and hopefully be able to place models in my map. After installing, i opened up the .map file that i had been working on in 1.5, only to have the camera view display showing textures really wacky. they're sometimes there, and they sometimes aren't. I can put models in now, but the textures are weird with those too, i even tried starting a brand new map and had the same issue. Any ideas? Thanks.
p.s. i'm new on the forums, how would i post a screenshot to show you guys what it looks like?
Thanks!!!
---
Raz0r
Worse than most terrible
50 XP
27th September 2006
0 Uploads
#2
9 years ago
Try going through your preferences menu and see if anything catches your eye. texture/shader issues are usually easily fixed by changing a setting in that menu.
---
Pande
Sexeh like teh gizmo
50 XP
#3
9 years ago
its probably GL_ARB settings.
---
8th October 2005
0 Uploads
#4
9 years ago
Sounds familiar. Try changing this in your prefs: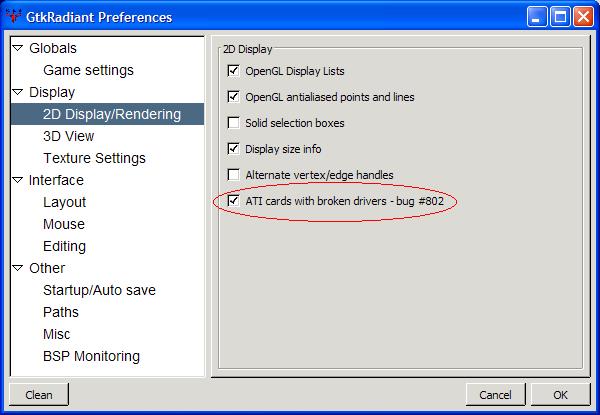 ---
Pande
Sexeh like teh gizmo
50 XP
#5
9 years ago
Ah, I forgot what that error looks like. I am almost SURE that is the fix, what NAB posted. ;) I remember having that problem a year ago on my dads computer
---