#1
10 years ago
Could someone please help me make this model playable? It's not the best model ever, but it's my first player model though Maybe the head needs a bit improvement lol Looks like a roasted chicken This is the model:
---
#2
10 years ago
Um, wireframe plx before anyone considers dedicating themselves to getting that ingame.
---
#3
10 years ago
You mean like this, Inyri?
---
#4
10 years ago
Yes, like that; thanks. I would recommend working on it a little more, since you look like you've got EaW quality work there instead of Jedi Academy work. Feet don't need to be rectangles. Your model is also not set up for deformation at all. There should be some links in the master sticky to sites with good general modeling tutorials that'll tell you how to better set up your model to animate well in-game.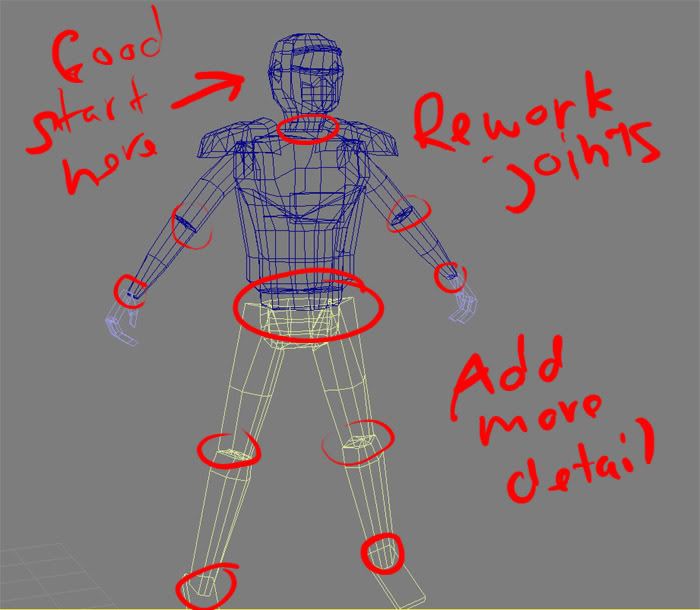 ---
29th March 2006
0 Uploads
#5
10 years ago
#6
10 years ago
Yes, let's take him from making blocks to make Michelangelo's David. :p
Joan of Arc is a little too intense, even for JK3.
---
29th March 2006
0 Uploads
#7
10 years ago
Throw 'em in the deep end and watch 'em squirm, s'what I always say. Sink or swim, baby. :p
Besides, if he makes a model that comes even close to the tutorial's (and I don't mean the actual model itself), he's more than ready for JA.
---
#8
10 years ago
I'll try the Joan of Arc tutorial.. didn't think of that :P
---