#1
12 years ago
Hey guys,
I'm going to try and make a Taris (from KOTOR). I need a moddeler/skinner for some npc's/skins. I will need the skin Sith Trooper and just some civilian NPC's. Would it be possible just to transfer the skins/npc's over from KOTOR to JA?
Here is the Sith Trooper:
And here is a civillian (sorry, but this is the best picture I could find):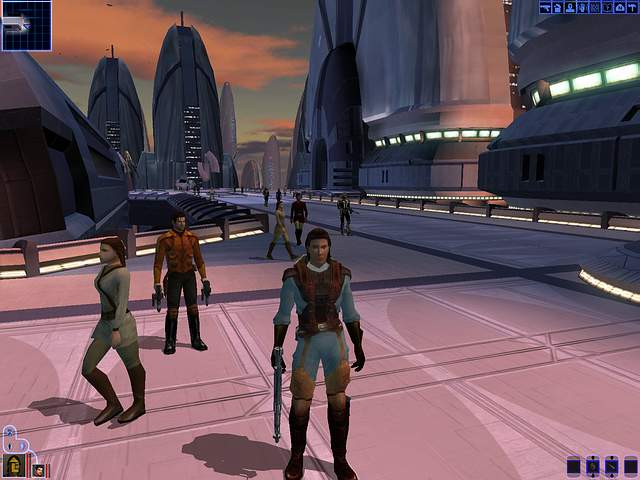 If anyone could help me out, I'd be so gratefull.
Kind Regards,
Jebus
---
#2
12 years ago
Nope, porting is illegal, you'll have to make it out of scratch.
---
#3
12 years ago
This page has atleast five good kotor models and skins, best of luck contacting the authors m8! Good luck with taris. *Yoink* [editedby="DataLord"]Linking to a site to start looking for ports is NOT a good thing. [/editedby]
---
#4
12 years ago
Many of those are the illegal ports. Please do not use them.
---
4th September 2004
0 Uploads
#6
12 years ago
then why take on such a huge responsibility of creating a complete model pack when you dont know what your doing?
---
#7
12 years ago
Because he\she loves us and wants to bring us entirely l33t things! I'm digging the sith trooper, though. And civillians with guns? I need to play KOTOR sometime.
---
#8
12 years ago
If you don't know what you're doing, you can't create something "l33t". Trust me.
---
#9
12 years ago
well hey.. I was just trying to keep it's hopes up, if everyone goes around smashing the hopes of every nub around here, we'll have no fresh tallent. Point taken though.
---
#10
12 years ago
We're not trying to smash his hopes, we're trying to get him to be realistic. If there's one thing that smashes hopes better than anything else, it's thinking you can create something you can't, then finding out you can't. He'll have far more success if he realizes his limitations and works his way up to projects like this.
---