#1
10 years ago
Hello. I've got a problem with ingame model, joints doesn't connect, head hips and such are disfigured. I dont have clue where i did mistake T_T screens: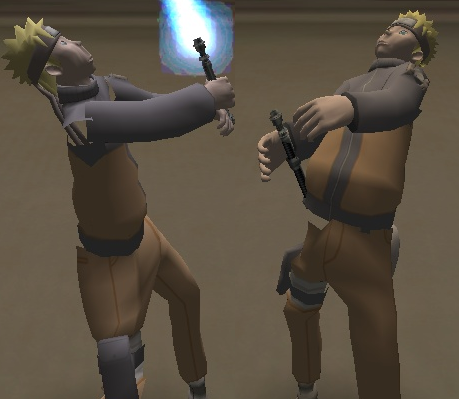 caps:
Thanks, Radlic
---
#2
10 years ago
I take it you're using 3ds Max? In that case, select every part of your model and, under the Utilities tab, hit "Reset XForm". Then select a piece of the model, move the "XForm" modifier below the "Skin" modifier, right click and "collapse to". Re-export and re-compile. If it still looks wonky, you'll have to re-weigh the entire model.
Also, did you make that yourself?
---
#3
10 years ago
Thanks I'll try. Yup i've made it myself just to practice. My friend convinced me to convert it to jk >_> I had to lower verts count which was really annoying :s
and btw when i reset xform, move it below skin and collapse it part changes its position and direction, do i have to rerotate this again?
---
#4
10 years ago
Your first? Doesn't look like it's gonna deform very well around the pelvis and it's got a few useless edge loops in the legs. Other than that, the model ain't half-bad.
---
#5
10 years ago
Yup, and what about xform? it changes position/size/rotation of every part of the model do i have to refit them to skeleton again?
---
#7
10 years ago
thats an obvious weighing problem
---
15th March 2005
0 Uploads
#8
10 years ago
Seems like you didn't weight the seams very well. You probably don't need to reset your transforms, but you should go through and make sure the seams are all weighted right. Two vertices next to each other in a seam should be weighted identically or they will tear.
---
#9
10 years ago
Well, i've got another problem I weighted whole model again, reseted xform, it looked way better, I was weighting bones/moving polygons several times, xsi export worked, k. Now all i've got is
whenever i try to extract model to xsi (using max8, dotxsiexport.dle plugin) and don't know what i'm doing wrong. I tried to reweight it again, result was same. Got any advice/another plugin? Thanks :F
---