#1
11 years ago
While I'm waiting on people to get back to me on my Link animations (hint hint), I thought I would start on my next project. Dual saber style, Jar'Kai Niman I never really liked the dual style. It always seemed too flashy, and not practical enough. So now that I know I can make saber style animations I'm going to make a new one. There are 3 main goals for this style: 1. make the attacks practical and with minimum flash. For an idea of what I'm going for they will be very similar to the default yellow style. They should all attack across the torso/sternum of an opponet. 2. make the style JO model friendly. I'm going to accomplish this by not messing with the left hand tag. This will lead to the wrist being bent a little more than would be comfortable and practical, but will allow all the custom JO models to fight on a level playing field with JA models. 3. implement a counter attack system. I'm going to do this by changing the 'bounce back' animations (when a parry is succesful) with a counter stab. This will be rather quick and directed straight ahead so that the opponet has a chance to dodge. Here is what I've got started with: The stance is meant to be defensive. It is a modified 'niten ryu' stance that I like. I took that stance and made it more relaxed.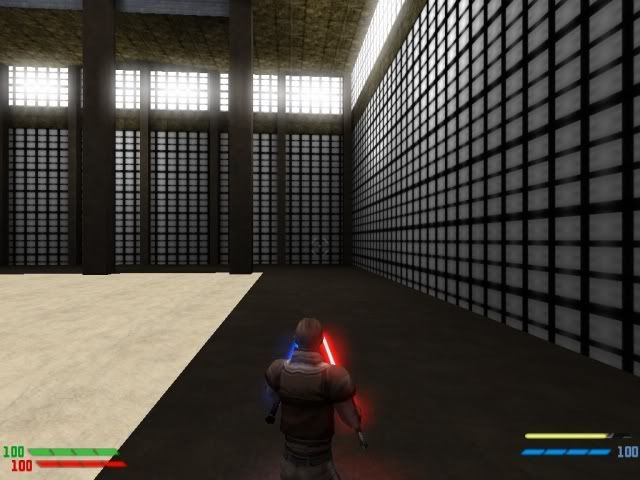 The forward attack. All the attacks swing one saber and then the other. So each swing should cut across the opponet at about the same place. The individual swings are not that fast, but as a one-two move they are good. They will also have the same type of arc and speed as the default yellow style.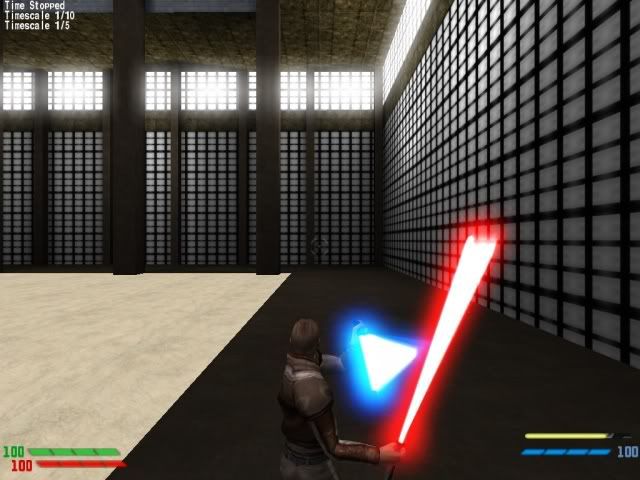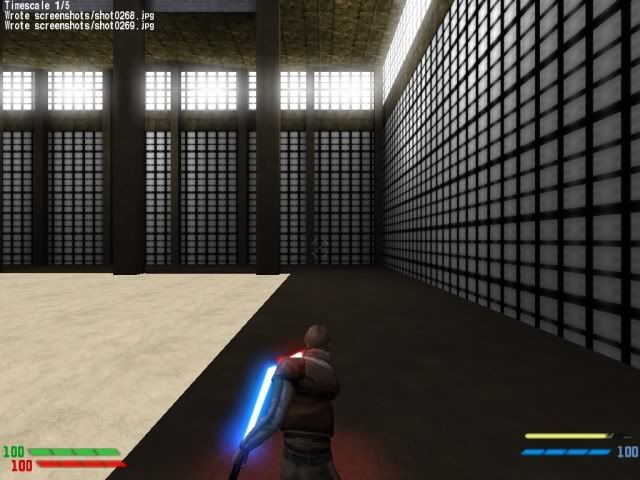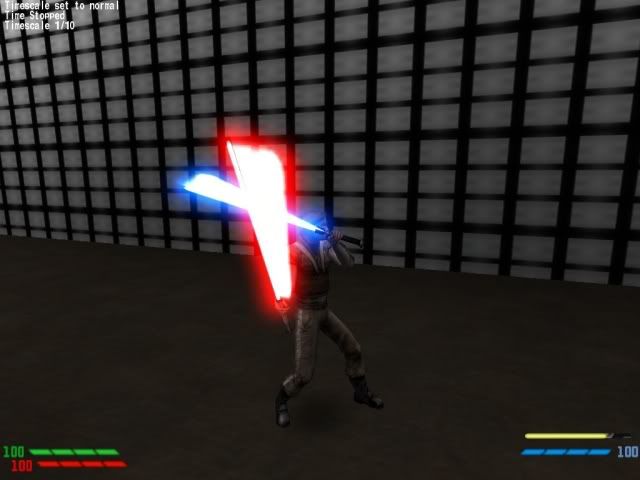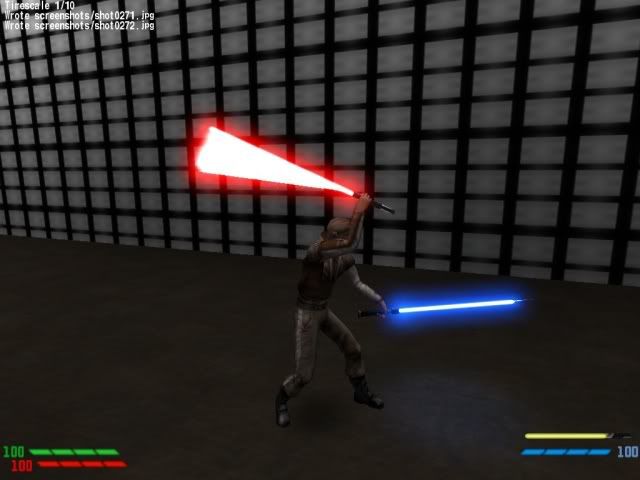 This attack is a rough draft. I just wanted to make sure that my plans for animating the attacks would work out. On a side note: from here on out I'm making all my animations open to whomever wants to use them. I'll still work with the mod teams I currently am engaged with, but any individual or mod team can use my animations if they want to.
---
15th February 2009
0 Uploads
#2
11 years ago
Nice, never seen that style before
---
#3
11 years ago
I hate to be 'that guy', but what saber mod is that? Beautiful blades.
---
#4
11 years ago
massassi.net ja mods sbx-ja sabers v2
or jo mods sbx jk v5
Can't remember off hand which one it is. I trimmed out all the extras.
---
#5
11 years ago
And I hate to be 'that other guy', but what's the name Niman doing in there? The dual form is simply called Jar'Kai. Niman is basically built up of all the essential and fundamental parts of Jar'Kai, but is restricted to the use of one lightsaber only.
Yes, I did post that partly because I'm bored and felt like sharing with the world how big of a nerd I am. But if you plan to release it, make sure you only name it Jar'Kai.
---
4th September 2004
0 Uploads
#6
11 years ago
Gonna post vids like you did for your Link animations? It would be much easier to look at in motion.
---
#7
11 years ago
I added Niman because I read/heard/whatever that Niman was the fundamentals to Jar'Kai, but that a practitioner could also use Ataru as a basis for Jar'Kai. So basically you could have Jar'Kai with an emphasis on Niman (my version) or Ataru (base JA version). That's why.
I'll post vids when I get more to show off than the stance and one swing. On the plus side the only base animation I've used so far for this is the red stance. I'm going to be trying to make all the attacks and such my self.
---
#8
11 years ago
sinchiss;5173397Niman is basically built up of all the essential and fundamental parts of Jar'Kai, but is restricted to the use of one lightsaber only.
Yeah sorry, an unfortunate slip of the...uh, finger. I meant Jar'Kai is based off Niman, with the main difference being that Jar'Kai utilizes two blades instead of just one. So my point remains the same. As for the Ataru-Jar'Kai theory though, I don't really see how that can make any sense, with the vast differences between the two forms. Then again I've been wrong about this kinda thing before, so I'll stop hassling you about it.
Anyway! From what I can see, the anims are looking pretty sweet. Keep up the good work!
---
24th April 2007
0 Uploads
#9
11 years ago
Ah, this will go great with a Darth Revan model/skin.
---
#10
11 years ago
Yeah I hope it turns out nice. If Gir comes back I'll see if he wants to add it to the Revan model for sp. If not I'll continue work as normal.
---